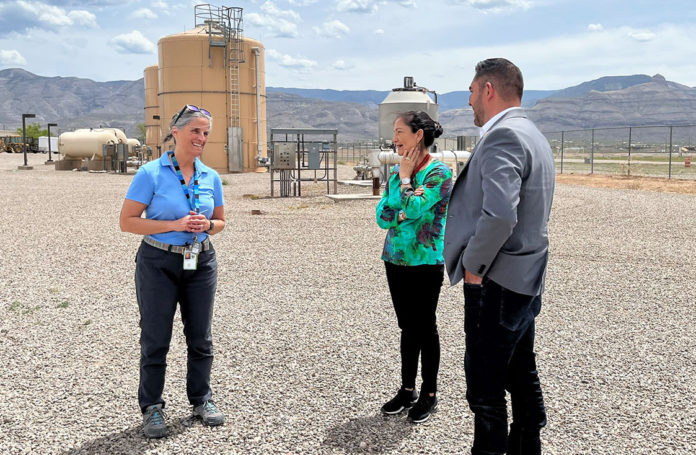 ALBUQUERQUE, NM – Secretary of the Interior Deb Haaland traveled to New Mexico to highlight President Biden's Investing in America agenda, which is supporting efforts to make Western and tribal communities more resilient to drought and climate change, addressing environmental justice, and empowering first responders.
In Las Cruces, Secretary Haaland and Congressman Gabe Vasquez announced a $12.6 million investment from the Bipartisan Infrastructure Law to support the Brackish Groundwater National Desalination Research Facility. The group met with Bureau of Reclamation personnel and toured the facility in Alamogordo, which is part of the Biden-Harris administration's all-of-government effort to enhance the resilience of the West to drought and climate change.
Secretary Haaland also joined the Mescalero Apache Tribal community to celebrate the groundbreaking of a new joint bridge project between the Department of Transportation and the Interior Department's Bureau of Indian Affairs that will keep drivers safe and support the local economy. The Bipartisan Infrastructure Law is investing more than $13 billion directly to tribal communities across the country to repair roads, bridges and rails, expand access to clean drinking water, and advance environmental justice.
The leaders hosted an outdoor recreation roundtable to highlight the Biden-Harris administration's Environmental Justice for All Initiative, the most ambitious environmental justice agenda in our nation's history. Secretary Haaland also visited White Sands National Park, the largest and most visited National Park Service-managed site in New Mexico. In 2021, 782,000 people visited the park and spent an estimated $46.4 million in local gateway regions. During both opportunities, the Secretary underscored the Department's commitment to ensuring that everyone, no matter their background or zip code, can enjoy the benefits of green spaces and the outdoors.
While in New Mexico, Secretary Haaland met with a number of first responders. She traveled to Artesia to deliver keynote remarks at the 31st Annual Indian Law Enforcement Officer's Memorial to honor Bureau of Indian Affairs (BIA) law enforcement officers who were killed in the line of duty. She also met with BIA wildland firefighters to receive a briefing and aerial tour. These crews work alongside the teams on the Mescalero Apache reservation to address fire management in the area. In 2018 and again in 2021, the reservation was significantly affected by two large wildfires that burned nearly 9,000 acres and forced the evacuation of tribal members. The fires created significant damage to natural and cultural resources, which continue to affect the communities today. Both events provided an opportunity to hear directly from first responders serving the Department and Indian Country, and affirm the Secretary's commitment to support and investing in those who risk their lives on behalf of our nation.
President Biden is prioritizing mental health and has laid out a unity agenda, which includes a comprehensive national strategy to tackle the mental health crisis. The Biden-Harris administration is also making historic improvements for the federal wildland firefighting workforce. More robust health and well-being support is being combined with proposals for a permanent pay increase for wildland firefighters, expanded hiring, and housing improvements that are included in the President's Fiscal Year 2024 Budget request. In addition to these investments, both the Bipartisan Infrastructure Law and Inflation Reduction Act provide historic funding for a suite of programs aimed at reducing wildfire risks, detecting wildfires, protecting communities and building more resilient infrastructure.