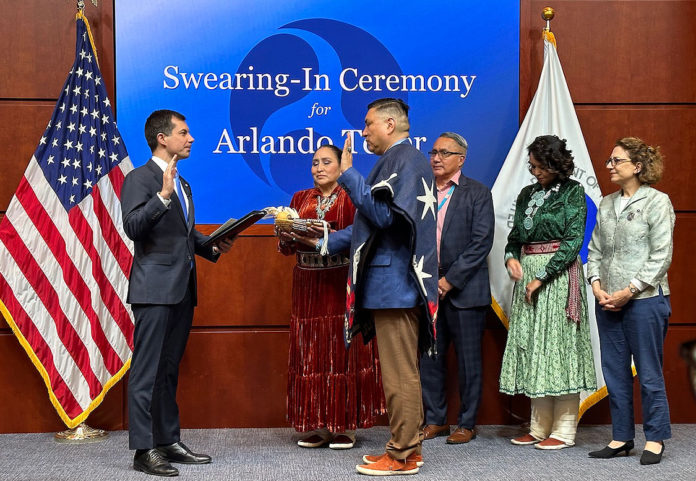 WASHINGTON, D.C. – 25th Navajo Nation Council members Brenda Jesus and Shawna Ann Claw (Chinle) and Navajo Nation President Buu Nygren had the honor of attending the ceremonial swearing-in of Arlando Teller, a member of the Navajo Nation, to serve as the first-ever Assistant Secretary for Indian Affairs under the U.S. Department of Transportation in Washington, D.C.
Teller was joined by family members as U.S. Secretary of Transportation Pete Buttigieg administered the oath of office. The new position was established under the Bipartisan Infrastructure Law and also created the Office of Tribal Affairs under Secretary Buttigieg.
"On behalf of the Resources and Development Committee, we congratulate Arlando Teller for achieving a momentous milestone," said Delegate Jesus. "Today, prayers have been answered by our Creator and the Holy People to have one of our children be appointed within the U.S. Department of Transportation. He will continue to be a strong voice for rural tribal communities at the national level. We pray for his new journey and may he be blessed on the white corn pollen path."
Delegate Jesus chairs the Council's Resources and Development Committee, which has legislative oversight for transportation and road issues and works closely with the Navajo Nation Division of Transportation on priorities and initiatives.
Teller is originally from Chinle, AZ, and has served as the Deputy Assistant Secretary for Tribal Affairs at the Department since 2021. Prior to his work at the federal level, he served as a member of the Arizona House of Representatives for District 7 and as the Senior Transportation Planner and Deputy Division Director for the Navajo Nation Division of Transportation. He was also the first Native American graduate from Embry-Riddle Aeronautical University.
"We are confident that Arlando will continue doing an extraordinary job within the U.S. Department of Transportation for Indian Country," said Delegate Claw. "He is an experienced leader and administrator who recognizes infrastructure challenges in tribal communities. Indian Country deserves quality transportation plans and options that will make communities safer, competitive and more accessible. We look forward to working with him on many road priorities."