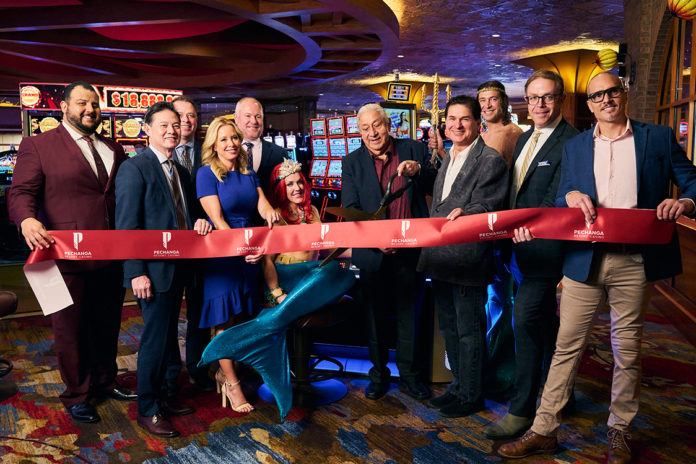 TEMECULA, CA – Pechanga Resort Casino guests are now the first in the U.S. to be able to play Ocean Phoenix™, a new game from Gaming Arts. Pechanga, Gaming Arts and the game's creators, Jumbo Technology recently celebrated the release of the game inside Pechanga Resort Casino. Casino and Gaming Arts executives cut the ribbon opening the game to the public.
Already a popular game at casinos across Asia, the 7.5-ft. long gaming console features spaces for six players. During game play, all players participate in the same game and can see the 66-inch screen in the center of the gaming area. Each player works independently to capture the game's "Four Beasts" – the Mighty Phoenix, the Elegant Mermaid, the Ancient Crocodile and the Flawless Octopus. Each player can see what the others are doing within the game, including their current credit count. The premise is to fire upon the invading creatures, including the Fantastic Beasts, and capture them. Each shot taken counts for game credits. When a player has killed the target, he or she receives credits. Guests can also earn additional weaponry within the game that aids them in capturing their targets.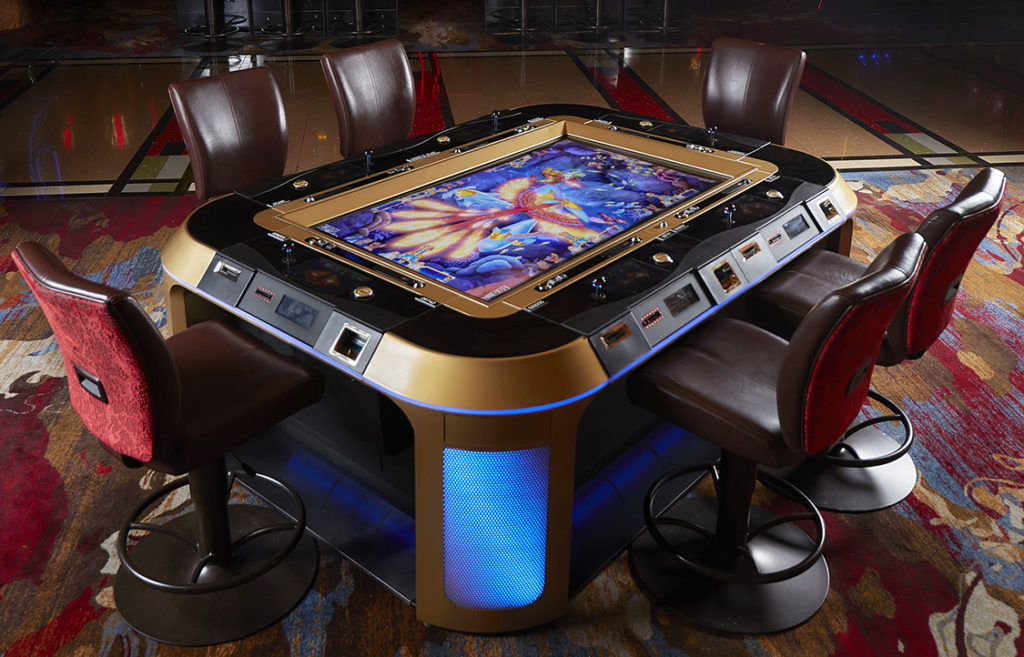 "We were first introduced to this game about one year ago at a trade show in Las Vegas," said Alex Rodriguez, Vice President of Slot Operations at Pechanga Resort Casino. "There have been casino games in the marketplace that acted similarly to video games in the past, but nothing with this kind of technology, sound and deep integration of play levels and bonusing. We are excited to see how our guests will respond to it."
"Gaming Arts is delighted to partner with Pechanga Resort Casino to offer Ocean Phoenix for the first time to customers in the U.S.," said Mike Dreitzer, CEO of Gaming Arts. "This new and extraordinarily unique, arcade-style game will be very exciting for all players. We are grateful Alex Rodriguez and the rest of the great team at Pechanga have agreed to work with us on this exciting project."
Guests interested in playing Ocean Phoenix exclusively at Pechanga Resort Casino can play now, and enjoy the game's promotional launch from Mar. 7 through Mar. 13. More than 200 guests who play Ocean Phoenix during the promotional time period with their Pechanga Club cards properly inserted can win up to $1,000 in EasyPlay. Additionally, guests 21 and older the Ocean Phoenix Cocktail, formulated specially for the occasion.