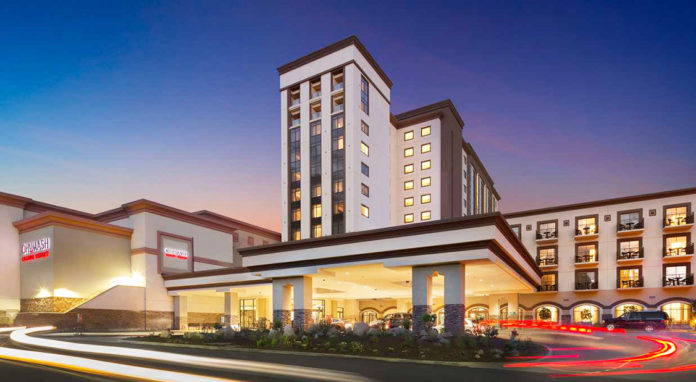 SANTA YNEZ, CA – Professional boxers and MMA fighters from across the country will look to defend their records when the World Fighting Championships (WFC) returns to the Chumash Casino Resort's Samala Showroom with WFC 144 Live Boxing at 7:00pm on Friday, Jan. 13; and WFC 145 Live MMA at 7:00pm on Saturday, Jan. 14.
WFC 144's main event will feature Jesus Rizo (12-1), who hails from Santa Paula, against local Central Coast favorite John Dato (15-1-1), who trains at JLD Boxing Academy in Santa Maria.
Dato is no stranger to fighting at the Chumash Casino Resort. His most recent bout in the Samala Showroom was in April 2022, when he scored a fifth-round knockout against Mexican boxer Rodrigo Guerrero in front of a crowd of over 1,100 raucous spectators.
Additionally, Buellton's Angel Flores (8-1) is scheduled to take on Midwest native Andrew Rodgers (6-10) who fights out of Elkhart, IN. Flores, who has six career knockouts, is looking to bounce back after he was handed his only career loss in January 2022 at the Chumash Casino Resort. Elkhart looks to keep his winning streak alive after a unanimous decision win in September.
WFC 144 will showcase homegrown fighters from a handful of local Central Coast boxing clubs, including Flores Boxing Club in Buellton, JLD Boxing Academy in Santa Maria, Big's Boxing in Ventura, and Knuckleheadz Boxing & MMA in Oxnard.
"We are excited to bring back-to-back nights of hotly contested fights to the Chumash Casino Resort," said Matt McGovern, President of World Fighting Championships. "These professional boxers and fighters have put in countless hours of training in anticipation of these matches and we look forward to seeing them showcase their talent." 
WFC 145 will feature up-and-coming local and regional mixed martial artists who are skilled in Muay Thai and Brazilian Jiu-Jitsu, among other martial arts. Key local fighters include Santa Barbara native Bill Cooper (2-1) who fights out of Agoura Hills, Goleta native Beau Brooks (5-12) who fights out of Santa Barbara, Goleta native Kevin Crane (1-1) who fights out of Ojai, Gabby Lopez (0-1) who fights out of Oceano, and Matt Maxwell (1-3) who fights out of Grover Beach.