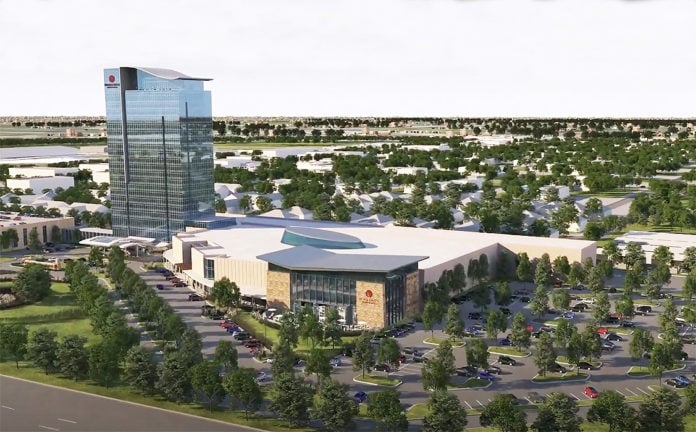 HOMEWOOD & EAST HAZEL CREST, IL – Wind Creek Illinois, a subsidiary of PCI Gaming Authority operating under the brand name Wind Creek Hospitality, recently presented its proposed casino development to the Illinois Gaming Board. The presentation introduced a respected, experienced and fiscally-stable operator with a commitment to diversity and inclusion – and a development that strives be the best in and for the south suburbs.
"Wind Creek Hospitality will not just build a casino, but truly create a community in the south suburbs with job creation, community investment and sustained operational excellence, and we were enthused to share that with the Illinois Gaming Board in our presentation," said Jay Dorris, President and CEO, PCI Gaming Authority. "We are confident that Wind Creek is the best partner in and for the south suburbs. Our proposed Four-Diamond facility will bring a first-class entertainment destination to the Southland region and maximize profits to generate the most revenue for the state."
Wind Creek Hospitality, an authority of the Poarch Band of Creek Indians, manages 10 state and tribal gaming properties in Alabama, Florida, Nevada, Pennsylvania and the Caribbean. The proposed development would be located in Homewood and East Hazel Crest, IL.
Wind Creek's proposed development, located directly off of I-80 near Halsted Street and 175th Street, offers a site that sees nearly 80 million vehicles pass by on I-80 each year. Its proximity to the Indiana border, less than a 10-minute drive away, has the potential to draw significant visitors from Northwest Indiana.
The location is in the heart of the Southland, where jobs and opportunities are most needed, with convenient public transportation to make sure those opportunities are available to all south suburban residents as the statute envisioned. More importantly, it is an ideal location for the south suburbs, garnering enormous tax dollars for the state and the 41 communities in the five south suburban townships.
Wind Creek's development would be the first AAA Four-Diamond casino destination in Illinois or northern Indiana. It would include:
Nearly 70,000 sq. ft. casino floor with more than 1,350 slot machines and 56 table games with opportunity to grow
A 15,800 sq. ft. entertainment center, customized both in design and the featured performers it will draw to address the interests and needs of the region
A 35,000 sq. ft. conference and banquet facility that will provide much-needed meeting space in the south suburbs
Three restaurants, two bars, and a skyline lounge
A 252-room luxury hotel with indoor pool and spa
Secure, climate-protected parking directly connected to the casino floor
A partnership with the nearby Ravisloe Country Club, offering golf as an amenity for guests
The casino itself is projected to create the equivalent of at least 800 full-time jobs when fully operational with careers ranging from maintenance and casino-floor positions to hospitality and management roles. In addition, it will create approximately 600 temporary jobs during construction. The project's contracting team has a goal to award more than 30 percent of the annual dollar value of all contracts, purchase orders, or other agreements to minority-, women-, veteran- or LGBTQ-owned businesses.
Wind Creek has a track record of giving back by setting aside funds annually for charities in the areas they serve through donations, charitable contributions, sponsorships, and mutual aid agreements, totaling more than $85 million in community support. The commitment to community would continue in Illinois with the creation of the Southland Public Benefit Fund. Wind Creek, East Hazel Crest and Homewood would contribute to the fund with $10,000,000 coming from Wind Creek alone. The fund would distribute $150,000 per year for the first five years of operation to provide scholarships for disadvantaged students and health services for the south suburban region through partnerships with South Suburban College, Prairie State College, and Moraine Valley Community College, the Ingalls Development Foundation and Advocate South Suburban hospital. Once the fund corpus reaches $20 million, the fund would distribute $1,000,000 annually.
"Over the past six years, we've been lucky enough to meet and talk to so many leaders and residents of the south suburbs and know how long they've been waiting for this facility, the high expectations they have for community involvement," said Dorris. "We look forward to hearing next steps from the Illinois Gaming Board, and hopefully partnering with the Southland to see this dream realized."