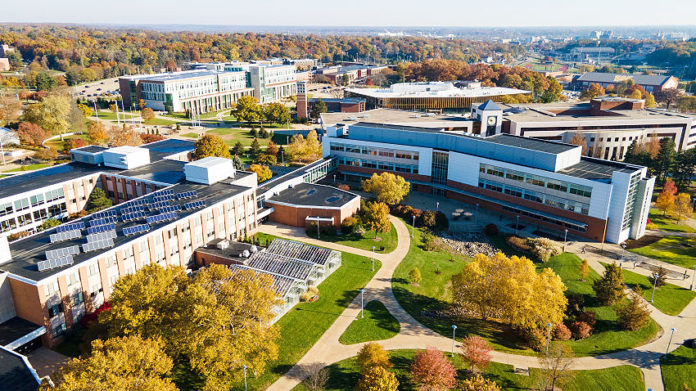 FULTON, MI – The Nottawaseppi Huron Band of the Potawatomi, the Pokagon Band of Potawatomi Indians and the Match-E-Be-Nash-She-Wish Band of Pottawatomi Indians announced that the three graduate-level courses on tribal sovereignty have been approved as a Graduate Certificate in Tribal Governance, in addition to being a part of Western Michigan University's (WMU) Master of Public Administration (MPA) program.
Assistant Secretary of Indian Affairs in the U.S. Department of the Interior Bryan Newland will announce his support for and acknowledge the Graduate Certificate in Tribal Governance program at the Fetzer Center on WMU's campus on Thursday, April 13, 2023. The public is welcome to hear Newland's presentation as a part of WMU's "We Talk" series where he will speak about how the traditional Seven Grandfather Teachings has guided his work in public service and helped him to engage across diverse communities.
Newland will be acknowledging the fact that the WMU Board of Trustees approved the three-course series as a standalone 9-credit hour Graduate Certificate program in early 2023. WMU's course catalog currently boasts nearly 50 Graduate Certificate programs.
"Moving this certificate into the graduate curriculum is the first concrete action from relationships formed over the last four to five years, and we are honored that the program is unique to this region," said Matthew Mingus, WMU's Director of the Graduate MPA and Ph.D. Programs.
Introduced in the fall of 2021, the Tribal Governance courses were collectively endorsed by the three local tribal nations and serve as a new pathway for tribal members and partners to develop skills in Tribal Administration. Modeled off a first-of-its-kind Tribal Governance MPA program at The Evergreen State College in Olympia, WA, the courses focus on the foundations of Federal Indian Policy, Tribal Governance and Tribal Economic Development & Diversification in relation to the three local Potawatomi Tribes.
The tribes proposed the course series following WMU's 2019 Land Acknowledgement Statement recognizing the lands on which the campus is located as not only historically, but currently, occupied by Ojibwe, Odawa, and Bodéwadmi Nations. WMU continued their affirmation of Indigenous sovereignty and the Native experience through two years of meaningful planning and development of the courses with tribal leaders.
"Implementing a certificate program in collaboration with three tribal nations allows the opportunity to provide tribally endorsed resources to increase capacity building within our communities," said Sam Morseau, Pokagon Band Tribal Council Secretary and Course Instructor. "Students can engage with various tribal entities through subject matter experts and content endorsed by each tribal nation. The inclusion of digital storytelling allows our narrative to be preserved and protected for generations. Not only will this assist the students and wider community partners in understanding our story, but also allows professional development and networking opportunities. We are currently planning yearly cohorts, which will include government, gaming, and economic development corporations within each tribal nation. This will promote a collaborative approach and environment to explore best practices in policies through the creation of service-learning projects. It has been an honor to see this dream come to fruition."
Western Michigan University will continually offer the three courses, beginning in its 2023-2024 course catalog.