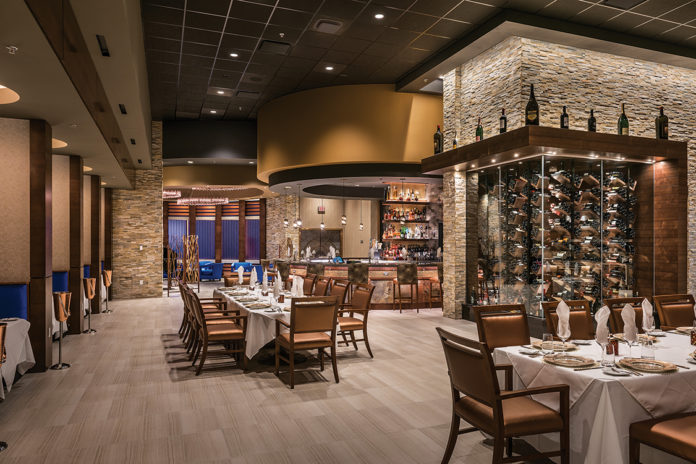 FORT McDOWELL, AZ – For the third year in a row, Ember – We-Ko-Pa Casino Resort's fine dining restaurant – has been awarded Wine Spectator's "Best of Award of Excellence." The award was granted to 1,411 restaurants around the world, and Ember is one of 22 establishments in Arizona to receive the designation.
The Best of Award of Excellence, which Ember has received, is granted to restaurants that go above and beyond in offering approximately 350 or more well-chosen selections that represent a breadth of wine regions and styles, as well as vintage depth through vertical collections of notable wines. These restaurants also provide training and educational opportunities for staff so that they can help customers make well-informed wine choices.
"When granting the 'Best of Award of Excellence,' Wine Spectator honors restaurants that show a deep commitment for wine and are destinations for serious wine lovers," said Zac Gallo, Executive Director of Food and Beverage for the We-Ko-Pa Casino Resort. "Dennis Payne, our Advanced Certified Sommelier, is committed to sourcing intriguing wines and assembling a dynamic wine program that offers something for every palate and budget. His passion – and that of General Manager Brent Rumph – flow throughout our entire restaurant team, so that each bottle introduced to a guest is done so with knowledge, dedication and heart."
Ember's extensive wine program covers 29 countries, focusing on each country's top wine-producing regions and most highly acclaimed vineyards. It includes more than 900 wines by the bottle and 26 wines by the glass – ranging from a strong California presence to France, Spain, Italy, New Zealand, Argentina and Germany – along with an array of 'unicorn,' dessert and Ports-Madeira wines.
In addition, Ember has a special page in their 38-page wine list titled "The Century Club," dedicated to the world's top 100-point wines. Curated for fine wine collectors, the list contains 36 critically acclaimed wines spanning more than two decades that have scored a perfect 100 points.
"We take pride in finding 'unique gems' by networking with 50-plus wineries around the world, and leveraging those carefully nurtured, decades-old relationships to locate 'unicorn' and winery-only items that set us apart from other restaurants," said Payne. "For example, we are the only restaurant in the state to offer a few, select Italian wines. We do that intentionally to give our guests something truly unique to pair with Ember's delicious, inventive cuisine."