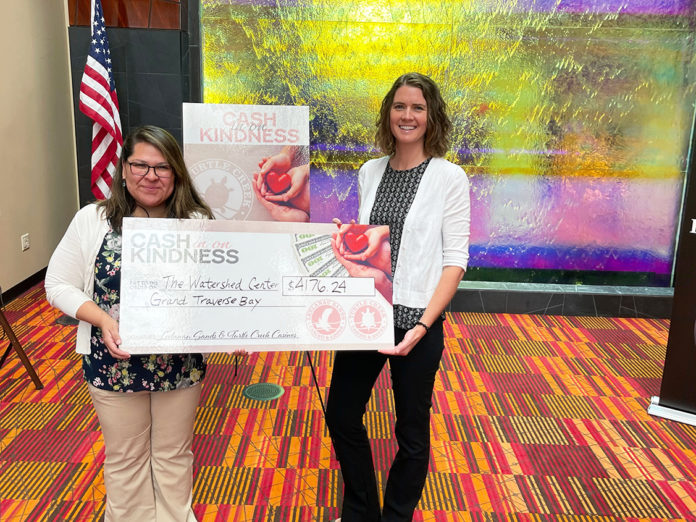 TRAVERSE CITY, MI – Grand Traverse Resort & Casinos presented $4,176 to the Watershed Center Grand Traverse Bay to protect and preserve Grand Traverse Bay and its 1,000 square mile watershed through on-the-ground projects and advocacy. The money was raised through the monthly Cash in on Kindness March guest collection initiative at both Turtle Creek and Leelanau Sands casinos, with guests donating their change.
The non-profit organization was selected in honor of World Water Day held during the month of March to celebrate water and raises awareness of the 2.2 billion people living without access to safe water.
Christine Crissman, Executive Director for the Watershed Center accepted the check, noting the donation will go toward some of the on-the-ground restoration projects this spring in Traverse City, Northport, and Elk Rapids, and for policy work with the local units of government for protective and preservation efforts.
"Funds like this allow us to do the work that we do," said Crissman. "Community support is a huge part in our efforts, whether it's folks that can contribute financially to our work, or people who can volunteer their time at our local beach clean-up efforts that [happen] starting on Earth Day. Any little amount that the community can do with their time, talents and treasures – all helps."
The Cash in on Kindness program has donated over $83,000 to 20 area non-profit organizations through guests donating their change to collectively make a difference in the community for the children, elders, veterans, animals, environment, water quality, health, and neighbors in need. Collections have been distributed to the American Heart Association, Groundwork Center for Resilient Communities, Veterans in Crisis, Father Fred Foundation, Grand Traverse Band Food Pantry, Michael's Place, Child & Family Services, For Love of Water, Cherryland Humane Society, Love Thy Neighbor, Reigning Liberty Ranch, Recovery Road Riders Scholarship Fund, TC Track Club's Women's Cancer Fund, 22 2 None, Project Feed the Kids, Big Brothers Big Sisters, NW Michigan Chapter of the American Red Cross, SEEDS Ecology and Education Centers, and The Watershed Center Grand Traverse Bay.