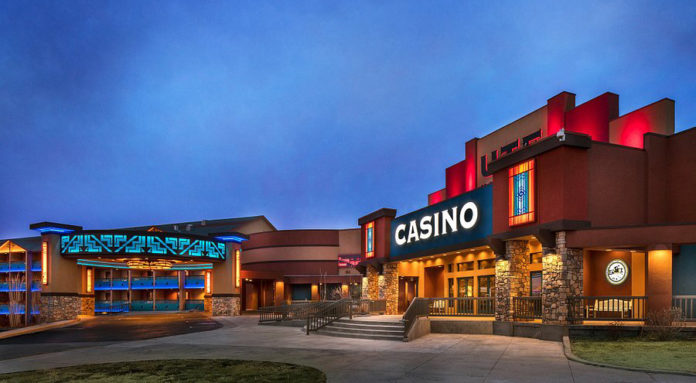 TOWAOC, CO – Ute Mountain Casino Hotel announced the opening of the first-ever retail sportsbook, powered by IGT's PlaySports platform, within the Four Corners. Located beside the front entrance of the main casino floor, the Ute Mountain Sportsbook leads the way for Colorado's sports betting industry and establishes a beachhead for the UteBet mobile app.
"This passion project has been our best kept secret over the past year, as we've persevered through the global pandemic and brought together all the moving parts in order to make this happen," said Rick Scheer, General Manager of Ute Mountain Casino Hotel. "We will make history as we open the doors to our first-ever sportsbook."
Led by Jay Petrick, Sportsbook Manager, the Ute Mountain Sportsbook surrounds guests with sixteen 55" LED screens and a dominating 98" LED screen to display featured events and odds. Positioned in the center of the venue exists a relaxed seating area with over 25 spots available for reservations. Players have access to three operated betting stations, four self-serving kiosks and a designated cage for large bets.
"Our goal is to create the ultimate betting experience by fusing the world-class services provided by IGT with the local essence of the Ute Mountain Ute Tribe," said Petrick.