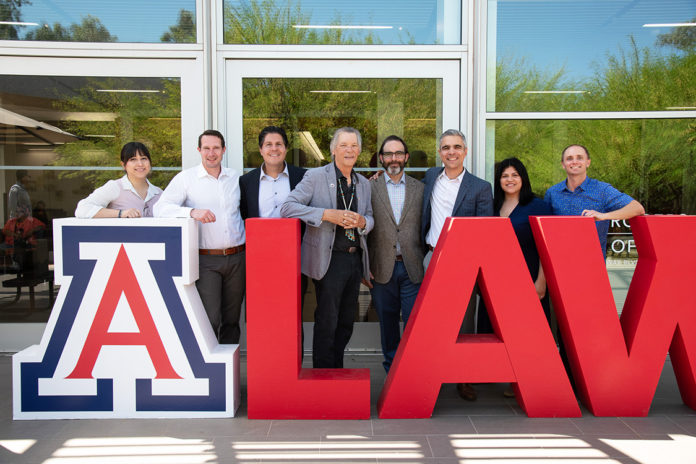 TUCSON, AZ – In recognition of significant financial support and contributions to Indigenous human rights advocacy made by Galanda Broadman PLLC, the University of Arizona Law School has dedicated the Galanda Broadman room in the firm's honor. 
The Galanda Broadman Room dedication ceremony included remarks by Regents Professor Robert A. Williams, Jr., Navajo Nation Chief Justice Emeritus Robert Yazzie, and former Chairman of the Skokomish Tribal Council Denny Hurtado.
Founded by University of Arizona Law alumni Gabe Galanda (2000) and Anthony Broadman (2007), Galanda Broadman tackles critical and complex litigation, business matters and regulatory disputes for tribal governments, enterprises and citizens. The firm has been at the forefront of Indigenous human rights advocacy since its inception. 
The Galanda Broadman Room will provide meeting and advising space for students and faculty in the Indigenous Governance Program, a partnership between University of Arizona Law and the Native Nation Institute. The Galanda Broadman Room will also support the creation of the School of Indigenous Governance and Development, a first of its kind inter-disciplinary program focused on meeting the Native nation-building needs of Indigenous nations through professional development and undergraduate and graduate programs. The School of Indigenous Governance and Development will allow University of Arizona to scale up Indigenous governance programming and partnerships, pursuant to the University of Arizona strategic plan.
"Gabe, Anthony, Joe and Ryan are doing some of the most important civil rights work of our times," said Marc Miller, Dean of University of Arizona Law. "We are honored to have them as Arizona Law alumni, and deeply grateful for their substantial and sustained support of our students and world-renowned IPLP Program. Their support of the Huerta Scholarship and the IPLP Program has allowed the law school to recruit record numbers of extraordinary Indigenous students into our graduate law programs."
Over the years, the partners of Galanda Broadman, including Galanda, Broadman, fellow alumni Joe Sexton (2006), Ryan Dreveskracht (2009), and Amber Penn-Roco have made transformational contributions to Indigenous human rights advocacy and have been supporters of University of Arizona Law's Indigenous Peoples Law and Policy (IPLP) Program. 
"Galanda Broadman's support to the law school and our students and their leadership in advancing Indigenous human rights made naming a room a fitting honor," said Professor Williams. "I can think of few law firms in the country that have made as many significant contributions as Galanda Broadman. I am so proud of our University of Arizona alumni; Gabe, Anthony, Joe, and Ryan, who all embody the IPLP spirit of community engagement and supporting the next generation of Indigenous lawyers."