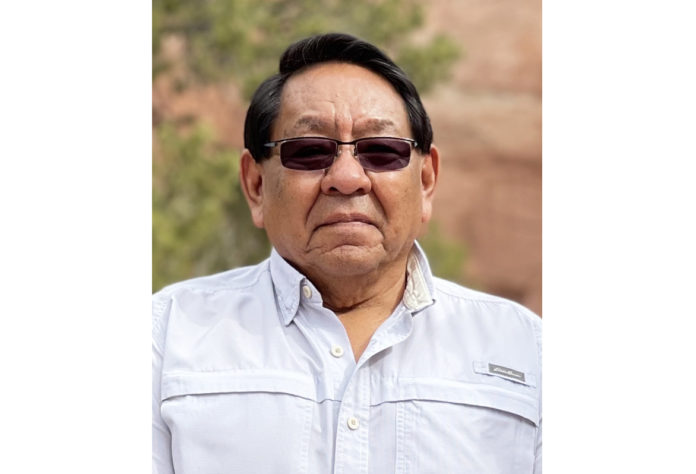 WINDOW ROCK, AZ – Navajo Nation President Nez has appointed Tico Charlee Executive Director for the Navajo Nation Telecommunications Regulatory Commission (NNTRC). He replaces Christopher Becenti who has begun a new role as Broadband Program Specialist for the National Telecommunications and Information Administration's Office of Internet Connectivity and Growth.
Prior to his appointment, Charlee served as the Tribal Policy Relations for Sacred Wind Communications since 2006, and previously as the Field Director and Executive Director. He also served in the U.S. Army for four years, from 1975 to 1979, as a Tactical Circuit Control.
"With his professional experience and military service, we are confident that Mr. Charlee will do a great job leading the Navajo Nation Telecommunications Regulatory Commission Office," said President Nez. "His vast experience provides perspective and guidance on many issues related to the need for broadband connectivity to meet the needs of our Navajo students, teachers, first responders, health care professionals, elders, and business owners. He's worked closely with the Telecommunications Regulatory Commission and the Office for years."
Charlee's previous professional experience also includes serving as President of Native Communications, Inc., former Vice President of the Navajo Nation Telecommunications Regulatory Commission, and an IT Director for Navajo Tribal Utility Authority.
"I appreciate the opportunity to contribute to the Navajo Nation Telecommunication Regulatory Commission and to help expand broadband efforts in Navajo communities," said Charlee. "Most importantly, to provide solutions and opportunities for telecommunication infrastructure in the Nation."
President Nez and Vice President Lizer expressed their appreciation for Christopher Becenti, who served as the NNTRC Office Executive Director from January 2019 to March 2022. Becenti's notable accomplishments include: being a co-founding member of the Navajo Nation E-Rate Consortium; correcting gaps with Wireless Emergency Alerts; securing 2.5 GHz EBS Spectrum to help deploy fixed wireless as an initial and rapid deployment for broadband connections to the home; supporting efforts to establish a multi-service provider proposal; finalized the draft Telecom Regulations; collaborated with Navajo Nation Division of Public Safety and Division of Community Development to create a proposal for Rural Addressing and 911-(PSAP) Public Safety Answering Point; supported the deployment of AT&T/FirstNet on the Navajo Nation; and many other accomplishments.
"I would like to thank President Nez, Vice President Lizer, and the 24th Navajo Nation Council for affording me this opportunity," said Becenti. "We have prioritized many telecommunication projects to close the big gap within the digital divide, most notably fixing wireless emergency alerts in the Navajo Nation. We completed many projects to provide a better quality of life for the Navajo people. I am confident that Mr. Tico Charlee will carry the torch to accomplish more broadband priorities. My commitment will continue to support closing the digital divide across Indian Country."
"We congratulate Christopher Becenti on his new endeavors to strengthen broadband capacity across Indian Country and rural communities," said Vice President Lizer. "We acknowledge your service and hard work in providing telecommunication opportunities and infrastructure on the Navajo Nation during the COVID-19 pandemic. Thank you for building a foundation to close the digital divide on the Nation."