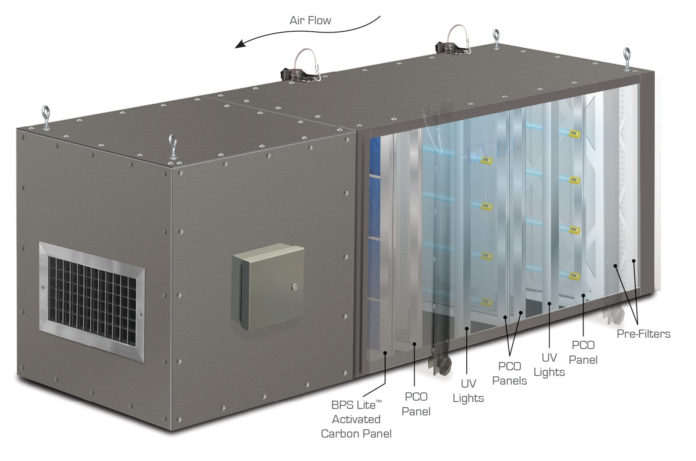 Three Rivers Casino announced it is bolstering its already-enhanced guest and employee safety protocols with new UV-C air purification disinfection systems at its Florence and Coos Bay casinos. The advanced ultraviolet air disinfection and purification systems, V-PAC™ Pro, are designed and manufactured by Ultraviolet Devices, Inc. (UVDI) and meet both Centers for Disease Control and Prevention (CDC) and The American Society of Heating, Refrigerating and Air-Conditioning Engineers (ASHRAE) guidelines to help prevent the spread of Covid-19.
Three Rivers Casino Resort which have reported zero positive Covid-19 cases to-date, have implemented enhanced safety measures at both its Three Rivers Casino properties, including regular surface cleaning and disinfection, hand hygiene protocols, face covering protocols for guests and employees and now air purification for smoke and odors and continuous air disinfection.
Dan Condy, CEO for the Three Rivers Casino Resorts- Even before the pandemic we were committed to the highest level of safety and cleanliness for our guests and Team Members and now once installed, these air disinfection systems at both the Coos Bay and Florence casinos will provide an additional layer of protection.
Richard Colton, Director of Marketing, Three Rivers Casino Resorts- I am very proud that we are the first on the west coast to be installing this technology. It's even more critical than ever to provide a safe place to play and work. Since our reopening of both properties we have been committed to being the safest place to play and work, and this just shows our continued commitment to our guests and team members.
Richard Hayes, President, UVDI, added "We are proud that our next generation Air purification disinfection products are a core part of Three Rivers' ongoing protection for its guests and employees. The Confederated Tribes are not stopping at zero but continuing to enhance their already-strong Covid-19 protocols. We're proud to team up with them to protect guests and employees who visit these vital economic and hospitality centers of Oregon's Central Coast."