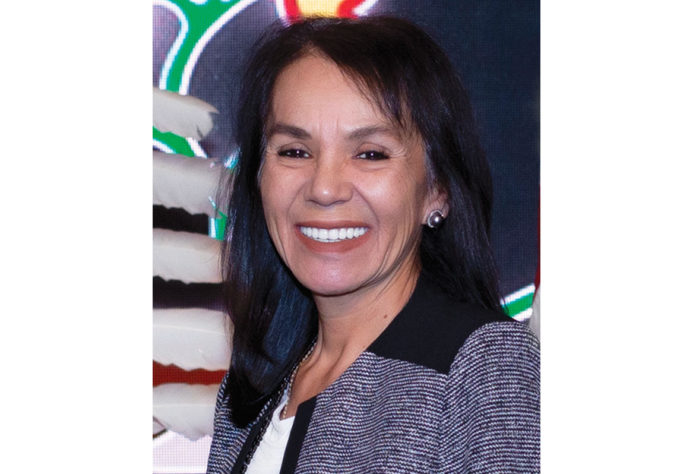 Theresa Jackson, Chief
Saginaw Chippewa Indian Tribe
Saganing Eagles Landing Casino & Hotel – Standish, MI; Soaring Eagle Casino & Resort – Mount Pleasant, MI 
saganing-eagleslanding.com
soaringeaglecasino.com
sagchip.org
CHALLENGES/REWARDS: The pandemic has left a tremendous gap in employment within our region. I know this is not only a state issue, but a trend that is being felt by many throughout the U.S. As we continue to find creative ways to recruit and retain employees, we identify partners and rely on collaborative efforts to meet this demand. Another opportunity for growth is to assist in having access to affordable housing within our region. With the continued rise of inflation, access to housing becomes an issue for many in our community. Many young families struggle to find adequate and affordable housing locally. Finally, we have identified the need to address aging infrastructure within our community. As we continue to look at growth and potential expansion, we remain aware of the need to update and/or replace the aging infrastructure that plays a crucial role in providing key services to our community and gaming properties.
Rewards for our tribe this year include projects that offer key resources to all in our communities. Three rewarding projects include the renovation and opening of the Saginaw Chippewa Tribal College, the groundbreaking of a new K-5 academy and recreation center for our youth and a 16-plex permanent supportive housing complex. Each of these are unique but offer support in various ways to so many in our community.
PROMOTING LEADERSHIP: We have continued to place an emphasis on education and access to skill development for our team members. We accomplish this using our internal training department that offers an array of industry-leading trainings and workshops. We remain committed to offering team members educational leave to complete their educational journeys as well. Additionally, we have leadership and apprenticeship programs that help our community members acquire the skills necessary to become the leaders of tomorrow.
FUTURE PROJECTS/INITIATIVES: Completing the above-mentioned projects remains a priority for this administration. As we look toward the future, we continue to place an emphasis on education. We broke ground last fall on our K-5 Saginaw Chippewa Academy/Recreation Center and are hopeful to open the doors in the fall of 2024. Here, our students have the opportunity to excel in academics while also being immersed in our culture daily. Offering a next step after high school is vitally important for our young adults and having access to a first-class facility is now readily available in our community. With the new Saginaw Chippewa Tribal College, many of the young adults can take the next step in their journey in developing the skills and acquiring the knowledge they need to assist in becoming leaders within the tribe for generations to come.