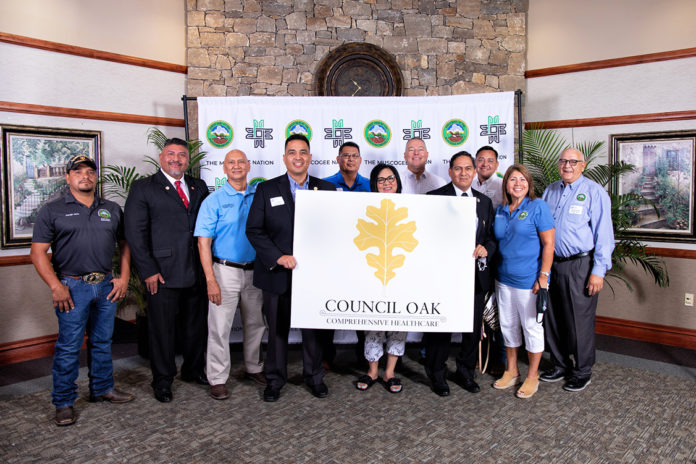 OKMULGEE, OK – The Muscogee Nation recently held a naming ceremony for its Tulsa healthcare campus. The new facility, Council Oak Comprehensive Healthcare, is located at the former Tulsa Cancer Treatment Centers of America (CTCA) facility at 10109 E. 79th St.
"Council Oak will enable us to expand healthcare for Native people and strengthen our services for the Tulsa community," said Shawn Terry, Secretary of Health for the Muscogee Nation. "The new campus will bring much needed specialty care closer to our citizens."
Council Oak will be open to patients in August, 2021. Outpatient services include urgent care and an HIV and Hepatitis clinic with plans to add additional specialty services soon. Inpatient services are expected to begin in early 2022. The new campus will generate an estimated 100 new jobs within the first year.
"At the height of the pandemic, we were unable to transfer patients to Tulsa hospitals who were in need of a higher level of care," said Terry. "This expansion will increase services for specialty care, addressing some of the long-term effects of COVID-19. It will also help ensure that citizens have health care access during a pandemic or bed-shortage crisis."
Conveniently located near a large number of Muscogee citizens and Native patients who need access to care, the facility is also close to Muscogee Nation primary care clinics in Coweta and Sapulpa. The expansion aligns with the Muscogee Nation's progressive approach to healthcare, which includes operating community-based hospitals in Okemah and Okmulgee, a long-term acute care facility, physical rehabilitation center and Indian health clinics throughout its 11-county Reservation.
On June 10, 2021, the Muscogee National Council authorized the Muscogee Nation Health System to pursue the purchase of the former Cancer Treatment Centers of America (CTCA) facility in Tulsa. The tribe began leasing the facility on June 15, 2021, and a purchase agreement is in place and expected to close in September. The 20-acre campus features 336,385 sq. ft. of inpatient and outpatient accommodations, a medical office building and 153 hotel rooms for family members and patients.