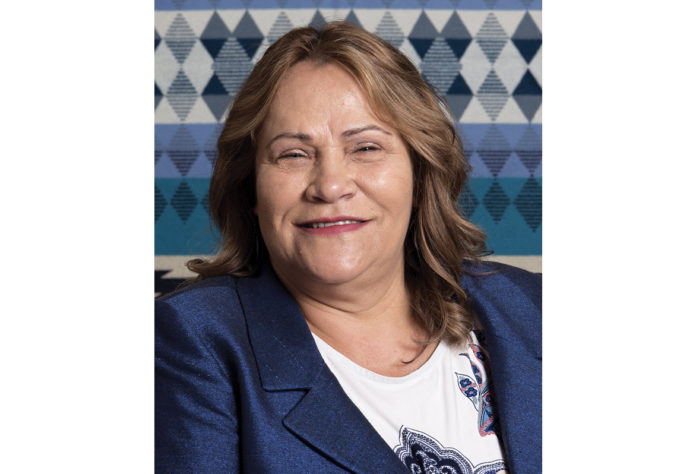 Teri Gobin, Chairwoman
Tulalip Tribes
Tulalip Resort Casino, Tulalip Bingo & Slots and Quil Ceda Creek Casino in Tulalip, WA
tulalipresortcasino.com / tulalipbingo.com
quilcedacreekcasino.com
tulaliptribes-nsn.gov
CHALLENGES/OPPORTUNITIES: Going back first to 2020, we had to close down our casinos for three months, which lost $60 million in revenue for the tribe. With different CARES Act funding, we subsidized wages and healthcare for our workers that we had to lay off for a time period. There were others that were laid off permanently because we operated as lean as we possibly could. Reverting to Zoom was interesting – we were on so many Zoom calls, all day long. It was also a challenge getting the technology up and ready for our children to do the online learning. Of course, that was a challenge all over the country.
We had additional closures when rioters and looters came through our area. We had to make immediate decisions to close our whole Quil Ceda Village area down and had police barricades everywhere. The word went out and tribal members helped guard the area along with the police, which was really unique, because we had all of these tribal members with their rifles and guns standing with the police. Police came from surrounding communities and we had SWAT teams there. There were so many people ready for this because we were a target. There was one group that went after Cabela's and were arrested. Then there was a group that tried to rush the factory outlet mall, but they were met by tribal members who held them there until they were arrested or moved from the area by police. Our people stayed vigilant for days, even after re-opening, because this area is an investment for the tribe that helps run our government and services. We had to make some really tough decisions and act immediately to protect our assets.
When the casinos did reopen, it was tough at first assuring people that we put all of our safety precautions in place so they could come back. It was a little slow at first, but with the pent-up demand, our revenue has been recovering quickly. This last February 2021, we opened a new casino, Quil Ceda Creek Casino, and closed down one of our old ones. That has been doing very well – better than expected. The project was already underway and being built when we hit the pandemic. Construction slowed down temporarily and then continued. The project ended up being completed on time and under budget.
We've also been negotiating our sports betting compact and just recently went to the Governor's office for signature. Having this sports betting compact approved will bring in additional revenue and jobs for our people.
KEY TO SUCCESS: The resilience of our staff who worked through all of this. With everyone working from home, we actually held more meetings during the pandemic than we would normally do in person, because we could go from one meeting to the next with Zoom. We had skeleton crews that worked really hard to get services to our community. Our water, sewer, garbage, and other essential personnel worked throughout the pandemic and were compensated with an increased wage amount. It was the whole tribe who moved forward in a good way. We tried to make the best decisions for the tribe as a whole. Some tribes handed out funds right away, but we tried to take care of our services to the people first. Our community understood what we were doing and why we were holding back. We did do some distributions to make sure that we took care of our people and that our elders were okay. We were very fiscally responsible, making sure we didn't spend too much, because we wanted to be certain if there was another uptick in COVID-19 cases, we'd be able to cover our government expenses, while providing services to our people. We put away a rainy-day fund and we keep adding to it.
We've pushed hard for vaccinations and opened up our vaccinations to all of the local school districts to try to get the kids, teachers and staff back in school. In our community, for those 50 and over, we are at herd immunity. It's the younger people we are still trying to entice to get vaccinated.
FUTURE DEVELOPMENT: We are aggressively going after diversifying our income. We have a couple of major projects that we will announce soon. Additionally, we are opening up a new state-of-the-art carwash. We are getting ready to take down one of our liquor stores and smoke shops and rebuild that whole area by the Quil Ceda Creek Casino. We have a Chevron gas station and we'll add a c-store attached to that, with a liquor store and smoke shop, and another cannabis store. Those are the first projects that will be starting right away. But we have so many things in the hopper for evaluation. We have some projects in our Quil Ceda Village, our business park, that are very close to finalizing, which will generate a high amount of revenue and sales tax. We are starting to get a lot of new businesses that want to come into our area.
Right before the pandemic, we also finished an important tax case, which was a major win for the tribes here in Washington State. We are going to be building a $35 million dual-diagnosis center for mental health and addiction, which will be a state-run facility. The $35 million that we will spend on developing this civil commitment facility is actually what we would be taking in at that time for one year of taxes. That gave us access to a bigger percentage of our sales tax – we will get 50% of current sales tax, and then 60% on new businesses.