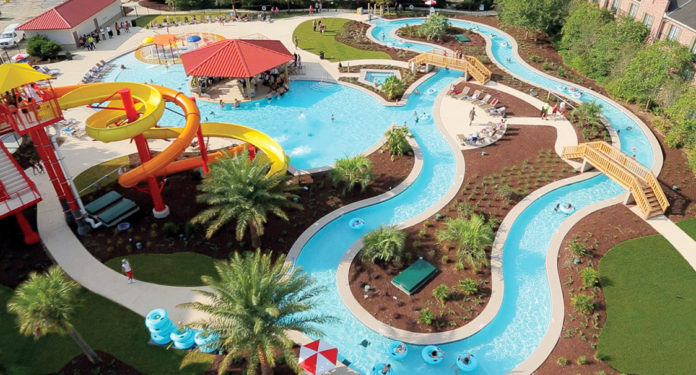 In the heat of summer, water parks in Indian Country are bringing families and friends together outdoors. From elaborate water installations to slides and expansive pool decks, these properties provide entertaining fun in the sun for all ages!
Mandan, Hidatsa and Arikara Nation
4 Bears Casino & Lodge
New Town, ND
Year water park built: 2017
Open June 14 – August 14, 2022
The 4 Bears Water Park is an oasis of good times and summer excitement in New Town, ND. With something for everyone in the family, the park hosts three water slides, a huge pool and splash feature, zero entry lazy river with action channel, sun deck, toddler area, wildflower garden and a full concession stand.
Water park amenities are open Tuesdays through Sundays from 3 p.m. to 7 p.m. Visitors can enjoy open hours or book private parties starting from 11 a.m. that include snacks, drinks, tickets, an on duty lifeguard and sound system. The park is a great place to host birthdays, family reunions, sports teams and any other summer gathering.
As part of the entire 4 Bears Casino and Lodge Complex, pool visitors have access to not only hotel accommodations and dining options but also gaming, entertainment, retail and recreation on Lake Sakakawea. With so much to do, it's perfect for a full weekend getaway in the summer. Admission is $10 for adults, $6 for kids, $4 for non-swimmers and free for infants. Season passes are available at a discount for tribal members. Guests can relax while enjoying the sun and the water at 4 Bears Water Park during the hot summer months. 
Otoe-Missouria Tribe
7Clans Casino Resort & Waterpark
Newkirk, OK
Year water park built: 2018
Open year-round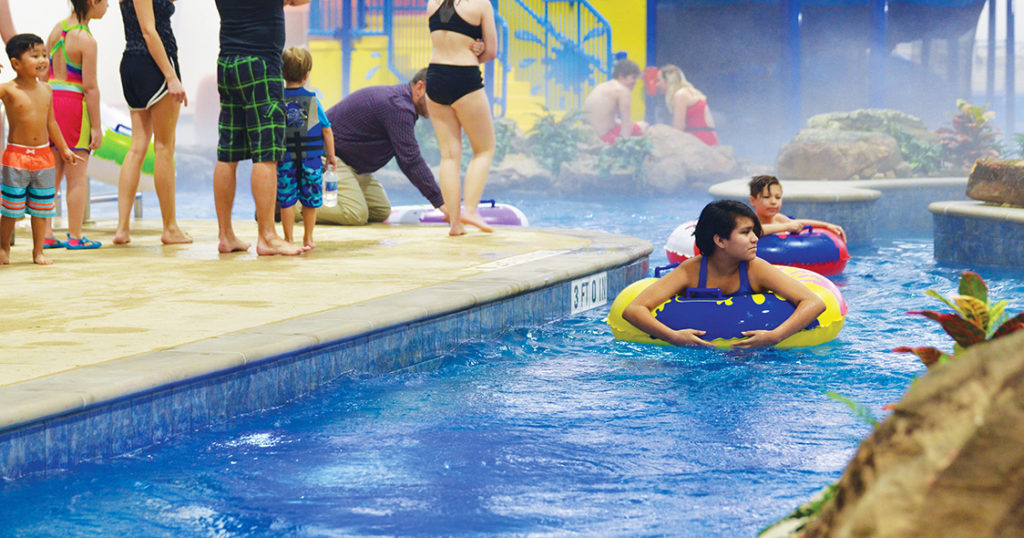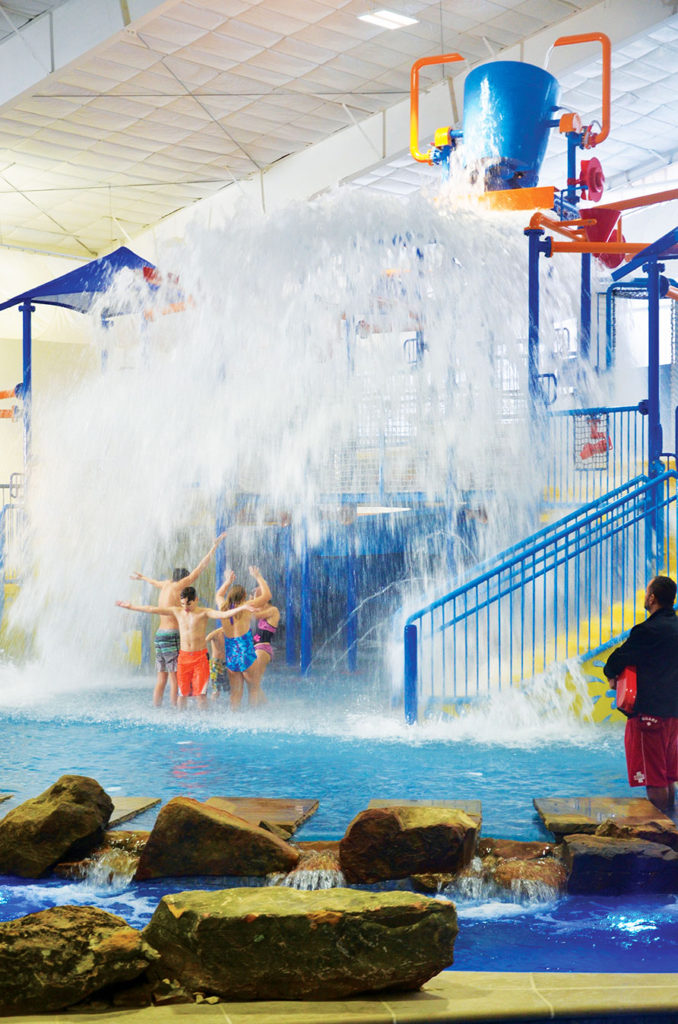 The First Council 7Clans Casino Resort & Waterpark is located north of Newkirk, OK near the Kansas border. It is a one-of-a-kind experience and the only indoor water park and casino in the State of Oklahoma. All hotel stays include water park passes for the occupancy of the room and water park day passes can also be purchased. The water park features four slides (the tallest is three stories), a 329-foot lazy river, a climbing wall and a child-friendly water play area that includes "Bucket of Ruckus" that builds with anticipation before dropping 600 gallons of water, drenching all those under the bucket. Cabanas are also available to rent to add a more private water park experience. Coffee drinks and light breakfast items are available outside the park at the Bear's Den, and quick bites for hungry swimmers are available at Hooty Hoo Snack Shack, located in the waterpark. There is also an arcade to entertain for hours.
Currently the water park walls are in the process of receiving a new, colorful look by Otoe-Missouria artist, Kennetha Greenwood. They will feature their seven cartoon clan animals playing in rivers, amongst trees and on grassy cliffs. The scenery is dotted with colorful flowers that incorporate the traditional floral patterns of the woodland tribe, with the landscape reminiscent of Nebraska, where the tribe once lived. Visitors can enjoy the water park through the season and watch the process take place. Operating hours are Thursday 4 p.m. to 8 p.m. and Friday through Sunday 11 a.m. to 8 p.m. for the summer season.
Choctaw Nation of Oklahoma
Choctaw Casino & Resort – Durant
Durant, OK
Year water park built: 2021
Open April – October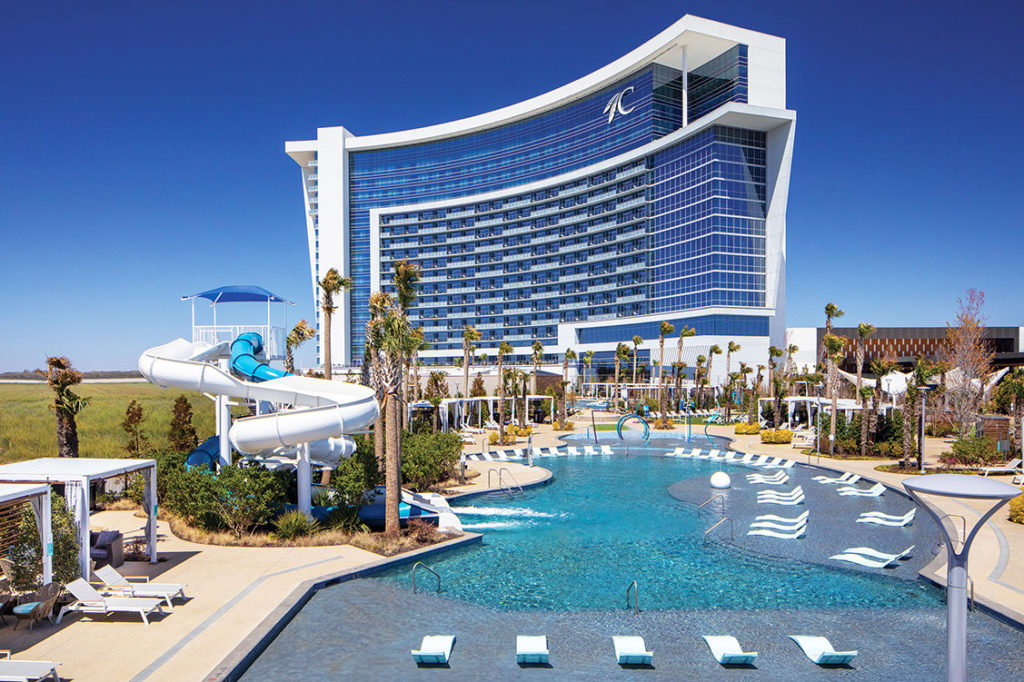 Nothing says tropical escape quite like Aqua at Choctaw Casino & Resort – Durant. Situated behind the new Sky Tower, Aqua sprawls across three beautiful acres and features two pools – one family-friendly and fully equipped with two waterslides, and the other an exclusive, adult-only pool. Offering 50 luxurious poolside cabanas that facilitate a personal relaxation experience, each include a 45" HD TV, mobile air conditioning unit, refrigerator, personal safe, loveseat, three chairs, two designated lounge chairs, an exclusive menu and designated server. With 750 chaise lounge chairs and four outdoor venues for food and drinks, there is something for everyone at Aqua.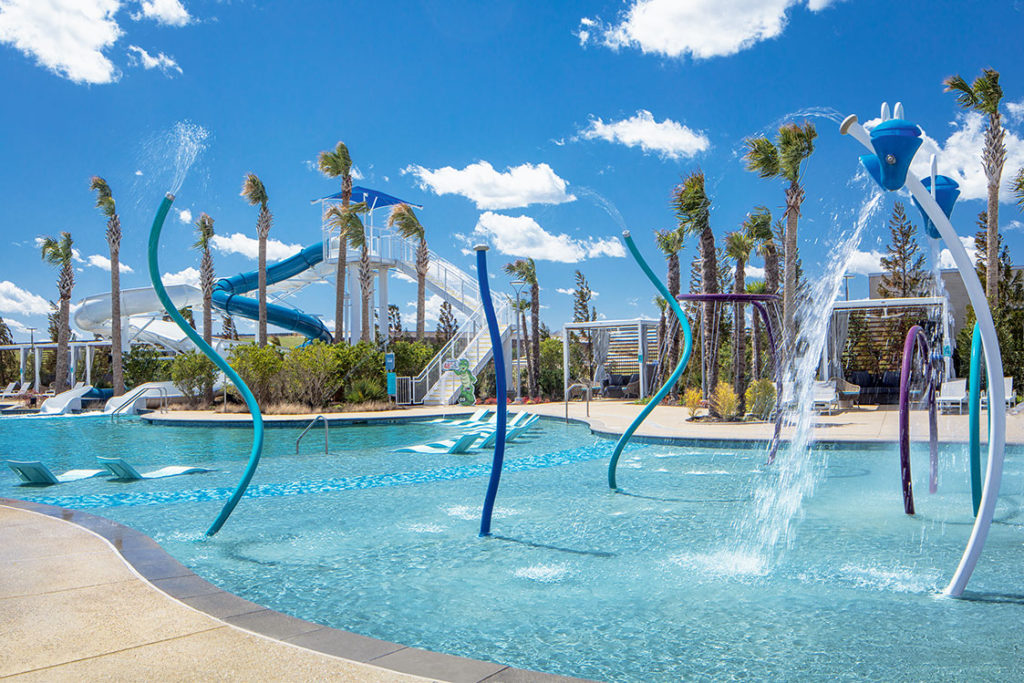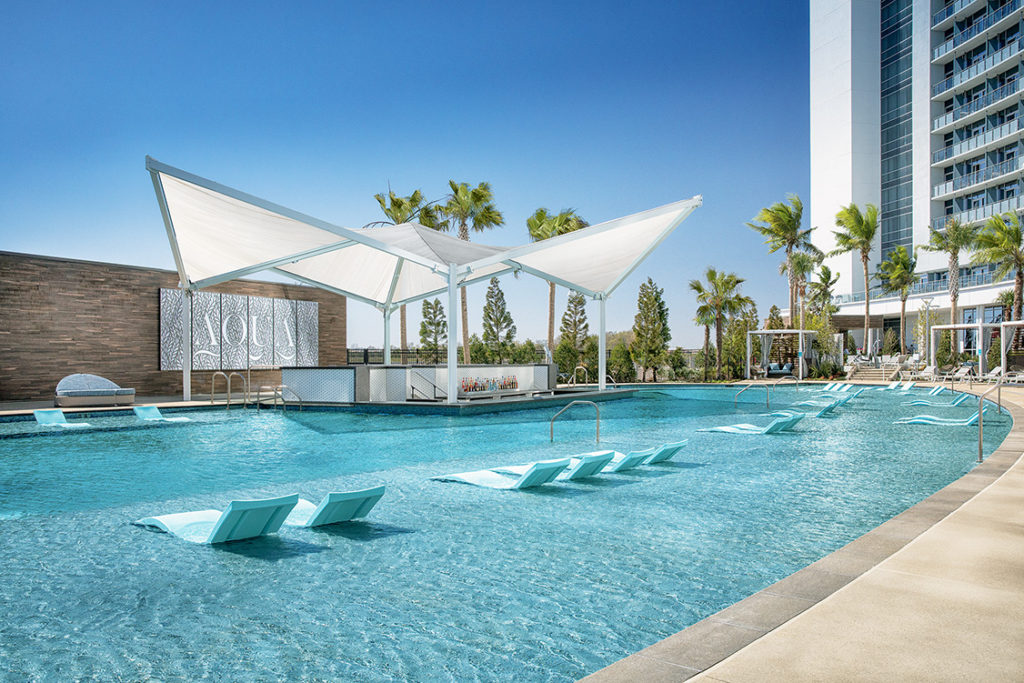 Aqua Cabanas are available for those searching for the ultimate adults-only resort experience. Conveniently located near the sparkling edge of the 21+ pool, this exclusive slice of paradise has it all. Slip from your lounge chair into the cool water and you'll find a swim-up bar where your drink awaits. Grab a bite to eat at Luna restaurant – just footsteps away. Or stay in the shade and have the refreshment of your choice delivered.
Family-friendly cabanas offer the best of both worlds – parents never have to worry about the kids slipping out of sight. Plunge into the excitement with a ride down one of two thrilling water slides or turn the little ones loose for fun on the interactive water toys and kid-friendly splash features.
And finally, for a tranquil retreat away from the splash zone – Lawn Cabanas are available for those in search of a little peace and quiet. Spend the day lounging away under the breezy palms while you enjoy your favorite book – or favorite drink, at Remix. When ready for a dip, guests will find the pools waiting just on the other side of the lawn.
Coushatta Tribe of Louisiana
Coushatta Casino Resort
Kinder, LA
Year water park built: 2013
Open during summer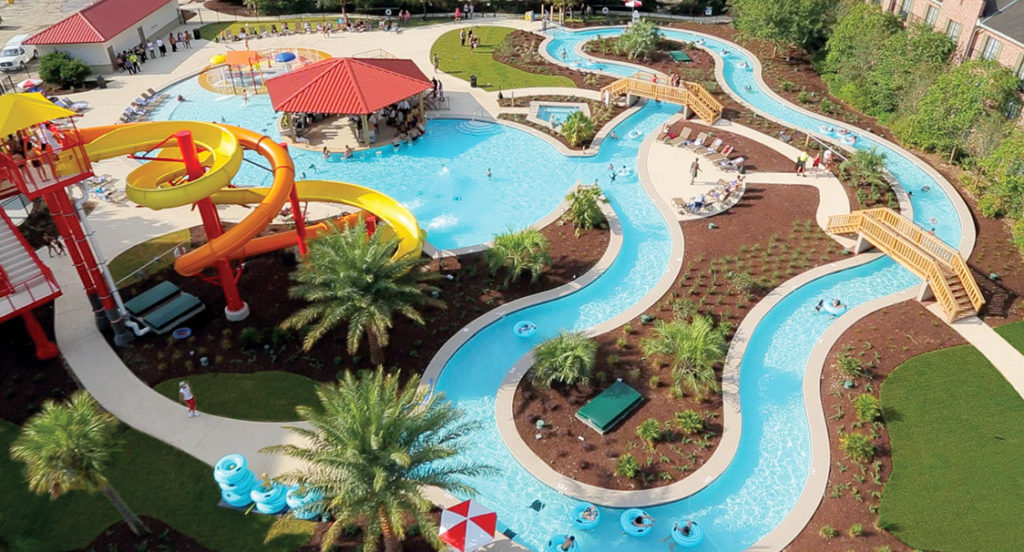 Coushatta Casino Resort's Dream Pool is a popular summertime "hot spot" when planning a summer getaway. This beautiful pool features two 40-foot-tall slides – a 184 triple-loop and a 112 ft. speed slide. These slides intertwine, sending guests splashing into the 5,000 sq. ft. pool below. Guests must be at least 48 inches tall to use the slides. Pool patrons who prefer to relax will appreciate the lazy river, a 500-linear-foot serpentine with underwater jets to help floaters enjoy the cool, relaxing ride.
Toddlers and tots will have a great time on the splash pad area with two mushroom waterfalls and waterspouts that spray out from the ground. The 1,300 sq. ft. splash pad is covered with a safety surface that is soft and cool underfoot. Sunseekers can catch some rays on the sundeck and on the water-covered sunshelf. Another popular feature is the swim-up bar with in-water seating – the coolest way to enjoy a summer cocktail or beverage. There is also a shaded section with seating in the cabana bar. Dream Pool access is exclusively available for overnight hotel, chalet, and RV guests. Dream Pool is open seasonally during the summer months.
Hannahville Indian Community 
Island Resort and Casino
Harris, MI
Year water park built: 2022
Open year-round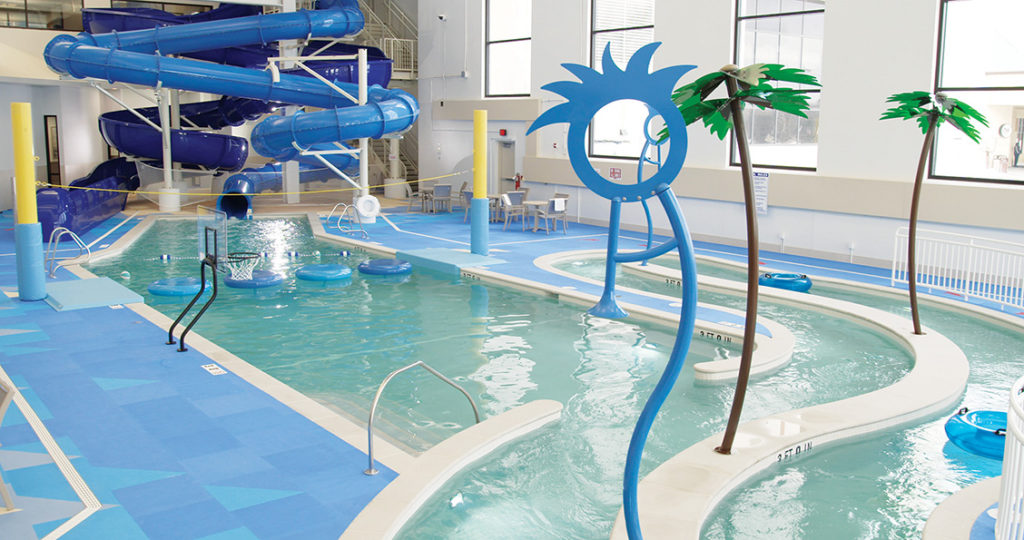 The Island is officially surrounded by water thanks to a new swimming pool. But this is no ordinary pool – waterpark features make it an oasis of fun. Bring the whole family for a warm and watery getaway all year long. Splash Island pool with waterpark features covers 14,010 sq. ft. and has something for everyone. Race down two winding tube slides, one of which empties into a kid-friendly pool. Visitors will love the rush of water and the thrill of slipping around bend after twisting bend. If high-speed twists and turns aren't your thing, try the lazy river. Let the current take you as you float effortlessly around and around. Use a tube or body surf and enjoy the Island stream. Kids will love the little guppy splash pad area filled with streams of squirting water, mini slides and a giant dump bucket. When you wear yourself out with all the wet and wild fun, refuel at the concession stand. Snack options will get you charged up for the next aquatic adventure. And once you have splish-splashed through all of the activities, take a seat in the large hot tub and let your stress melt away. It is truly the perfect island escape.
Mississippi Band of Choctaw Indians
Pearl River Resort
Choctaw, MS
Year water park built: 2002
Open during summer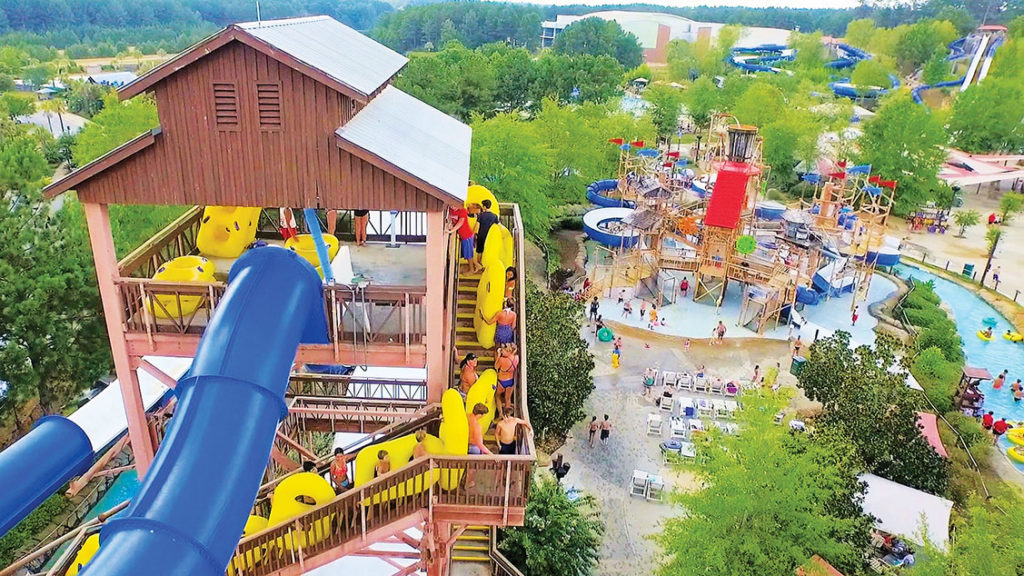 Geyser Falls Water Theme Park has been in business for 20 years and is part of the Pearl River Resort, which is owned and operated by the Mississippi Band of Choctaw Indians in Choctaw, MS. The theme for this fifteen-acre park is based on a Choctaw Indian Legend of a magical land of gushing geysers and roaring waterfalls. The park also features Clearwater Key, an additional eight acres of tropical beach paradise.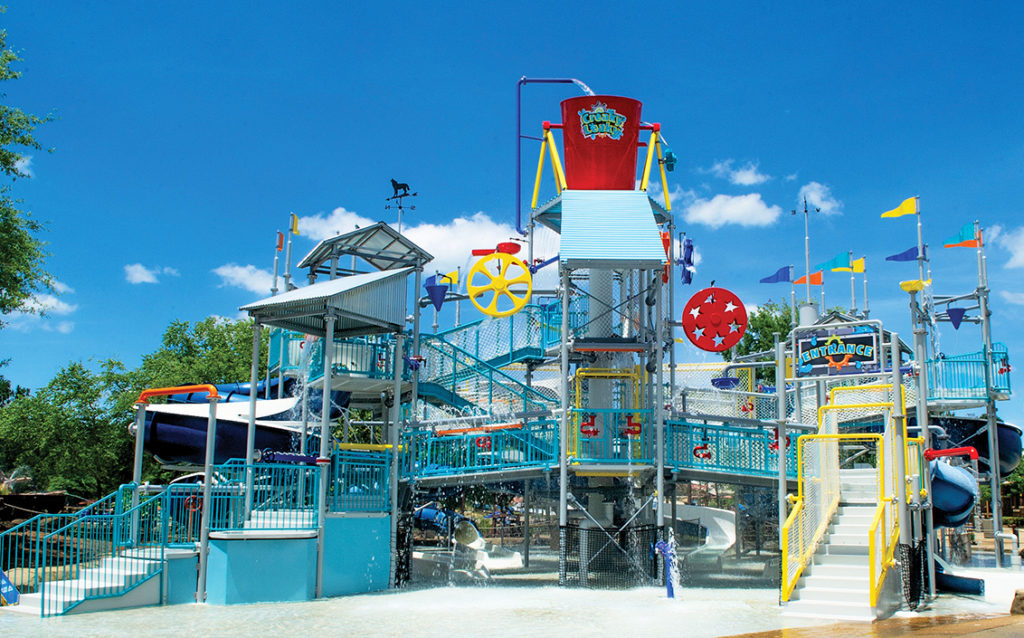 The park includes Thunder Lake Wave Pool, and a 1,200-foot, lazy, Roundabout River for tube floating your cares away. Appealing to the whole family is Creaky Leaky, a massive interactive water factory with 100 different play features for all ages. Lil' Squirt's Hollow is an interactive children's fun zone full of special water features, mini-slides, Frog Rock and much more for toddlers. Hurricane, Flash Flood, Raging Rapids, and Cyclone are four different stormy double-sided tube slides of the 4½-story adventure called Pipes Peak. The three different six-story speed slides of Mt. Everwet are called Freefall, Threefall, and Nightfall. With its four racing slides, Whitewater Express is for those who love competition.
Clearwater Key transports guests to a lush tropical environment of palm trees, white sand and sparkling blue waters. Palm Beach, North Beach and South Beach offer relaxation in the sun while children explore The Pearl, shipwrecked on the beach. Clearwater Key offers a hot tub, kiddy Whale Pool, and lots of room for volleyball. Located adjacent to the sandy paradise is the Beach Club Restaurant for family dining inside or outdoors on the deck near its own pool and sandy volleyball area.
Additional perks include 12 cabanas for daily rental, a retail shop, snack bar and an outdoor stage for entertainment.
Pechanga Band of Luiseño Indians
Pechanga Resort Casino
Temecula, CA
Year water park built: 2019
Open year-round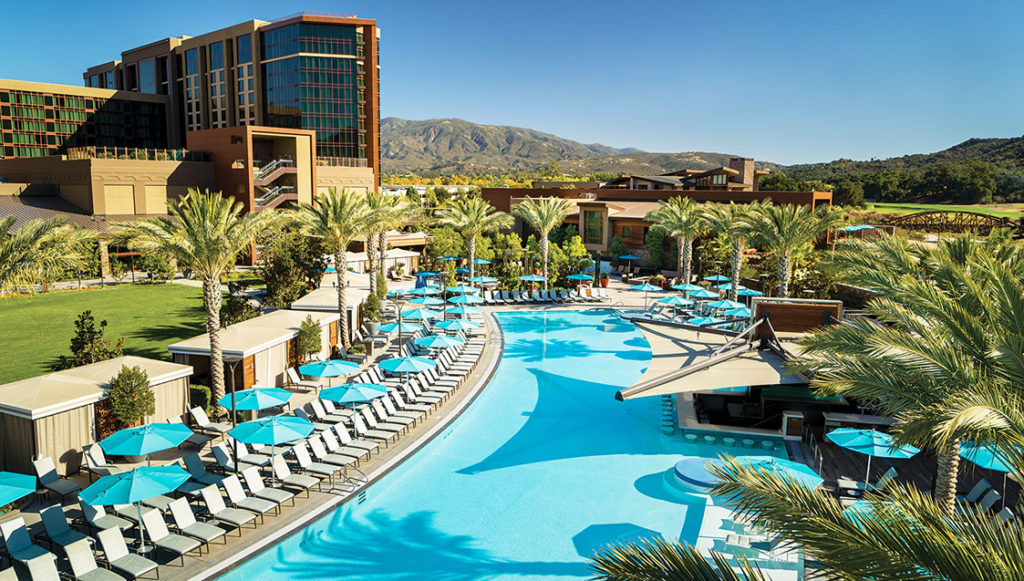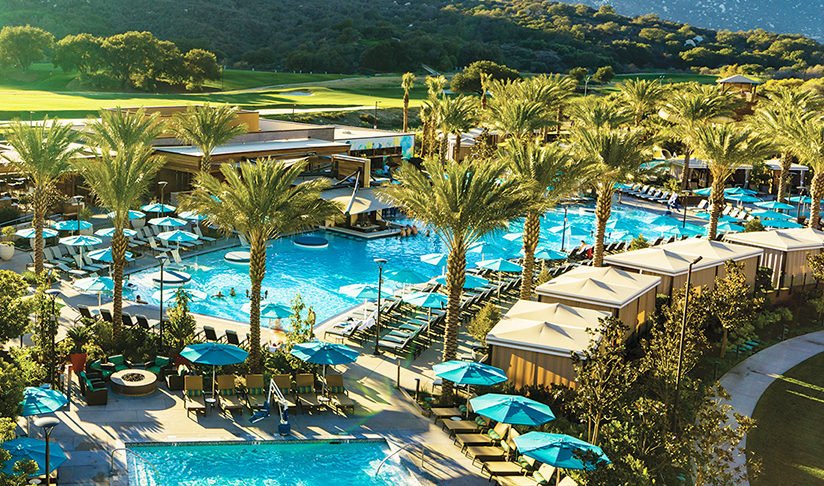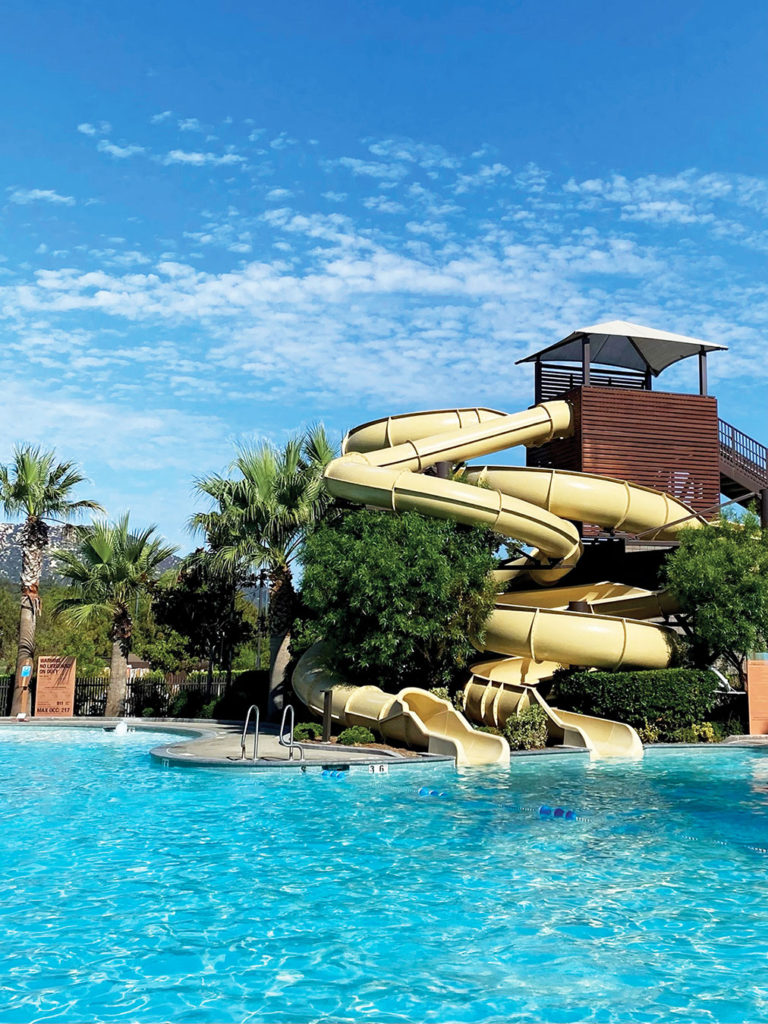 The Cove is Pechanga Resort Casino's perfect poolside retreat. The Cove, equals in size to more than four football fields, features four pools, three spas, two twisty waterslides, 27 cabanas, six oversized daybeds that skim the main pool, a swim up bar with 18 submerged seats and Baja ledges.
Since opening in 2019, The Cove has proved a popular oasis-like spot for guests celebrating birthdays and bridal showers, and of course, for those who just want to soak up the Southern California sun in style. Grabbing a bite to eat or a refreshing drink at The Cove is easy with dedicated cabana servers, as well as poolside service from the Coveside Grill restaurant. Inside the Cove complex, guests will also find several modern fire pits perfect for sitting by and sipping a refreshing beverage, and men's/women's locker and changing rooms.
Prairie Island Indian Community
Treasure Island Resort & Casino
Welch, MN
Year water park built: 2016
Open year-round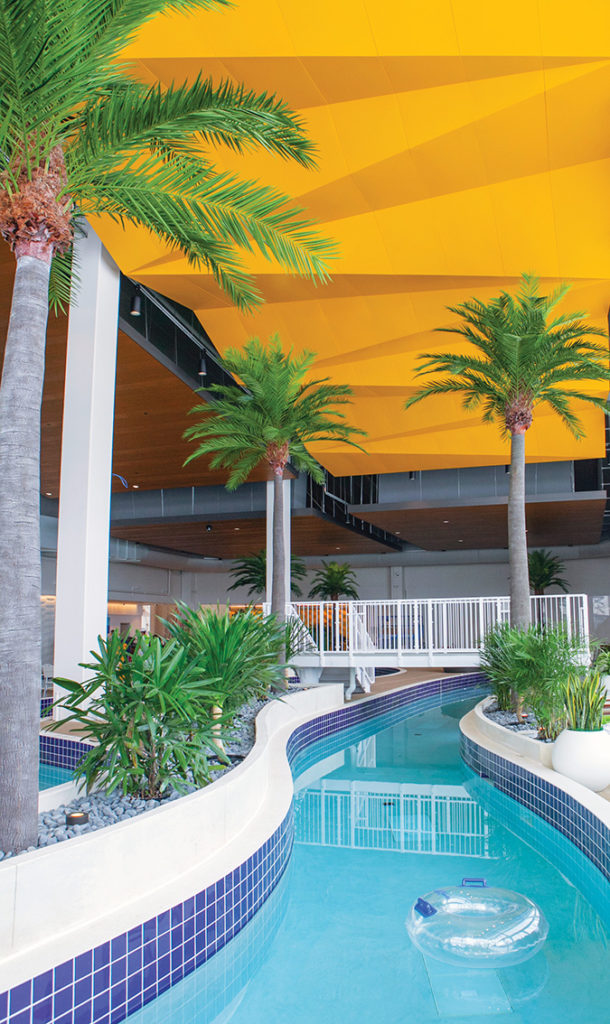 The Lagoon is an indoor water park featuring a zero-depth spray-and-play toddler area with a tot-sized toucan slide, dump bucket and geysers, two looping body slides, a relaxing lazy river, an activity pool and a separate adults-only area with Minnesota's only swim-up bar. The adults only area also features two indoor hot tubs, one outdoor hot tub and its own terrace.
The Lagoon is now offering private swim lessons for ages three years and older, and students work one-on-one with a certified lifeguard to develop basic skills, increase endurance and build confidence in the water.
Sightseer cardholders with a hotel reservation receive two free wristbands with the option to purchase more. Voyager, Explorer, Adventurer and Jet-setter cardholders with a hotel reservation receive up to five free wristbands based on their room type. Day passes can also be purchased.