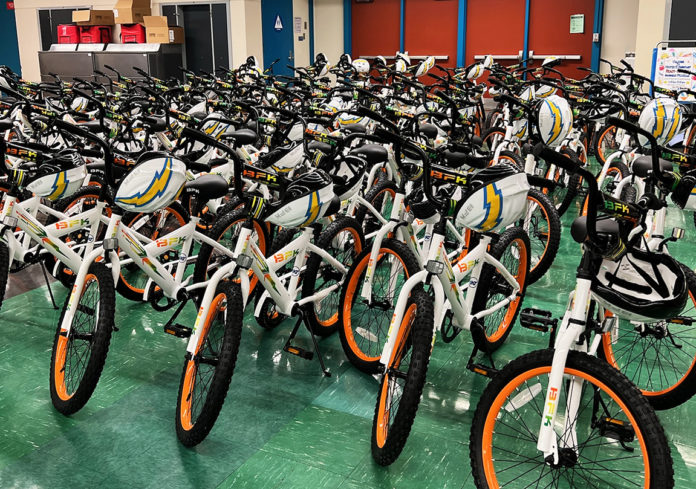 LOS ANGELES, CA – Nearly 170 South Los Angeles children received new bikes and fun thanks to Pechanga Resort Casino and the Los Angeles Chargers. Elementary school kids at Hooper Avenue Elementary in South LA were called to the outdoor lunch tables after for what they thought was an awards ceremony for three students who wrote the best essay. Those three kids received new bicycles. Additionally, waiting for all the kids in the gathering were shiny new bicycles, helmets and locks. The bikes were purchased for the children through the Chargers Impact Fund with funds contributed by Pechanga.
Helping to give away the new rides were Chargers football legends LaDanian Tomlinson and Antonio Gates. Also in attendance were representatives from the Pechanga Board and Chargers front office. This is the 17th year of the Bikes for Kids giveaway program. The recent giveaway saw the largest number of bikes given away to kids yet.
"We are so honored to partner with the Los Angeles Chargers again this year to give bikes to these deserving kids," said Andrew Masiel, President of the Pechanga Development Corporation. "We think bikes are one of the greatest gifts a kid can get. Kids need the chance to be kids – to get out and explore and enjoy the outdoors. We are always committed to giving back and happy to do it alongside the Chargers."
"You never really know who you're going to affect in life," said Antonio Gates, former Chargers tight end. "To be able to affect all these kids and see all these kids and see the emotions on their faces, them crying, I can't put it to words what it means."
Bikes for Kids happened shortly after Pechanga donated toys, experiences, gifts and funding for children and families in need through Southern California charities – ABC7's Spark of Love, the Marines' Toys for Tots, and Holiday of Hope (a hosted event at Pechanga for underserved kids and families). The funds and gifts totaled nearly $100,000.