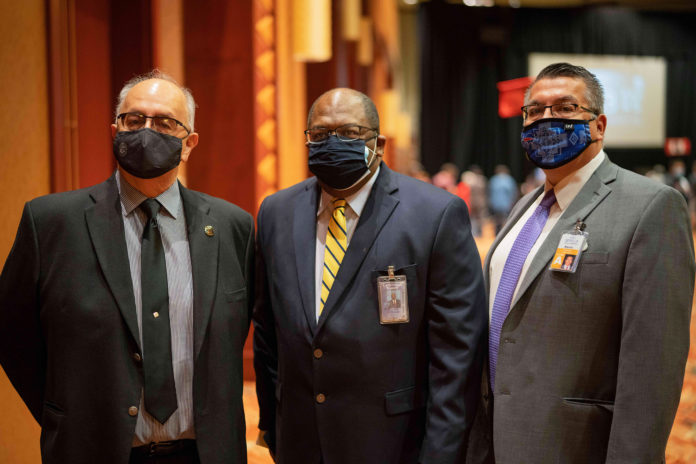 SALAMANCA, NY – As the nationwide effort to deliver the COVID-19 vaccine to the American people continues, the Seneca Nation and Cattaraugus County have partnered together to help reach County residents.
The Nation and county organized second dose vaccine clinics for county residents at the Seneca Allegany Events Center inside Seneca Allegany Resort & Casino this week. The clinics follow first dose clinics that were previously held at the Events Center. All told, approximately 1,500 Cattaraugus County residents will have been fully vaccinated at the Seneca Allegany clinics.
"It is one year into the COVID-19 pandemic and we are finally seeing a light at the end of the tunnel, in the form of the COVID-19 vaccines," said Cattaraugus County Public Health Director Dr. Kevin D. Watkins. "Important partnerships like the one we enjoy with the Seneca Nation expand our reach. Residents who fall in the prioritization groups set by New York State Department of Health can register to receive a vaccine. The vaccine is proven to be both safe and effective against COVID-19 and is a gateway for all of us returning life back to some form of normalcy."
"COVID isn't a Seneca issue, and isn't a local issue. It is a global issue. Getting things back to where we want them takes all people and all communities working together," said Seneca Nation President Matthew Pagels. "The Seneca Nation is happy to work with our neighbors in Cattaraugus County to keep the vaccination effort moving forward. While we are separate governments, our communities and our people are connected. We're in this together."
As overall vaccine demand still outpaces supply, being able to reach large numbers of people in one setting is particularly helpful in rural counties. According to Dr. Watkins, the Cattaraugus County Health Department has administered a total of 5,659 first dose vaccines and 2,215 second dose vaccines. Overall, 17,900 residents, or 23.3% of the county's population, have received at least one dose of COVID-19 vaccine and 9,740 residents have completed their vaccine series to date.
Native American communities have been among the most impacted by the virus. Federal statistics show that the COVID-related death rate among American Indian and Alaska Native people is nearly twice that of white people. For the past year, the Seneca Nation has implemented a widespread response on its Allegany and Cattaraugus Territories, including weekly testing events, community PPE distributions, comprehensive health and safety protocols at all Nation facilities, and regular outreach and updates to the Seneca people.
Now, the Nation is continuing its push to get the vaccine to its members. Locally, the Seneca Nation Health System began receiving vaccine doses from the federal Indian Health Services in January, with approximately 200 doses currently being received each week. To date, more than 2,400 primary doses have been administered and more than 1,500 Nation members will have been fully vaccinated by the end of this week. The Nation recently opened up vaccine eligibility to all enrolled Nation members age 18 and older.
"The pandemic has held all of us in its grip for the past year. The Seneca community, like so many others, has felt the pain and loss this virus can bring," President Pagels said. "We have been fighting every day to protect our community and our people in every way we can. The vaccine is key to winning this battle. I am encouraging everyone to make a vaccine appointment as soon as they are eligible and able to do so."