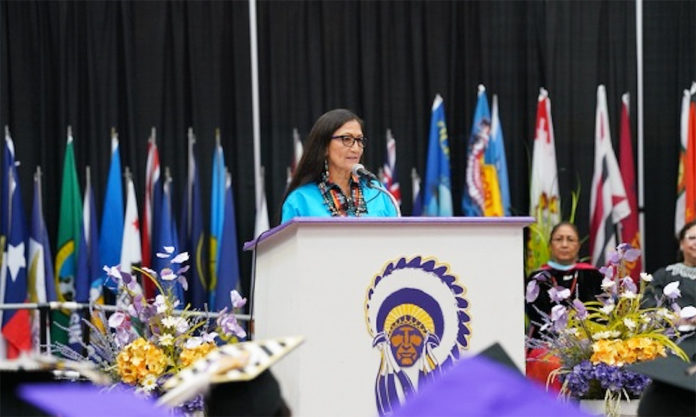 TOPEKA, KS – Secretary of the Interior Deb Haaland recently visited Kansas to highlight the Biden-Harris administration's commitment to strengthening and empowering Indian Country, including increasing access to voter registration for Indigenous peoples. Secretary Haaland also visited several sites that tell a more complete story of America and underscore the administration's ongoing efforts to advance equity and justice for all.
Last week, Secretary Haaland delivered the commencement speech for the graduating class of 2022 at Haskell Indian Nations University, a Bureau of Indian Education-operated post-secondary tribal institution. In her remarks, the Secretary championed culturally relevant education and called on students to carry forward the legacy of their ancestors. She also discussed the Department's recent announcement on next steps for the Federal Indian Boarding School Initiative, standing on the campus that was originally opened under the federal government's assimilationist policies in the 1880's.
Secretary Haaland's remarks also highlighted the Biden-Harris administration's efforts to increase voter registration in Indigenous communities through the designation of Haskell University as a voter registration agency under the National Voter Registration Act. The action will facilitate voter registration opportunities for enrolled students and members of the community and supports President Biden's Executive Order on Promoting Access to Voting, which aims to expand access to, and education about, voter registration and election information in order to enable all eligible Americans to participate in our democracy.
Secretary Haaland became the first Interior Secretary to tour the Bureau of Trust Funds Administration's American Indian Records Repository (AIRR), an underground facility that modernized and centralized the Interior Department's Indian records management and works to safeguard historic records that date as far back as the 1700's. Secretary Haaland and Assistant Secretary for Indian Affairs Bryan Newland were briefed about AIRR's use of state-of-the-art technology and tireless work to preserve invaluable records of Native history. AIRR is playing a critical role in research efforts that support the Federal Indian Boarding School Initiative.
On the heels of President Biden signing the Brown v. Board of Education National Historical Park Expansion and Redesignation Act into law, Secretary Haaland traveled to Topeka to visit the Brown v. Board Education National Historical Site, which preserves, protects and interprets the landmark 1954 U.S. Supreme Court decision that outlawed segregation in public schools. The historic site works with local partners to explore through exhibits, educational programs and special events the story of Brown v. Board of Educationin the context of the Civil Rights Movement. Secretary Haaland's visit is part of the Biden-Harris administration's ongoing efforts to strengthen equity and social justice and help tell a more complete story of America.