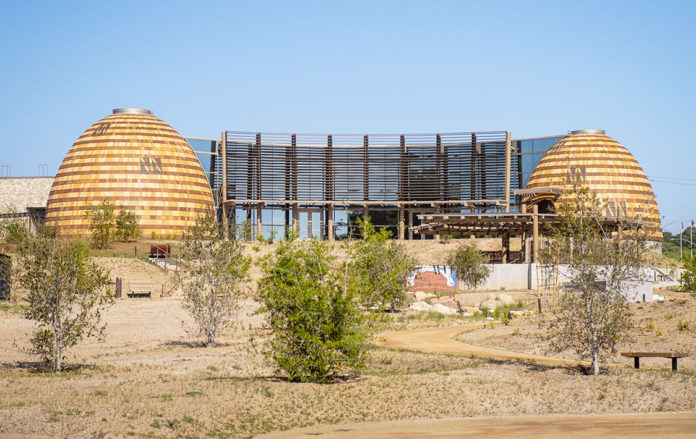 SANTA YNEZ, CA – The Santa Ynez Chumash Museum and Cultural Center, which is slated to open later this year, has earned LEED® Silver certification from the U.S. Green Building Council (USBGC) for its environmentally sound design, construction and operational practices.
LEED, or Leadership in Energy and Environmental Design, is the most widely used green building rating system in the world, and its certification is proof that a business is going above and beyond to ensure the building is constructed and operated to the highest level of sustainability.
With this prestigious distinction, the Santa Ynez Chumash Museum and Cultural Center joins the Smithsonian National Museum of the American Indian as the only Native American museums in the country certified at LEED Silver or better. The Santa Ynez facility becomes one of 15 museums in California, and the 124th museum in the U.S., to be LEED certified at the Silver level or better, according to the USGBC's online directory.
"This achievement underscores our tribe's commitment to the environment and conservation efforts as we prepare to introduce the community to a one-of-a-kind facility that showcases our history and culture," said Kenneth Kahn, Tribal Chairman for the Santa Ynez Band of Chumash Indians. "We share in celebrating this global distinction with the architects and construction partners who helped make our aspirations for LEED certification a reality."
In order to achieve LEED certification, project teams must adhere to prerequisites across nine measurements for building excellence. These measurements range from integrative processes to building materials to indoor air quality. The Santa Ynez Chumash Museum and Cultural Center scored high marks for its water efficiency, energy efficiency, materials and resources, and innovation in design.
The 14,000 sq. ft. facility features architecture reflecting Chumash culture, including a Welcome House, Heritage House, Traditional Tule House, Samala Language House, and a Tomol House that symbolically combine to represent a village. The 3.5-acre adjoining cultural park will feature over 11,000 California native plants, including over 140 species, used by the Chumash.
In the coming weeks, the Santa Ynez Band of Chumash Indians will announce an official date for its museum's highly anticipated grand opening.