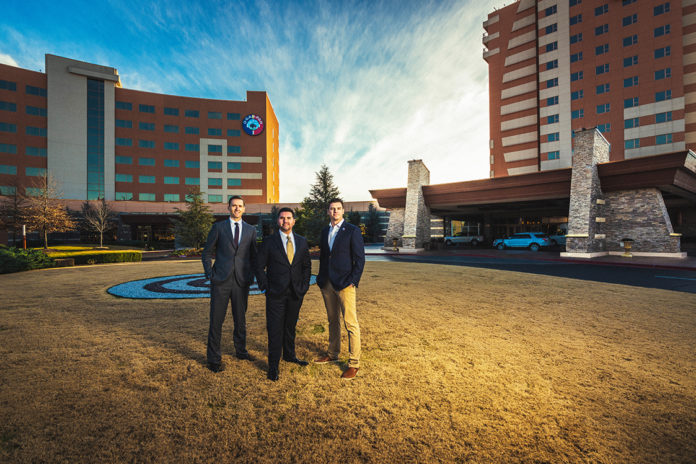 QUAPAW, OK – Over a decade ago, the Quapaw Nation invested more than $300 million into the Las Vegas-style Downstream Casino Resort on the far northeastern corner of the state, where Oklahoma, Missouri, and Kansas meet. It was one of Oklahoma's first full-service resort-style gaming properties with restaurants, bars, and nearly 400 rooms in two impressive high-rise towers. But despite an always busy gaming floor, sold-out hotel rooms every weekend, and a prime location, the investment paid limited dividends to Quapaw Nation citizens due to poor financing terms over the past decade. Thanks to a new refinancing agreement reached between the Quapaw Nation's Downstream Development Authority (DDA) and BOK Financial (BOKF), those days are in the past.
In early December, BOKF closed a $300 million agreement with the DDA to refinance debt incurred over the past decade. Under previous financing terms, there was no timeline for repaying loans used to finance the gaming and entertainment complex. Instead, the tribe made interest-only payments and rolled the principal balance indefinitely. According to Joseph Tali Byrd, Quapaw Nation Business Committee Chairman, this poor financing structure was to the detriment of the Quapaw Nation and potentially to tribal services.
"Downstream Casino Resort is a first-class property and one of the busiest in the state. After more than a decade, it should have been generating revenue to fund tribal services. Instead, we were barely paying the interest on the loan, and our citizens didn't see the full benefit of their asset," Chairman Byrd said. "Under this new financing agreement, our Quapaw people will finally be the beneficiaries of this magnificent facility. This strategic business decision will have positive impacts right away and for generations to come."
Under the refinancing deal, the Quapaw Nation reduces its debt, saving around $55,000 per day in interest, roughly the same amount as the median home price in Ottawa County. The tribe also makes principal payments on its loan for the first time ever, a startling fact considering Downstream Casino Resort opened in 2008 and is in a prime location, within minutes of four states, Oklahoma, Kansas, Missouri, and Arkansas.
"It was unfathomable to me [that our flagship property was financed] for $300 million, and more than a decade later, we owe more than when we started, with no timeline whatsoever for repayment," said Guy Barker, Quapaw Nation Secretary-Treasurer. "Our debt was structured as an interest-only loan and indefinitely rolled the principal balance. Thankfully, our tribal citizens were wise enough to recognize what was happening and demanded answers and action. That's why I have been laser-focused on digging our tribe out of this financial pit and made this issue my number one priority."
Barker engaged with BOKF shortly after taking office in the fall of 2020. Developing a new approach to finance and fiscal solvency took months of discussions and strategy sessions, unfolding over the backdrop of a global pandemic and economic uncertainty. Despite the challenges, the Quapaw Nation and team at Downstream Casino Resort implemented changes leading to record profits and an upgraded credit rating by Moody's and S&P in October of 2021. The upgraded credit rating was the final step in securing the most favorable terms to retire Downstream's bad debt.
"I applaud our partners at BOK Financial along with our finance, operations, and so many other teams at Downstream," said Barker. "Over the past year and a half, we've spent countless hours working on cutting expenses, improving our credit rating, and taking all the necessary and strategic steps to secure a deal with the most favorable terms possible. BOK Financial has been a steady partner every step of the way and played a crucial role in the success of this transaction. We are truly grateful for their support, and I could not be prouder to complete this deal alongside them. I'm hopeful we are entering a new era of prosperity for the Quapaw Nation, and the future is bright for generations of Quapaws who come after us."
By implementing simple changes like good corporate governance and sound financial stewardship, coupled with BOKF's experience in the tribal lending market, the Quapaw Nation is closer than ever to being debt-free and self-sustaining. That will lead to significant increases in services across the board, potentially impacting every tribal citizen in some way, from children to elders, college students, and more.
"The refinance of Downstream Casino Resort is genuinely transformational for the Quapaw Nation," said Ben Blosch, Downstream Casino Resort Chief Financial Officer and citizen of the Cherokee Nation. "The Quapaw Nation was in a financial rut with no path out. As Downstream eliminates its debt, tribal citizens will be the beneficiaries, as they should have been years ago. I believe this deal will have a greater positive impact on any tribal community than we've seen over the past several years. The investment possibilities in education, health care, and housing in a tribe of the size of the Quapaw Nation is difficult to comprehend."
While the Quapaw Nation is one of the smaller tribes in northeast Oklahoma, their impact is substantial. They are the first and only Oklahoma tribe to expand casino gaming outside the state with the Saracen Casino Resort in Pine Bluff, Arkansas and were the first Oklahoma tribe to open a certified USDA beef, pork, and bison processing plant. In addition, they operate a farmer's market, a coffee bean roastery and have a major agreement with the EPA to manage and remediate the Tar Creek Superfund site – the largest superfund site in the U.S.
As the tribe continues its path to self-sufficiency, the Quapaw Nation and Downstream Development Authority say they will continue to work with BOKF in search of ways to further benefit the Quapaw people and add value to the Quapaw Nation.