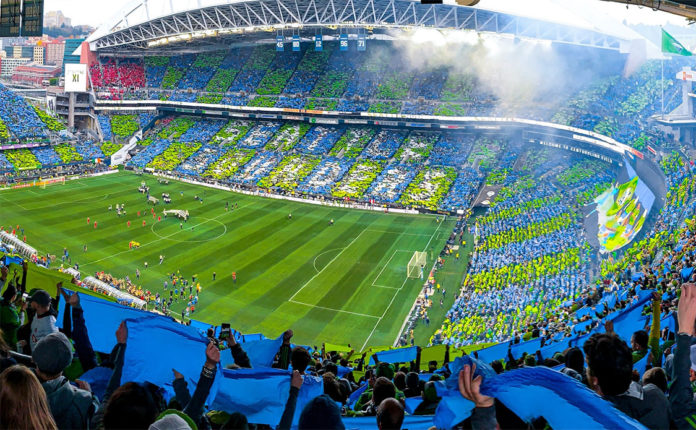 SEATTLE, WA – Seattle Sounders FC has entered into a multi-year pitch naming rights partnership with the Puyallup Tribe of Indians' Emerald Queen Casino (EQC), as the team unveils the Emerald Queen Casino Pitch at Lumen Field at this Saturday's contest vs. Austin FC. Hundreds of members of the Puyallup Tribe will attend the match, with Puyallup Tribe Cultural Director Connie McCloud performing a pitch blessing as part of the match's opening ceremonies.
With the introduction of this new official home matchday, Sounders FC, EQC and Puyallup Tribe branding will be on display in notable ways throughout Lumen Field at Sounders FC matches, including the center circle, player tunnel and upper-level seating. In addition, the deal further encompasses a comprehensive Sounders FC and Puyallup Tribe of Indians Career Development Program, focused on benefiting youth from Chief Leschi Schools.
"Sounders FC is honored to introduce the Emerald Queen Casino Pitch at Lumen Field to our fans and the greater community," said Peter Tomozawa, Sounders FC President of Business Operations. "We've enjoyed working alongside the Puyallup Tribe and EQC in an official capacity as our jersey sleeve patch and official replay sponsor since last year and we couldn't be more thrilled to grow that relationship even deeper as we move forward together in this new, expanded affiliation. As an organization, Sounders FC holds our home turf in high regard, with our 133-47-44 home record as a special point of distinction. Today's naming rights agreement brings in a partner that complements the pride and success that we want those attending matches at Lumen Field to feel, and we are happy to continue working with the Puyallup Tribe and EQC as they support soccer in our region."
The pitch naming rights deal expands a successful partnership between the Soundrs FC and the Puyallup Tribe, with the two entities first joining together in 2021, when the tribe and EQC became the official casino and entertainment partner.
"We are proud of this partnership with Sounders FC and honored to see our name and our salmon on the pitch at Lumen Field," the Puyallup Tribal Council released in a statement. "Our impact in this region is positive and wide, from jobs to entertainment, and we want to ensure we team up with other community leaders that are also generous and welcoming to all people. The Sounders have been a joy to partner with and are committed to learning about and honoring our deep history and culture here as Puyallup people. We congratulate them for all their achievements."
Modern ventures and partnerships have allowed the Puyallup Tribe to play a critical role in both the local and regional economy, as the tribe and its subsidiaries serve collectively as the fifth-largest employer in Pierce County. Of these ventures, the Puyallup Tribe's Emerald Queen Casino has occupied a place in the gaming and entertainment industry since 1996, when it existed as a riverboat casino in the Port of Tacoma. Currently, EQC operates two venues: a location in Fife, WA, that opened in 2004, and a new $400 million facility in Tacoma that opened in summer 2020.
"I hope this partnership excites Sounders FC fans and EQC players everywhere," said Frank Wright Jr., Emerald Queen Casino General Manager. "Emerald Queen Casino and Sounders FC have long been a staple of the Pacific Northwest. We both share the ambition to push boundaries to create moments and deliver fans unique experiences. Whether watching a match live on the Emerald Queen Casino Pitch, at the EQC Sportsbook, or EQC Event Center, we are proud to support Sounders FC fans with the most engaging viewing environments."
Along with name entitlement in all official home field acknowledgement as the Emerald Queen Casino Pitch at Lumen Field, Puyallup Tribe and EQC branding are being featured on northeast and northwest upper-level seat branding; Green Zone branding located in the north end of the stadium; player tunnel canopy, walls and carpet; the match ball podium; center circle art during the pre-match period; upper-level stadium LED and video board signage; player bench seats; and the front and back of player rain shelters when in use.
Continuing the commitment to community endeavors shared by both the Rave Green and the Puyallup Tribe, an additional component of the deal includes the implementation of a co-created Sounders FC & Puyallup Tribe of Indians Career Development Program, which is serving youth from Chief Leschi Schools.