by Matthew S. Robinson
As of December 31, 2020, there were 216 Indian casinos with hotel properties with a combined total of 55,504 rooms – an average of 257 rooms per casino with a hotel.
As presented in Table 1, during 2020, only two Indian casinos added hotel properties, not surprising given the now year-long plus pandemic, resulting in a 0.4 percent annual growth in room supply – the lowest on record.

Openings in 2020 included the all-new Cahuilla Casino Hotel near Anza, CA in late May and the new hotel at 7 Cedars Casino in Sequim, WA in August. In addition, the Oneida Indian Nation acquired the former Microtel Inn Suites in Verona, NY, reopening it as the Sandstone Hollow Inn in February 2020 – the newest addition to its Turning Stone Resort Casino.
Many projects on hold or delayed due to COVID-19 will be opening in 2021, including four new hotels and another nine hotel expansions for a combined total of almost 3,900 rooms – the largest year-to-year increase in total rooms in almost 20 years.
During 2022, four new Indian casino hotels are anticipated to commence operations, adding over 1,400 rooms – breaking 60,000 total rooms combined at Indian casinos. During 2023, it is projected another four new Indian casino hotels and two other hotel expansions at existing Indian casinos will commence operations, adding almost another 1,400 hotel rooms.
By location, the number and growth of Indians casinos with hotels varies significantly. Over the past five years, 2015-2020, the greatest increase in the total number of Indian casinos with hotels occurred in California and Oklahoma – each adding six properties. For the same period, the greatest total room increase occurred in California with more than 2,300 additional rooms (34 percent increase), followed by Florida with over 1,300 new rooms (115.8 percent increase) and then Oklahoma with almost more 1,200 rooms (25.5 percent increase). This compares to the prior five-year period, with Oklahoma accounting for the greatest increase in the total number of Indian casinos with hotels and the greatest total room increase – eight additional Indian casinos with hotels and almost 2,500 more rooms (113.8 percent increase). Table 2 presents the historic growth at Indian casinos with hotels by state.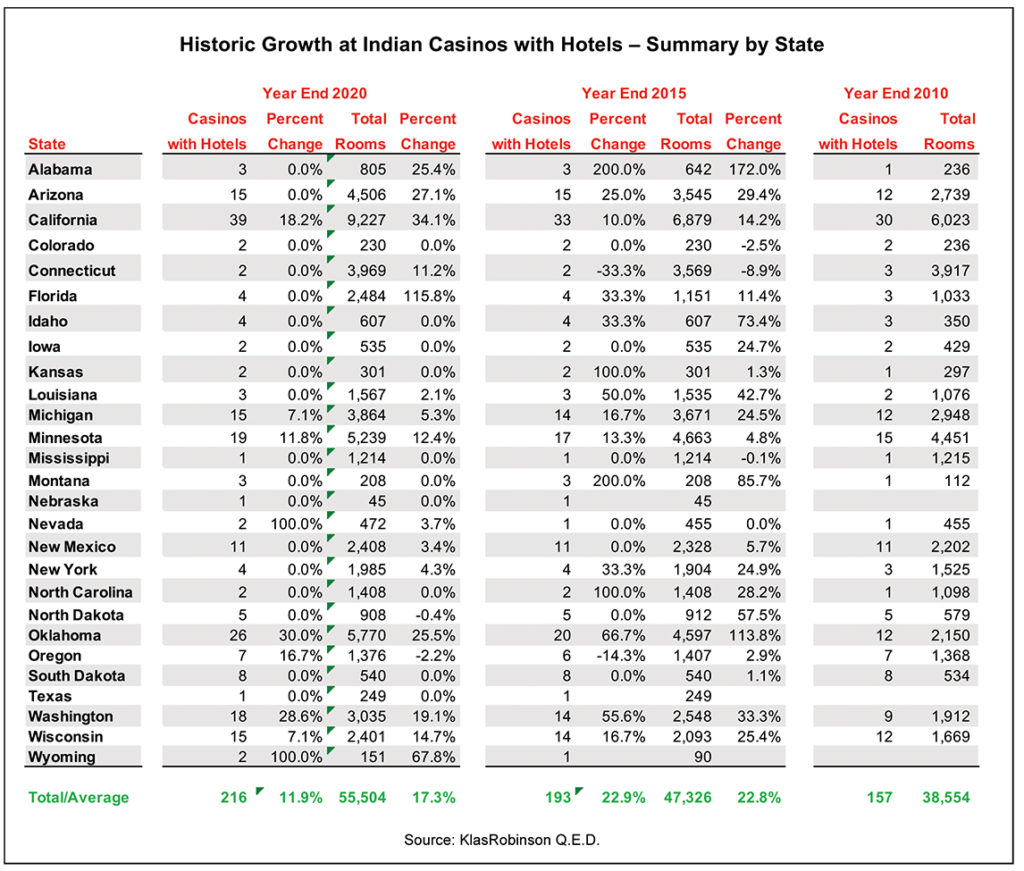 The number of Indian casinos with hotels also varies significantly by number of rooms per property. As presented in Table 3 (page 27), of the 216 Indian casinos with hotels in operation by the end of 2020, the largest segment by size are those with less than 100 rooms (67 properties) and those with between 100 and less than 200 rooms (62 properties). With respect to the number of gaming positions per hotel room by size segment, the ratio ranges from 3.5 to 8.7, with the general pattern being smaller properties with higher ratios, and larger properties with smaller ratios – the average overall ratio of gaming positions per hotel room being 5.6 gaming positions per hotel room.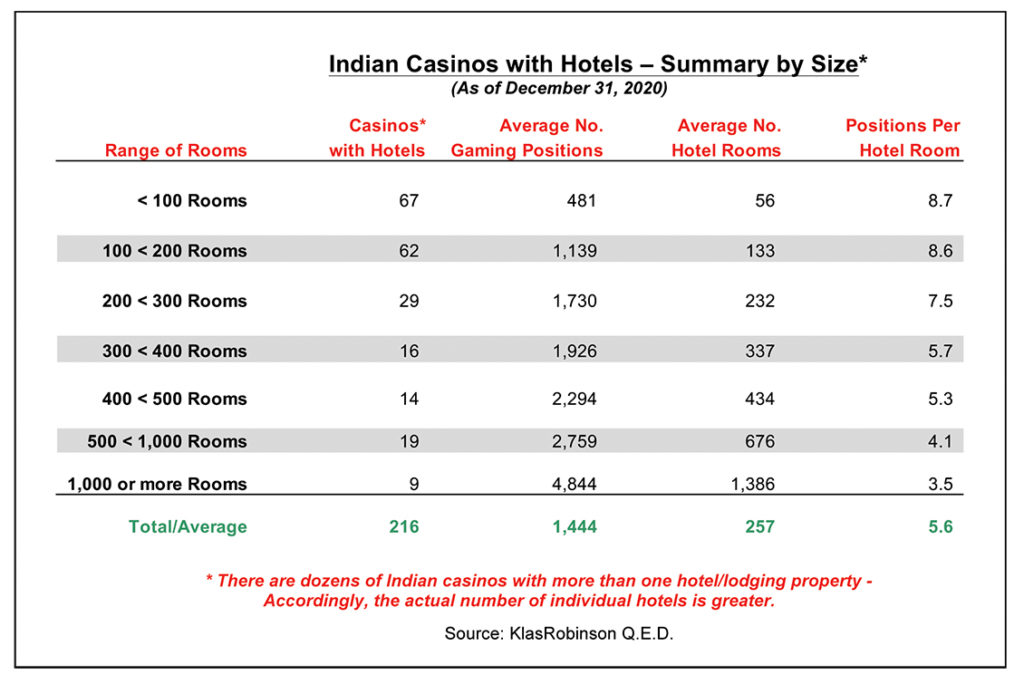 The pandemic has resulted in the delay of numerous hotel projects in Indian Country. At the same time, COVID-19 has caused operators to re-evaluate their existing facilities, in turn re-imaging the viability and utilization of such spaces in the future.
Key recommendations specific to Indian casino hotels include:
• Re-evaluation of the balance between various casino resort components to ensure that each component is properly scaled to meet the needs of the new operating environment, including greater design flexibility to quickly adapt space use in the future.
• Evaluation of the cost/benefit of additional space for gaming and of reallocation of space from areas no longer utilized to the same degree.
• Enhanced room service for casinos with hotels and increased packaged food vending and microwavable or kitchenette-preparable food.
• Conversion where possible to touch-free processes, particularly in restrooms, entrances and other places where motion sensing is practical.
• Identification of key customer groups for special attention that can be attracted by providing added protection versus the general population.
• Reconfiguration of players' club benefits to focus even more intensively on higher-value gamers and reduce incentives to bottom level gamers.
Matthew S. Robinson is Co-Founder and Principal of KlasRobinson Q.E.D., a national consulting firm specializing in the feasibility and economic impact of casinos, hotels, and other related ancillary developments in Indian Country. He can be reached by calling (800) 475-8140 or email [email protected].