by Matthew S. Robinson
The term "family entertainment," particularly as it relates to Indian casinos, covers a broad spectrum of facilities ranging from a small arcade with several video games to full-scale family entertainment centers – and pretty much any and everything in between. They can be intended to accommodate families, providing some basic non-gaming entertainment to actual attractions in their own right – increasing the length of stay and/or frequency of visits for both gaming and non-gaming clientele, including, but not limited to, families with children.
Family Entertainment Centers

Family entertainment centers (FECs) are purpose-built, self-contained complexes featuring several main attractions and their own dedicated food and beverage outlet(s). At casinos, they often have a separate exterior entrance and are marketed as an entertainment complex, in addition to the individual components. Attractions may include, but are not limited to, bowling, cinemas, dedicated arcades (redemption and video games), laser tag, virtual reality, billiard rooms, kart track, eSports, golf/sport and other simulators, supervised child entertainment, waterparks and waterpark attractions, zip lines, rope courses/ climbing walls, paint ball, miniature golf, driving ranges and/or golf entertainment venues.
As presented in the table below, there are currently 15 family entertainment centers at Indian casinos in the U.S. Each of the 15 includes a bowling center and a separate arcade with both redemption and video games, 40 percent (six out of 15) have cinemas and/or billiard rooms, 33.3 percent have laser tag (five out of 15), 26.7 percent (four out of 15) offer eSports, 20 percent (three out of 15) have supervised child entertainment, while 6.7 percent (one out of 15) has both a kart track and a golf/sport simulator.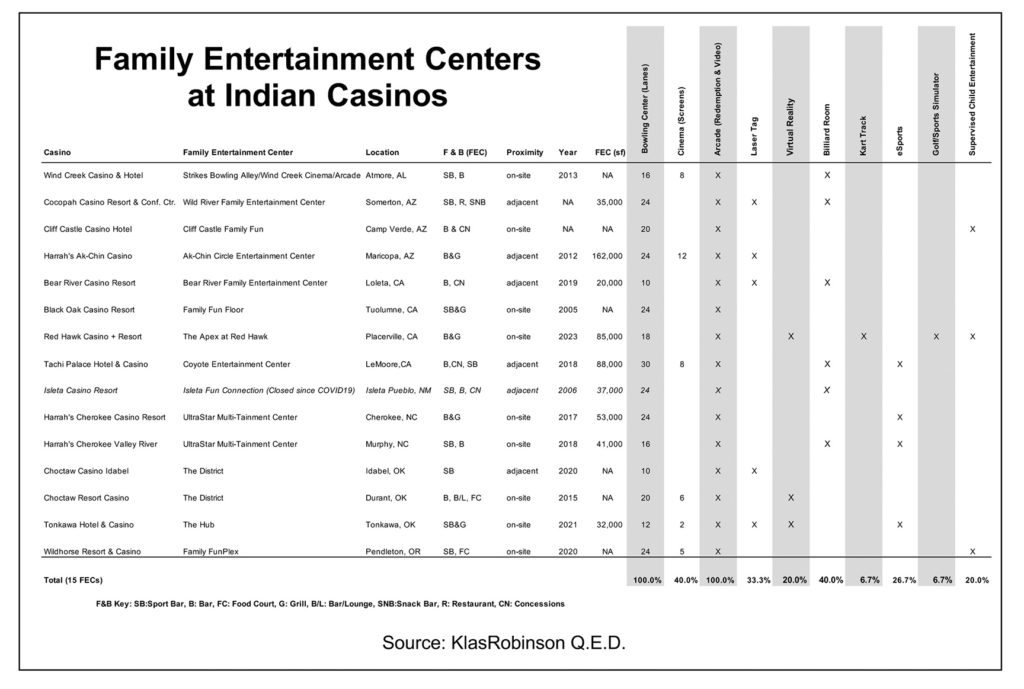 The size of Indian casinos with family entertainment centers ranges from 500 gaming positions up to more than 8,000 gaming positions with an average (mean) of almost 2,000 gaming positions and median of less than 1,500 gaming positions per property. 13 of the 15 Indian casinos with family entertainment centers have on site hotels ranging in size from less than 70 rooms to more than 1,800 rooms with an average (mean) of 460 rooms and median of less than 240 rooms per property.
Celebrating its grand opening in January 2023, the Apex at Red Hawk is the newest Indian casino family entertainment center. Located at Red Hawk Casino & Resort in Placerville, CA, the 85,000 sq. ft. entertainment complex features a go-kart track, 18-lane interactive bowling center, virtual reality arcade, four golf simulators and the Apex bar & grill. Red Hawk Casino also has a Kids Quest and Cyber Quest Arcade. Currently under construction is a 150-unit hotel including 25 suites, a pool and outdoor terrace, and a fitness center. The on-site hotel is expected to open in 2023.
In addition to the dedicated 15 family entertainment centers listed above, there are several Indian casinos that offer many of the various FEC components but are not centrally located in one area – and are often operated by outside entities. Foxwood Casino Resort and Casino's Family Zone features an arcade, bowling, zip line, virtual reality, kart track and XD dark ride located at various locations around the greater Foxwoods complex. There are also several Indian casinos with many such FEC components, yet rather than purpose-built facility and marketed as a "family entertainment" complex, the various components have been developed over time on an individual basis. Treasure Island Resort & Casino in Welch, MN includes an indoor waterpark, bowling center, arcade and childcare which have been developed in phases over the past several decades.
Bowling

There are 30 bowling centers at Indian casinos (including the 15 at FECs). That equates to more than one in every nine tribal gaming operations (with more than 500 gaming positions) having a bowling alley. This includes seven in California, five in Oklahoma, four in New Mexico, three in both Arizona and Minnesota, two in North Carolina and one each in the states of Alabama, Colorado, Connecticut, New York, Oregon and Washington. Combined, the 30 bowling centers at Indian casinos have a total of almost 560 lanes ranging from three lanes to 36 lanes per bowling center with an average (mean) of 18.6 lanes and median of 20 lanes per casino bowling alley.
In order to accommodate families with children, many bowling centers offer lanes with bumpers. A more recent trend is the inclusion of private lanes for birthday parties and other social functions. In addition to accommodating families, particularly during the day, bowling attracts the younger adult crowd with "Cosmic" Bowling – light shows, disco balls and loud music. Many bowling centers at casinos host league bowling. Larger bowling centers (at least 20 to 24 lanes) with on-site lodging, also host regional tournaments. Bowling, for the most part, caters to local demand, increasing the frequency of existing patrons, as well as attracting potential new patrons.
Cinemas

There are 11 movie theaters at Indian casinos (including the six at FECs), with two each Arizona and Oklahoma and one each in the states of Alabama, California, Louisiana, Minnesota, Nevada, Oregon and Washington. Combined, the 11 Indian casinos with cinemas have a total of almost 70 screens ranging from two to twelve screens per complex with an average (mean) of 6.2 screens and median of 6.0 screens per casino cinema. The number of average seats per screen per cinema ranges from less than 60 to 225 seats per screen with an average (mean) of 140.9 seats and median of 133.8 seats per screen.
Cinemas can accommodate/captivate older children and younger children (with adult supervision) for periods in excess of two hours per visit, enabling at least one parent to visit the gaming floor. Similar to bowling, in addition to accommodating families, it can also increase the frequency of existing gaming patrons, as well as potentially introduce gaming to new clientele.
Waterparks and Waterpark Attractions

While many of the Indian casinos with hotels have swimming pools, an estimated 25 casino hotel properties have expanded their amenity offerings to include pools with waterpark attractions – including eight dedicated full-scale waterparks with two each in Michigan and Minnesota and one each in the states of Mississippi, North Dakota, Oklahoma and Washington. Waterpark attractions include water slides, tube slides, lazy rivers, splash pads and/or wading/kiddie pools. Expanded pool amenities include sand beaches, infinity pools, zero-entry pools, over-sized outdoor jacuzzi tubs, swim-up bars, cabana rentals, poolside food and beverage service, aqua loungers and/or bubble couches.
Waterparks and pools with waterpark attractions accommodate and attract families. At the same time, with or without a lifeguard, they require adult supervision, at least for younger children – limiting the time of at least one parent on the gaming floor. Rather than increasing the frequency of visits, which also may occur, waterpark and waterpark-like attractions can increase the length of stay of clientele, with or without children – an evening can turn into an overnight or one night can turn into a weekend or extended holiday. In order to separate families from adults seeking a childless romantic get-away, many casino resorts have separate family and adult-only pool areas. Many properties also have adult-only pool hours in the evening.
Supervised Child Entertainment

Eleven Indian casinos offer supervised childcare and activities for children 12 and under (including the three at FECs). Parents are able to drop their children off in a safe environment for an hourly fee. These facilities attract families with younger kids that otherwise would likely not come to the casino, allowing the parent(s) to enjoy the casino facilities. Most Indian casinos with supervised child entertainment facilities also have arcades to accommodate older children and teens. While the arcades may have on-site staff, they often still require adult (parent) supervision for younger kids.
The decision to accommodate or attract families is specific to an individual casino's operating philosophy and competitive market position. Family entertainment can provide a means of differentiating a casino from its competitors, particularly in an increasingly competitive market. Depending on the type or types of family entertainment to be offered, the casino may only get a portion of the play it would get from historic clientele. At the same time, the incremental gain may very well outweigh the costs to accommodate or attract the potential new demand.
Matthew S. Robinson is Co-Founder and Principal of KlasRobinson Q.E.D., a national consulting firm specializing in the feasibility and economic impact of casinos, hotels, and other related ancillary developments in Indian Country. He can be reached by calling (800) 475-8140 or email [email protected].