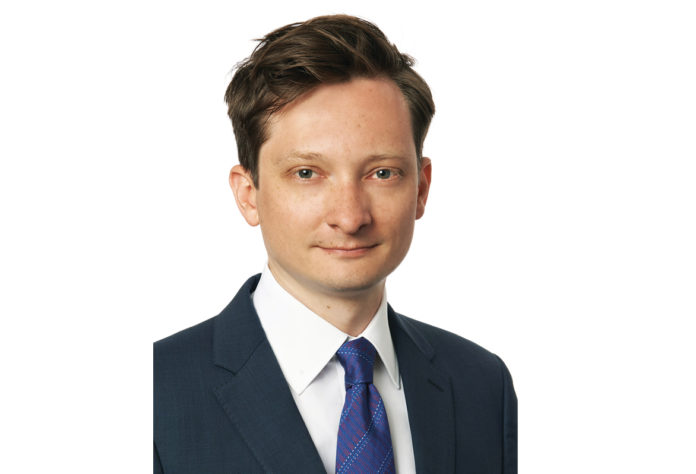 by Matthew J. Klas
Bowling centers have become an increasingly popular amenity at Indian casinos. In 2007, there were 12 bowling centers at tribally-owned casinos throughout the U.S. By 2015, that number had nearly doubled to 22 bowling centers. As of now, there are 29 bowling centers at Indian casinos in the U.S., a 31.8 percent increase over 2015 and a 141.7 percent increase over 2007.
What accounts for this growth and continued popularity? Bowling centers, like other popular casino amenities, can attract visitors from greater distances and encourage guests to stay longer. A bowling center can also be an important addition to the community, accommodating local bowling demand and league play, often presenting the best or even the only option for bowlers in the area. In addition, bowling is an accessible pastime, more easily enjoyed by casual players than sports with a higher learning curve, such as golf. Bowling centers combine well with other amenities such as arcades and movie theaters. Finally, bowling centers can represent a more affordable investment with a smaller footprint for a casino property than other entertainment options such as concert venues or golf courses. They may even require fewer employees than other entertainment options because much of the bowling mechanism is automated (e.g., ball return, pin replacement, and score keeping).
Table 1 presents a summary of bowling centers affiliated with Indian casinos in the U.S. Of the 29 bowling centers affiliated with casinos in Indian Country, seven are located in California, five in Oklahoma, four in New Mexico, three in Arizona, two each of Minnesota and North Carolina, and one in each of Alabama, Colorado, Connecticut, New York, Oregon and Washington. While bowling alleys at Indian casinos range in size from three to 36 lanes, the average number of lanes is 19.8 with a median of 24 lanes per center.
Table 1: Indian Casinos with Bowling Centers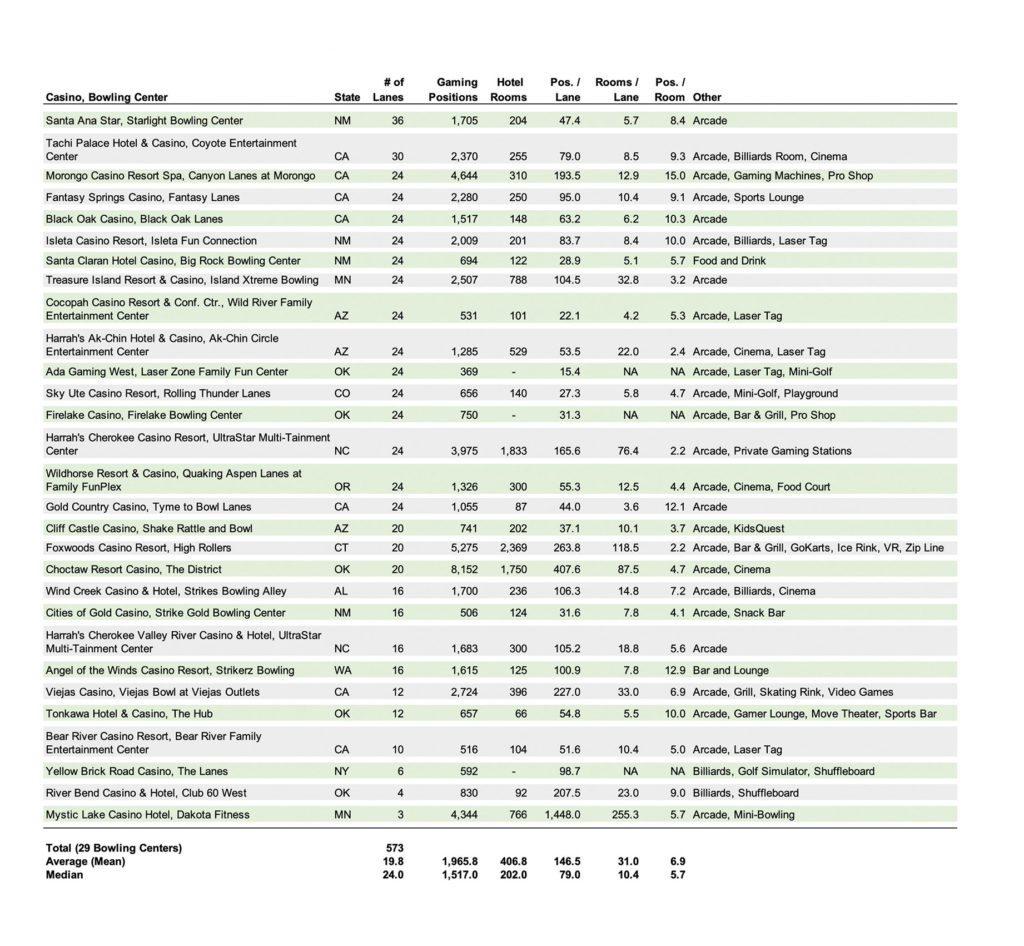 The number of gaming positions for bowling centers affiliated with Indian casinos ranges from a low of 369 to a high of 8,152 with an average of 1,965.8 gaming positions and a median of 1,517 gaming positions. Bowling centers affiliated with Indian casinos have an average of 146.5 gaming positions per lane with a median of 79 positions per lane.
The vast majority of Indian casinos with affiliated bowling facilities have hotels. Depending on the number of lanes and hotel rooms, bowling centers with on-site lodging at Indian casinos can also host regional bowling tournaments. Of the existing Indian casinos with hotels, the number of rooms per lane ranges from fewer than four to over 250, with an average of 31 rooms per lane and a median of 10.4 rooms per lane.
Most bowling alleys at Indian casinos are accompanied by other amenities that support the overall entertainment offering. Arcades are especially common and are present at 86 percent of facilities with bowling centers. Cinemas are another amenity that compliment bowling alleys – 21 percent of properties with bowling centers also feature a cinema. Facilities may also include laser tag, video game lounges and billiards rooms. Such amenities help target adults looking for a social evening and families who are looking for multiple entertainment options at one location. These groups are drawn to the social or family-friendly elements of the experience and may be willing to spend more money than the league player demographic.
According to the Sports & Fitness Industry Association (SFIA), there were an estimated 41.7 million bowling participants in the U.S. in 2021, an 8.2 percent drop from 2019, before the pandemic. However, 2021 still saw an increase of 3.8 percent in bowling participation over 2020. From 2016 through 2019, bowling participation remained consistent between 45.4 million and 45.9 million participants with little year-to-year variation. An estimated 13.7 percent of the total U.S. population age six or older bowls at least once per year. Between 2016 and 2019, this number ranged from 15 to 15.5 percent before dropping during the pandemic.
The number of bowling centers in the U.S. has declined by 12 percent since 2015 according to IBISWorld, a market research company. These closures were partially a result of the pandemic, but they were also the continuation of a steady trend of establishments closing since well before COVID-19. The number of bowling centers in 2019 was already 8.7 percent lower than in 2015, showing that the decline was in effect before the pandemic hastened further shuttering.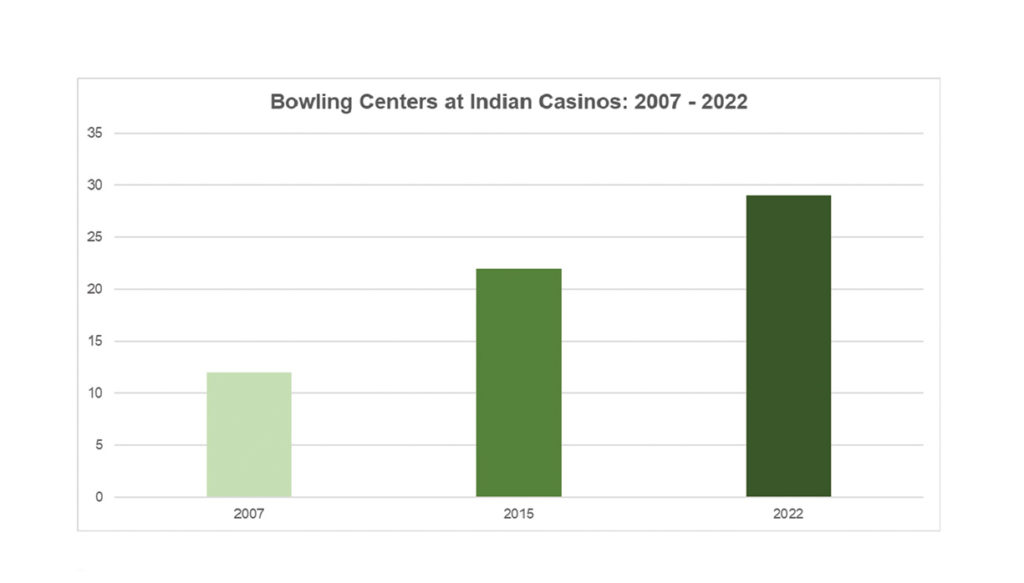 One reason for the closure of bowling alleys nationwide is the industry's shift away from league bowlers toward casual consumers who are more interested in the social experience and associated amenities. As the industry has adjusted to changing habits and shifted its focus toward casual bowlers, the smaller, no-frills facilities that typically cater toward league players have been put under pressure and many have closed. According to the SFIA, an estimated 19.8 percent of bowling participants bowled 13 or more times per year in 2021. In 2016, these frequent bowlers represented 21.9 percent of total bowlers in the country. In a 2017 report, the Bowling Proprietors' Association of America, a trade organization for bowling centers, estimated that league play accounted for 33 percent of traditional bowling revenue, with the remainder coming from shoe rental and open play. The more successful bowling centers have been able to target casual bowlers by offering larger facilities with attractive amenities beyond simple bowling.
Casual bowlers can be split into two segments. One group is made up of adults who are looking for high quality food and drink options, as well as a fun, social atmosphere to accompany their evening of bowling. The second segment is made up of families who are looking for a range of entertainment options that cater to different ages at a single location. Either way, added amenities on top of traditional bowling facilities are essential to capture casual play.
According to the SFIA, in 2021, an estimated 53 percent of bowling participants in the U.S. were male. An estimated 48.8 percent were between the ages of 25 and 54 years old, compared to 38.6 percent for the nation as a whole. Children ages 6 to 12 made up 13.8 percent of bowling participants in 2021.
The SFIA estimates that 29.9 percent of bowlers in the U.S. in 2021 had an annual income of $100,000 or more. This affluent segment may spend more money on food and drink, as well as other entertainment amenities associated with a bowling center. Accordingly, the bowling participant segment with an income of $100,000 or more is a coveted demographic in the changing bowling industry as focus shifts to casual players.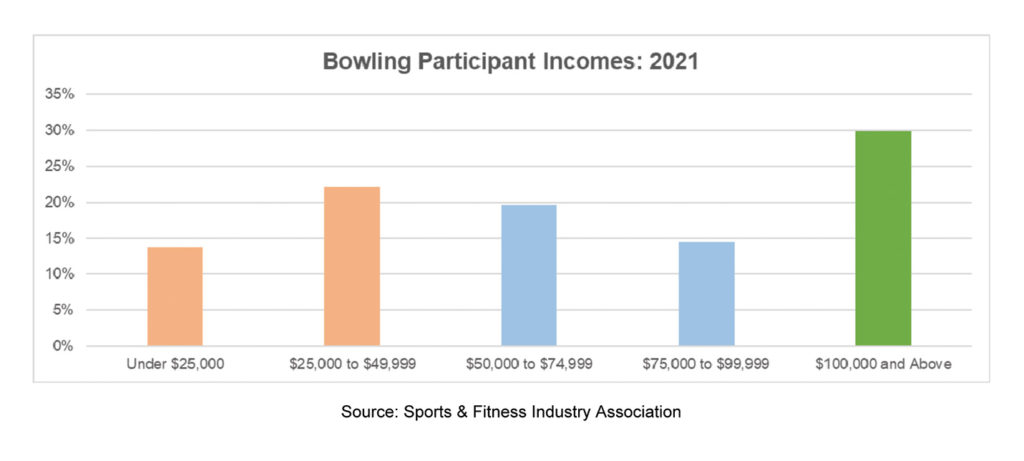 Casinos, especially those that are located around affluent areas, are well-positioned to capture the higher-spending demographic. The aim of many properties will be to create the right mix of amenities, atmosphere, and food and beverage offerings to attract either adults seeking a social, high-quality outing or families seeking multiple convenient entertainment options at a single location.
The best amenity mix and atmosphere will vary from property to property. Different casinos are positioned to serve different demographics. For some, the goal of a bowling center will be to welcome families to the property, especially from the local community. For other casinos, the purpose of the bowling center will be to attract an adult demographic, sometimes from further distances, and encourage them to spend more money and time at the property, emphasizing food, drink, and social engagement. In either case, casinos will be looking to maximize incremental gaming revenue. Owners and managers considering the addition or expansion of a bowling offering will need to take these considerations into account as they evaluate the viability of their plans.
Matthew J. Klas is a Senior Associate at KlasRobinson Q.E.D., a national consulting firm specializing in the feasibility and economic impact of casinos, hotels, and other related ancillary developments in Indian Country. He can be reached by calling (800) 475-8140 or email [email protected].