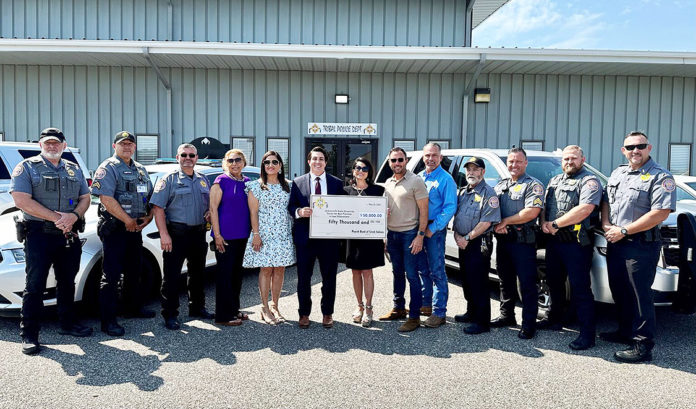 ATMORE, AL – The Poarch Band of Creek Indians has donated $50,000 to Jacksonville State University's (JSU) Law Enforcement Training Center, established in 2017 to supplement the education and training of police officers.
Funded by the State of Alabama, the center provides free training to police officers statewide, offering numerous courses per year led by national experts. Most recently, law enforcement officers met to talk about work stress, burnout, and the reasons why they stay dedicated to the profession.The tribe has contributed $550,000 in total since the university's inception of the center.
"Like so many other folks in Alabama, our tribe's home is in a very rural part of the state," said Stephanie A. Bryan, Poarch Band of Creek Indians Tribal Chair & CEO. "We understand the many and serious challenges that law enforcement officers face every day, and we also recognize the financial challenges around providing them with adequate and ongoing training, especially in small towns and remote parts of the state."
At the Center for Best Practices in Law Enforcement, experts focus on a wide range of areas that include mental health and wellness. In addition to providing education and training, the center also has an academic research component, providing data analysis to police departments.
"We have supported Jacksonville State's efforts to address these issues for several years, and we applaud it's Center for Best Practices in Law Enforcement for taking a leadership role in training officers who are so important to the safety and security of our communities," said Bryan.
"Jacksonville State aspires to be known as the training capitol of law enforcement for the State of Alabama," said Don C. Killingsworth, Jr, JSU President. "We have provided continuing education and training to approximately 5,000 law enforcement officers statewide since establishing the center in 2017, which would not have been possible without the generosity of the Poarch Band of Creek Indians. We would like to thank the tribe for supporting our mission to provide Alabama the best trained law enforcement in the country."