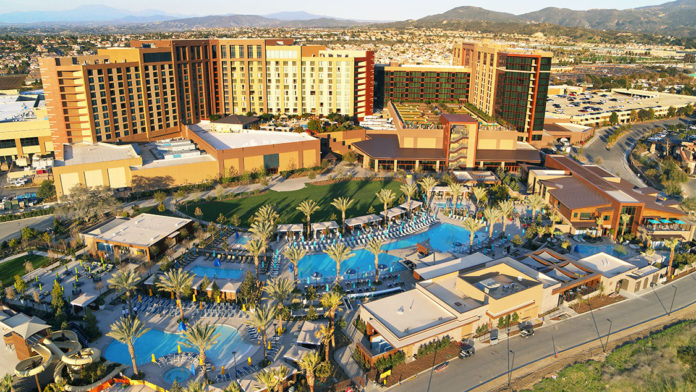 TEMECULA, CA – Pechanga Resort Casino and its restaurant, Great Oak Steakhouse, have again been recognized with the AAA Four Diamond award.
For the 22nd year, Pechanga Resort Casino has picked up the award bestowed on four percent of inspected hotels. Hotels are expected to meet particular standards of cleanliness, comfort and hospitality to first be a part of the AAA Diamond Program. From there, a three, four or five diamond distinction is awarded. The Great Oak Steakhouse, one of 12 in Pechanga's restaurant collection, also received the Four Diamond distinction from the critics.
Since opening in 2002, the resort has won this award each year. The Great Oak Steakhouse has now earned this award 12 times consecutively. Only 13 other resorts in Riverside County carry the AAA Four Diamond decoration, while the Great Oak Steakhouse earned the honor alongside only five other restaurants in Riverside County. It is the only Temecula, CA, restaurant to make the list.
"Our team members give their all each year to make sure our service and facilities match and surpass the AAA Four Diamond standards," said Ken Perez, Pechanga Development Corporation President. "Prestigious awards like these promise our guests a positive and inviting experience when they visit. The quality and cleanliness at Pechanga, the comfort of our rooms and suites, and the impeccable service we pride ourselves on illustrate this for visitors each time they're here."
Pechanga's Great Oak Steakhouse is currently receiving a refresh. With plans to reopen in summer 2023, guests will experience a modern and sleek dining environment. A semi-private chef's room will be available for small groups and special occasions. The room is flanked on two sides by temperature-controlled glass walls housing award winning wine selections. The room also allows guests a front row look into the restaurant's new exhibition kitchen. A new bar to the right of the restaurant's main entry allows guests spacious ambiance to enjoy crafted cocktails and appetizers before or after their meal in the main dining room.
AAA professional inspectors survey more than 60,000 hotels and restaurants throughout North America each year to determine the ratings of each. Establishments are graded in person by professional inspectors and arrive unannounced, presenting themselves as any other guest.
Only 4.2 percent of the 60,000 AAA Diamond hotels and restaurants make the Four Diamond list. In order to achieve the AAA Four Diamond distinction for hotels, the establishment is noted for "upscale style and amenities enhanced with the right touch of service."