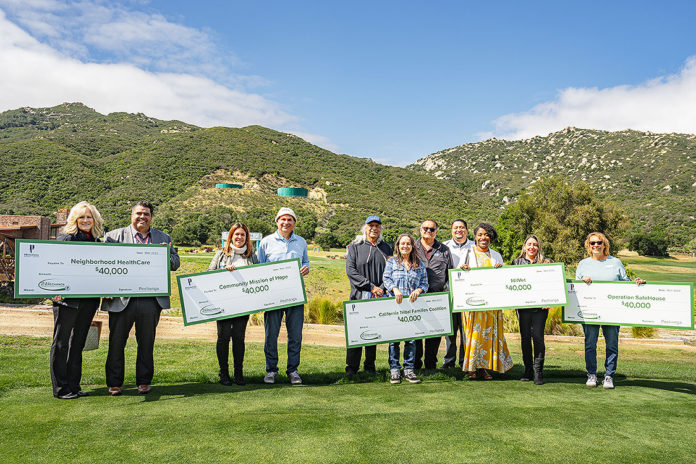 TEMECULA, CA – Nearly 500 golfers took to the greens at the Journey at Pechanga golf course for the 24th annual Pechanga Charity Golf Classic. After the rounds wrapped and scores were counted, Pechanga announced they raised over $200,000 for five Southern California charities. With the popularity of the tournament continuing to increase each year, a third tournament day was added this year. As a result, Pechanga was able to raise 60 percent more funds than previous years' totals.
The five charities split the $200,000 and funds will help support programs for veterans, seniors, children and families in the community, as well as protect the health, safety and welfare of tribal children and families. The charities included the Community Mission of Hope, Neighborhood Healthcare, Operation Safehouse, Milvet, and the California Tribal Families Coalition.
Four hundred and eighty four golfers took part in the 24th annual Pechanga Charity Golf Classic. The golfers were treated to lunch on the course, fun activities from vendors at many of the 18 holes, including a special appearance from LPGA golfer and Pechanga ambassador, Gabriella Then. The pro posted up at Journey's 17th tee box offering to drive the ball for any group who said, "yes." Most opted for the pro to get the ball up and over the ravines onto the fairway or the green on 17. All groups were treated to a photo with Gabriella as well.
In its 24th year, the tournament brings together tribal government and Indian gaming industry leaders who love spending a day on the course while helping those in need. The event has raised more than $1.8 million for a variety of essential charitable organizations throughout the Temecula Valley and around Southern California. The now three-day event has grown into one of the most popular charity golf tournaments in Southern California and has become a must-play event for hundreds of golfers.
"We love how this amazing day of golf brings together so many of our friends and colleagues from neighboring tribes and communities," said Ken Perez, President of the Pechanga Development Corporation. "The camaraderie is not just fun, but important. Knowing that everyone's participation is supporting vital services and resources that our community depends on is not only humbling, it is part of who we are as a tribe."
"The philanthropic leadership of the Pechanga Development Corporation leaves an impact on the quality of our programs and services," said Rakesh Patel, MD, Chief Executive Officer for Neighborhood Healthcare. "We believe we are 'better together' and your support ensures equal care for all."