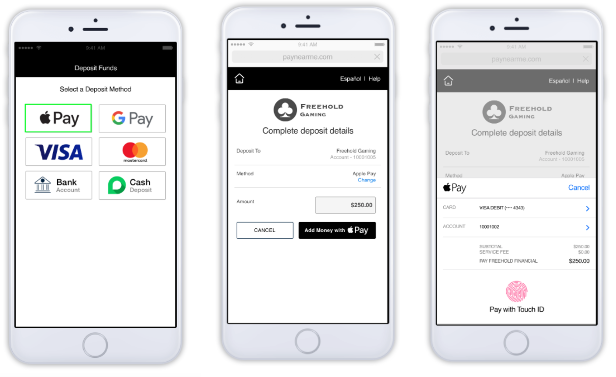 PayNearMe, the payments platform designed to manage the complexities of iGaming, recently announced enhancements to its iGaming solution that enable U.S. operators to dramatically accelerate speed to market and simplify the deposit and payout experience across a wide range of payment types — including Apple Pay and Google Pay — through a single integration.
Players want a simple and fast deposit experience, and when they don't get it, they quickly move to an operator that makes funding accounts easy. PayNearMe's expanded iGaming solution makes deposits and payouts easy for both players and operators.
Operators can now accept players' cash and electronic payment deposits, and rapidly distribute payouts without having to manage multiple payment providers. Players benefit from a simplified deposit experience that supports a multitude of payment options to fund their accounts.
"Managing multiple third-party vendors and contracts is not only an administrative burden for operators, but it also creates a disjointed experience for players during a crucial touchpoint — deposits," said Michael Kaplan, Chief Revenue Officer and General Manager at PayNearMe. "Operators can now consolidate key payment types — including Apple Pay and Google Pay — onto a single payments platform built specifically for iGaming."
"PayNearMe has deep expertise in the gaming industry and is a long-time partner of BetMGM, creating the industry's best customer experience around cash deposits," said Maria Tomlinson, Head of Payments, BetMGM. "We're constantly looking for ways to improve the customer experience on BetMGM, so when PayNearMe made it possible for us to expand its frictionless payments experience across more deposit types, we knew it was the best bet for both our business and our customers."
More Payment Choice
PayNearMe helps operators improve the iGaming experience by enabling players to quickly and easily fund their iGaming accounts using any tender they choose — including Apple Pay and Google Pay — via a smartphone.
"More than 60% of millennials and 48% of Gen Z consumers say they are extremely interested in using mobile wallets as a primary payment method, making Apple Pay and Google Pay critical deposit methods for players," said Kaplan. "PayNearMe is the only payment service provider that enables players to fund their online gaming accounts using cards, ACH, Apple Pay, Google Pay and cash — all in a single platform."
Frictionless Deposits
"The pandemic accelerated the adoption of remote and contactless payments. As a result, a large majority of sports betting is now happening on mobile devices and the gaming industry needs to solve for new challenges this brings," said Kaplan. "That means players need to be able to use a smartphone to seamlessly fund their accounts, place bets and withdraw their winnings."
PayNearMe's Smart Link™ technology gives players the ability to make a deposit in two clicks — without having to navigate through the cashier page. This frictionless deposit experience is especially useful during times when players are making in-the-moment betting decisions and need to be able to quickly and easily fund their accounts. During March Madness, for example, it's been estimated that approximately 47 million people — one in five American adults — will be betting billions of dollars on the annual men's college basketball tournament.2
"That's 47 million people who need to be able to use a smartphone to quickly make deposits," said Kaplan. "PayNearMe makes this process effortless."
Using PayNearMe Smart Link, operators can text, email or use native app push notifications to send players reminders, announcements, incentive promotions or other player engagements, along with a link they can click to make a deposit anytime, anywhere.
Faster Payouts
PayNearMe will make it easier and faster for players to receive their funds with a debit card.
With PayNearMe's push-to-debit technology, PayNearMe expects to give operators the ability to pay out funds directly to a player's debit card in minutes. "Players don't want to wait days for cashouts," said Kaplan. "One of the best ways to improve the iGaming experience is to give players a fast and easy way to withdraw their winnings — that's exactly what our technology enables operators to do."
"iGaming payments are hard. Managing deposits and payouts is a complex process that requires technology designed specifically for the gaming industry," he continued. "With billions of dollars in iGaming deposits at stake, operators can't afford to lose players to poorly designed deposit and cashout experiences."
PayNearMe is dedicated to transforming the iGaming payments experience, making deposits and cashouts easy for operators and players alike. The company plans to continue innovating and enhancing the solution by adding payment types and functionality to improve the player experience and reduce operators' cost.