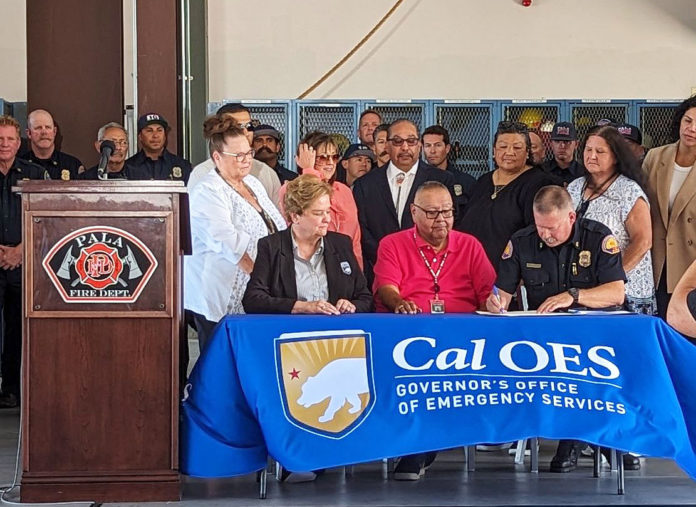 PALA, CA – The Pala Band of Mission Indians and the California Governor's Office of Emergency Services (Cal OES) entered into a historic agreement for the California Fire and Rescue Mutual Aid System. Pala is the first tribal government to contract with Cal OES and to be formally recognized as a partner in the state's overall emergency response infrastructure.
As part of this new mutual aid agreement, Cal OES assigned a Type III fire engine to the Pala Fire Department, increasing capabilities to respond to local and statewide incidents, like wildfires. The department's current fleet includes two Type I Structure Engines, and two additional Type III Brush Engines, among other vehicles.

"By being the very first tribe to enter into a mutual aid agreement with the state, we are setting a new standard for the vital government-to-government partnerships that ensure the safety of our communities," said Robert Smith, Chairman of the Pala Band of Mission Indians. "This is a monumental achievement for our fire department, our tribe and the entire community and we hope it leads the way for tribes across the state to gain recognition for the safety and response services they provide."
The agreement stems from the enactment of SB 816, which culminated from decades of work by tribal fire agencies to become officially recognized as true partners in providing vital emergency response services to the citizens of California.
"Wildfires in California have unfortunately grown more frequent and destructive, requiring the assistance of every available resource," said Sen. Bill Dodd (D-Napa), the author of Senate Bill 816. "That's why I wrote SB 816, which ensures tribal fire agencies can continue to play a key role in fighting wildfires throughout the state. This agreement with the Pala Band of Mission Indians marks an important milestone in bolstering California's emergency response infrastructure."
The Pala Fire Department has been providing the highest level of service and industry-standard in San Diego to the community of Pala and surrounding areas since 1978. The department has grown and expanded over the years to meet the needs of the community.
"We are committed to ensuring the safety of our community and the mutual aid agreement with the state will allow us to expand our mission even further," said Fire Chief Ravago, Vice Chairman of the Pala Band of Mission Indians. "As wildfire risks increase, we remain vigilant and ready to serve our community and beyond."
"I congratulate the Pala Band of Mission Indians in becoming the first tribe to sign on as a partner in the state's Fire and Rescue Mutual Aid System," said Assemblymember James C. Ramos (D-San Bernardino). "Pala has led the way, and now all Californians will be safer as CalOES increases its capabilities and resources through partnerships with California tribal governments."
"Today is a historic step forward in our state's efforts to provide emergency response services and to protect Californians," said Senate President pro Tempore Toni G. Atkins (D-San Diego). "This collaboration between the Pala Band of Mission Indian leaders, CalOES and state and local agencies will go a long way to improve and strengthen the California Fire and Rescue Mutual Aid System. I commend the Pala Band of Mission Indians and the Governor's Office of Emergency Services on this landmark partnership."
"Congratulations to the Pala Band of Mission Indians! Today is a celebration that recognizes a two-decade long effort that the Pala Tribe and other tribal fire agencies have pursued to provide much needed emergency response services to Californians," said Assemblywoman Marie Waldron (R-Valley Center). "In high fire hazard risk areas such as our back country here in San Diego County, mutual aid agreements like those being celebrated today will save lives."