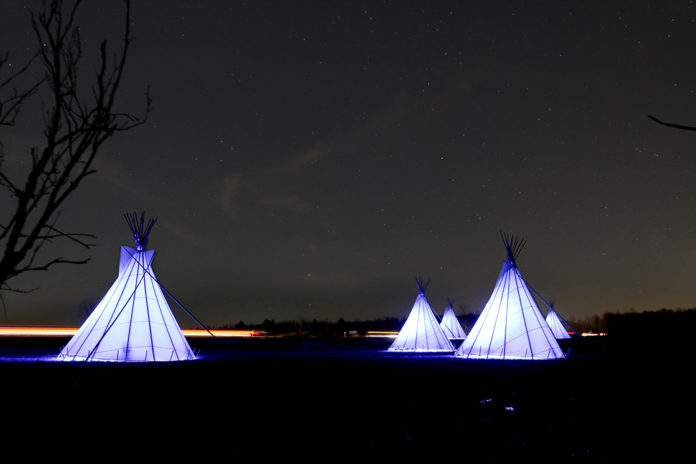 VERONA, NY – In conjunction with Native American Heritage Month, the Oneida Indian Nation has unveiled a new cultural art installation – the Passage of Peace. Comprising of nine illuminated tepees located on Nation lands just prior to Exit 33 of I-90, the Passage of Peace will run through the holidays.
The Oneida Indian Nation chose the tepee as the Passage of Peace's central image to recognize both the Western Tribal Nations and the collective challenges of Native American people. While the Oneidas and other Iroquois tribes lived in longhouses, not tepees, the tepee is a universally recognized symbol of Native American identity. The tepee represents a shared sense of purpose and determination in the face of hardship, making it the ideal choice to pay tribute to Western tribes.
"We hope The Passage of Peace will bring attention to continued hardship taking place in many parts of Indian Country, while delivering a message of peace and remembrance with our neighboring communities here in Upstate New York," said Ray Halbritter, Oneida Indian Nation Representative. "The tepee has become a universally recognized symbol of Native American identity. It also represents the traditions of Indigenous Nations in the Western U.S., many of which have experienced tremendous loss of life and suffering during the COVID-19 pandemic."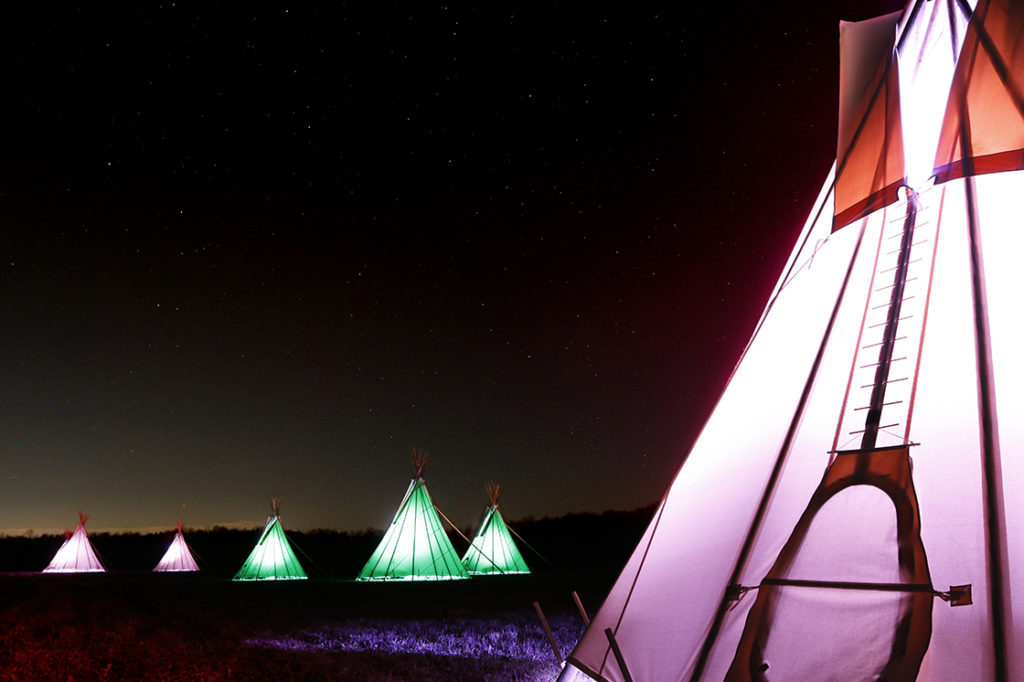 The installation was inspired by similar public artworks created by American Indian Nations throughout the country. The Nation was moved to create the Passage of Peace to honor those lost during the COVID-19 pandemic, especially among its brother and sister Nations in the Western U.S. where these losses have been greatest.
The Impact of COVID-19 on Native Americans:
Native Americans are 5.3 times more likely than white people to be hospitalized due to COVID-19
Coronavirus case rates were higher among American Indians and Alaskan Natives in 23 states and four times higher in New Mexico, Montana, Mississippi, Oregon and Arizona
One in every 475 Native Americans has died from COVID, compared to one in every 825 white Americans and one in 645 Black Americans
More than one in five COVID-related deaths in Montana involved Native Americans
The Navajo Nation reported higher COVID-19 infection rates than any single state in the U.S. by mid-2020
In Montana, 3.8 percent of Native American elders 75 to 84 and 4.6 percent of those 85 and older have been lost to COVID
Nations in Arizona and New Mexico report losses over 5.7 percent among those 85 and over
The installation also serves as a reminder of the importance of coming together in peace and remembrance with family, friends and neighbors during the holiday season. The Nation has always emphasized the importance of warmly welcoming guests to its homelands, and the Passage of Peace will provide this greeting for all who live within, travel through and visit Nation lands and the surrounding communities through the New Year.