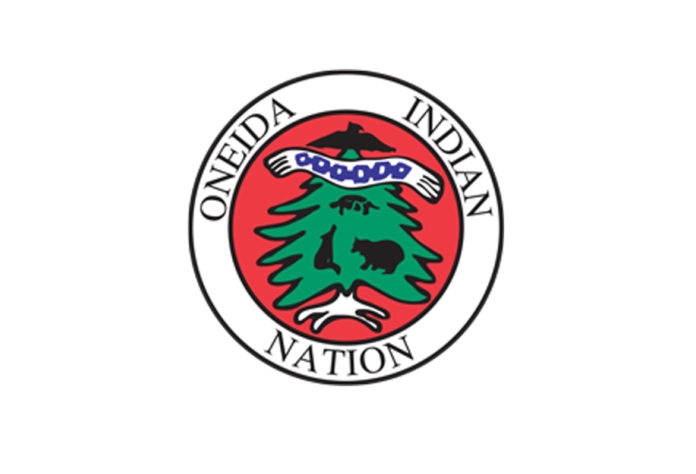 ONEIDA, NY – The Oneida Indian Nation and Turning Stone Resort Casino employee Viktoriya Runkevich have announced the launch of a donation drive among the Oneida Indian Nation's 4,000 plus employees for the Ukrainian War Relief Fund. The announcement follows Runkevich's efforts to organize a donation drive in Utica, NY, for her family still in Ukraine and her fellow Ukrainians.
The Oneida Indian Nation has collected donations of clothing, non-perishable food, toiletries, first-aid supplies, blankets and other essential items from its employees across all of its enterprises, adding to the donations other Central New Yorkers are contributing to Runkevich's drive for at the Slavic Pentecostal Church in Utica.
"The Oneida Indian Nation was so inspired by Viktoriya's efforts, we wanted to do something to show our support and solidarity," said Oneida Indian Nation Representative Ray Halbritter. "In addition to the supplies we are collecting, the Oneida Indian Nation Foundation is proud to be able to donate the cost of shipping all donations from Viktoriya's drive to Ohio so it can be sent to Ukraine."
"I have a lot of family in Ukraine, including my grandfather, and everyone is very afraid because of the war," said Runkevich. "I know they don't have a lot of medical supplies and food is no longer being transported into Ukraine. I am so thankful for the support from the Oneida Indian Nation and am very thankful to be working with such a great team here at Turning Stone."
Halbritter presented Runkevich with two feathers from the Oneida Indian Nation as a symbol of friendship and solidarity – one for her to share with her Ukrainian community in Central New York and the other is being sent with the donations to the people of Ukraine.
"This feather is a representation of the Eagle feather, believed among the Oneida People to signify the highest expression of good wishes and warm friendship," said Halbritter. "We present this friendship feather in solidarity with the people of Ukraine, with deep admiration of your strength, perseverance and incredible sacrifice."
Central New Yorkers who would like to contribute can drop off their donations at the Slavic Pentecostal Church located at 2191 Route 5 in Utica, NY.