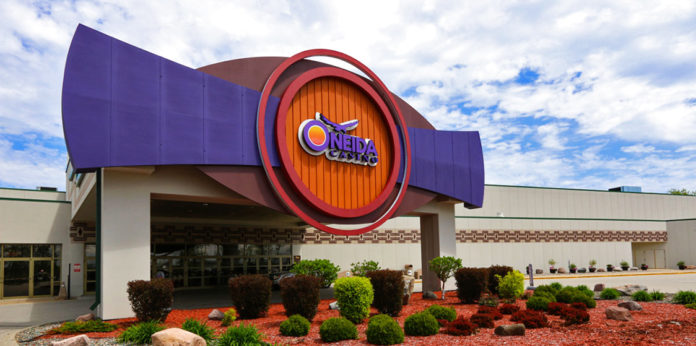 ONEIDA, WI – The Oneida Business Committee and Oneida Casino Senior Management officially opened the doors to sports betting with a 30-minute ceremonial ribbon cutting at Oneida Casino. Oneida signed an amendment in July of this year to the gaming compact, which allows for this additional venue. There are 11 tribes with gaming in Wisconsin and Oneida Casino is the first to offer sports betting.
The ribbon cutting ceremony was held in the main casino with the first bets placed by Oneida 'Bingo Queens,' Sandra Brehmer and Alma Webster. Webster and Brehmer are credited with operating the most profitable bingo games in the state, which began in 1976.
"Sports betting is nothing new here in Wisconsin, but legal betting is new," said Louise Cornelius, Gaming General Manager. "We hope to provide an environment for our clientele that is clean, up to date with the best technology possible. We have partnered with International Gaming Technology to lead us forward in the industry and keep us number one!"
Sports betting will only be offered in the main casino at 2040 Airport Drive across from Austin Straubel International Airport. Hours of operation are Sunday through Thursday from 10 am until 11 pm; Friday and Saturday from 10 am until midnight; and during home games open at 9am. Jessalyn Harvath is the Director of sports betting.