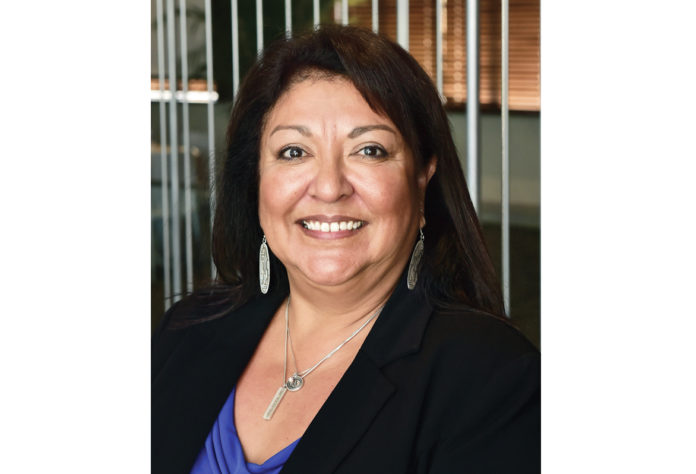 by Sheila Morago
The feeling of joy and reconnection could be felt throughout three days together in Oklahoma City in August. Everywhere we turned, people were elbow-bumping, hugging, laughing and in true OIGA fashion, doing a great deal of business.
The venue this year was the beautiful, brand new Oklahoma City Convention Center and Omni Hotel. The accommodations were splendid and the scale and proximity of the two made it possible for us to keep the poker and blackjack tournament, welcome party and everything except the John Marley Golf Tournament under one roof. While we can't underscore enough how convenient that was for everyone, the primary purpose was safety: the fewer places people had to travel to, the better.
The fun began bright and early on Monday, August 16, when some 250 golfers hit the links on both the east and west courses at Lincoln Park Golf Course. A rare August cool front gifted the field with gorgeous weather and light winds, and by mid-afternoon the teams were heading back downtown to rest and regroup before the evening's festivities.

That night, the poker and blackjack tournaments and welcome party were held in the ballroom at the OKC Convention Center. The huge space was dotted with sleek lounge furniture, dining tables and plenty of space for guests to spread out, enjoy the buffet and bar, and connect with old and new friends. For extra fun and an interesting ice breaker, several giant jenga and cornhole games were also positioned around the room.
On Tuesday morning, we changed things up a bit in order to reduce time spent seated in close proximity. In lieu of the welcome assembly, we started the conference sessions a bit early, which allowed us to open the trade show floor earlier than usual. A walk-about lunch was served, and later that afternoon in another effort to keep people safe, we held the awards program from the stage on the trade show floor rather than at the traditional luncheon.
Leadership from the National Indian Gaming Commission were on hand and we are grateful that they chose the OIGA Conference and Trade Show as the venue for releasing a very healthy revenue report, indicating that the industry is indeed thriving again after a difficult 2020.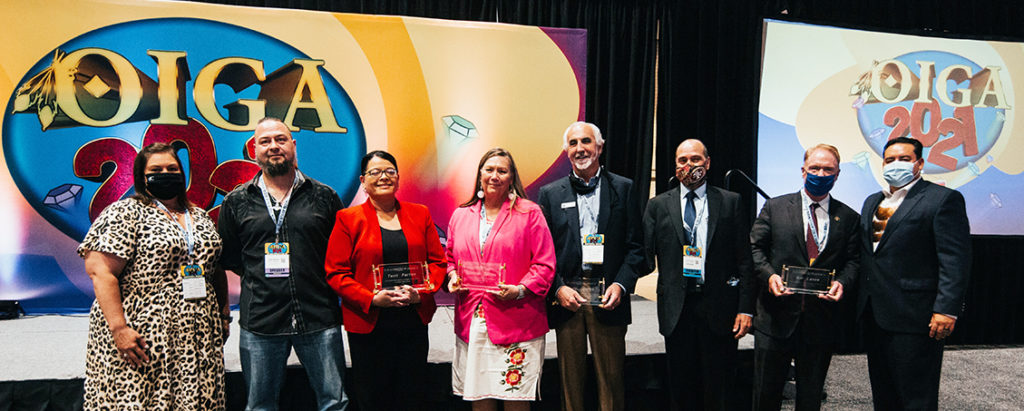 John Marley Scholarships were awarded to gaming employees and dependents. Student recipients included Grace Lankford, a junior at Miami University; Turner McCoy, who is entering graduate school; Dacoda McDowell-Wahpekeche, a journalism student at the University of Oklahoma; Jolie Morgan, a junior at the University of Oklahoma majoring in economics; and incoming freshman Gavin Sires, who is pursuing a pre-med major at Oklahoma State University. Employee scholarship recipients included Michael Bridgman, from Orongo, MO; Terri Fowler, from Pawnee, OK; and fellow Pawnee resident Crystal Hawkins.
Chairman's Awards honor those in Oklahoma Indian gaming operations who have worked through the ranks and made a significant impact in their own workplaces and communities, and who have also been living examples of the positive impacts that Oklahoma's tribal government gaming industry has brought. OIGA Chairman Matthew L. Morgan announced the following honorees for 2021: Audy Smith, Surveillance Supervisor, Southwind Casino; Shane Gregory, Surveillance IT Operations and Jack Parkinson, General Manager, WinStar World Resort.
The 2021 Modern Day Warrior Awards honors professionals in the Indian gaming industry who have dedicated tireless effort and support to champion the cause of Oklahoma tribal government gaming. The Modern Day Warrior has been the front line of defense for the rights and sovereignty of the nations that comprise the Indian gaming industry, in order to keep us on a viable path of progress and prosperity for
generations to come.
Honorees for 2021 are Terri Parton, President, Wichita & Affiliated Tribes; Deborah Dotson, President, Delaware Nation; Ward Chilton, Managing Partner, Gaming Capital Group; John Van Hoove, Territory Manager, JCM Global; Bill Lance, Secretary of Commerce, Chickasaw Nation and John Bunch, Vice President, Pervasive Gaming.
Indian gaming in Oklahoma began more than three decades ago with simple bingo halls situated in retrofitted buildings. Today, 31 tribal nations in Oklahoma currently operate 135 gaming facilities with approximately 72,850 electronic games, almost 5,300 bingo seats and other games including ball and dice games added last year. Tribal gaming operations include 20 casinos with hotels/resorts with a combined total of more than 5,000 rooms, and almost 500,000 sq. ft. of meeting, function and entertainment space, with more underway.
Sheila Morago is Executive Director of the Oklahoma Indian Gaming Association (OIGA). She can be reached by calling (405) 600-9044 or email [email protected].