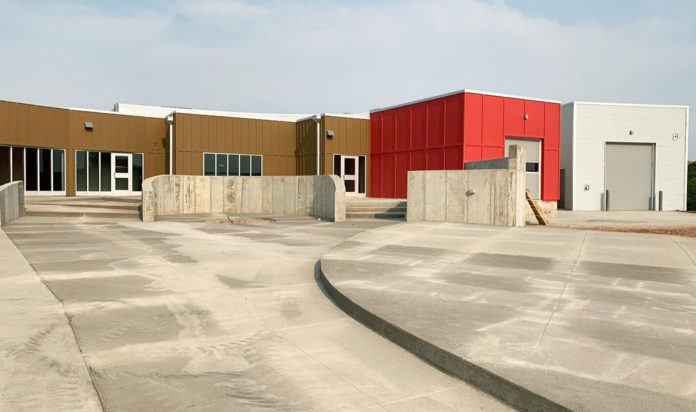 KYLE, SD – The Oglala Lakota Artspace (OLA) will hold its grand opening on Saturday, May 20, 2023, from 10:00am to 5:00pm. The arts center supports Indigenous artists and culture bearers in and around the Pine Ridge reservation. The grand opening celebration will feature, music, poetry, art workshops, and cultural events and food trucks will be onsite.
"The foundation of FPF's work is in my home community on the Pine Ridge reservation and where our work began over two decades ago", said Lori Pourier, President/CEO of First Peoples Fund. "We believe Indigenous arts and culture are vital to solving the systemic, generational, social, and economic challenges faced by Native nations across the country. When we launched the Rolling Rez Arts bus in 2016, we had yet to realize the possibility of the Oglala Lakota Artspace. Today, OLA is the first-ever arts center, classroom space, studios, and credit union dedicated to artists and culture bearers on the Pine Ridge reservation. I am elated to see the building come to life with artists and community members. It is truly the Indigenous Arts Ecology in action – a relationship-based, collective arts ecosystem that is grounded in ancestral knowledge that integrates space, spirit, people and lifeways."
The grand opening will highlight the local Indigenous community's rich traditions and creative expressions. Visitors can expect a vibrant and inspiring atmosphere, with opportunities to learn, engage, and connect with community members.
"Artspace is thrilled to celebrate the grand opening of the Oglala Lakota Artspace," said Kelley Lindquist, President of Artspace. "This creative hub will provide essential resources and connections to help build a more sustainable and vibrant future for the people of the Pine Ridge reservation and beyond. We are proud to be a part of this collaborative effort and look forward to the arts center's impact on the community."
The Oglala Lakota Artspace grand opening is open to the public and free of charge.