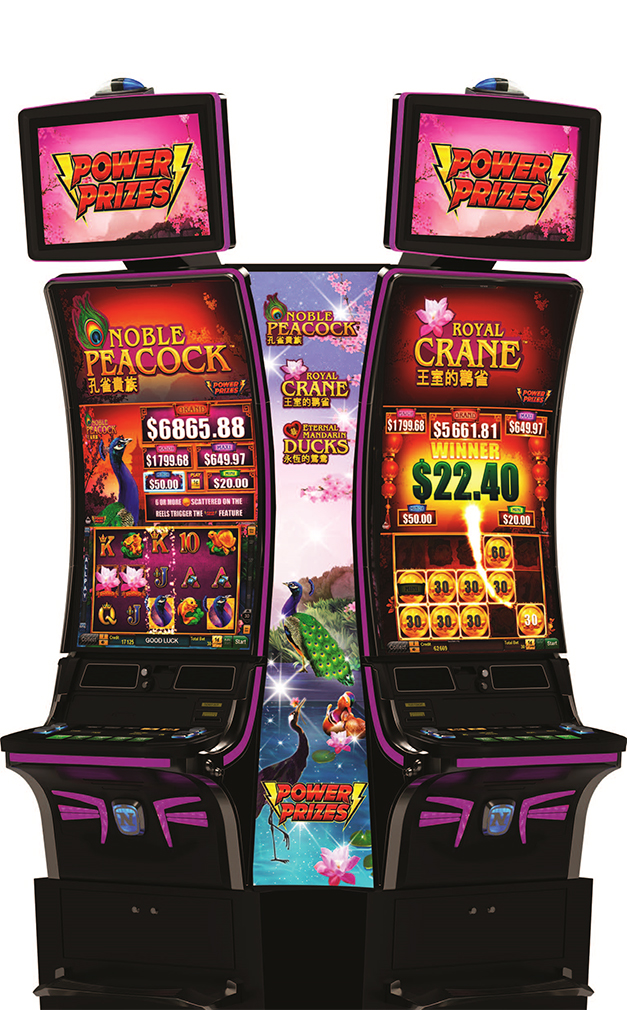 Novomatic Americas
Phone: (224) 802-2974
novomaticamericas.com
Class III
NOBLE PEACOCK™ / ROYAL CRANE™ / ENTERNAL MANDARIN DUCKS™
Three magnificent Asian Aviaries make up this powerful banked package of standalone progressive games: Noble Peacock™, Royal Crane™ and Eternal Mandarin Ducks™ – all pay tribute to the rich symbolism of bird life in Chinese mythology.
The precious lotus flower opens extra chances in the free spins, while red envelopes add some extra coin power to trigger the Power Prizes™ coin-respin feature for the big jackpot win. With player-friendly multi-denomination options and the most powerful talismans crowding the reels, the Power Prizes collection of games is a marvelous attraction for every gaming floor.
The beautiful Chinese lovebirds in Eternal Mandarin Ducks spread luck and fortune: Eternal Mandarin Ducks is a Power Prizes progressive highlight with a special red envelope twist.
The Noble Peacock™ may very well cast one or the other benevolent eye on these reels to help you win the Power Prizes™ progressive. Watch out for the lotus flower and the red envelope for extra chances for the jackpot. Royal Crane is the Asian Aviary game that holds the key to the secret treasure: Unlock the Power Prizes with a little luck and some help from the red envelope.
The beautiful aesthetic and gorgeous imagery combined with an exciting math experience make these games highly entertaining birds of play.