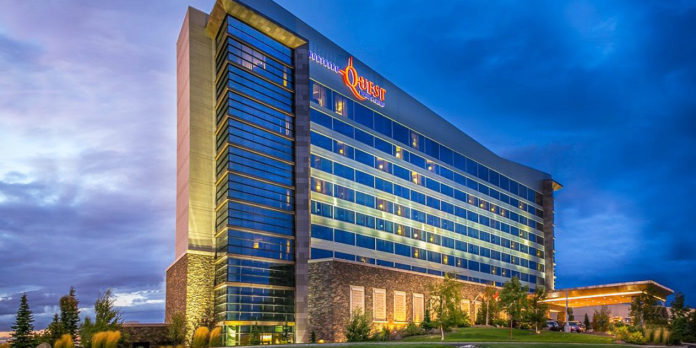 AIRWAY HEIGHTS, WA – This November, the Kalispel Tribe of Indians and Northern Quest Resort & Casino have expanded their celebration of Native American Heritage Month with a nod to tribal history featuring special month-long tribal-inspired dining specials and spa services, as well as performances by tribal dancers, drummers, entertainers, and a comedian.
Northern Quest will feature traditional Native American dance and drumming performances by members of various plateau tribes on the southeastern end of the property near Windfall. The Kalispel Tribe is also welcoming 16 of the top Native American Fancy Dancers from across the U.S. and Canada to perform traditional Fancy Shawl and Fancy Double Bustle dances. The competition celebrates centuries-old traditions representing several different tribes.
Nationally recognized Native American comedian Tonia Jo Hall will bring her stand-up comedy act to the stage for a free evening of comedy and award-winning musician, Tony Louie, a Colville tribal member, will entertain on stage at Highball: A Modern Speakeasy. Native American DJ Exodus will play all the favorites for late-night fun and dancing.
There will also be a unique dining experience featuring local Indigenous flavors with celebrity chef Sean Sherman, founder of The Sioux Chef. The evening will feature an amuse-bouche and four elegant courses crafted from ingredients foraged from the surrounding land and prepared with the assistance of Chef Sherman, along with Masselow's Chef Tanya Broesder and her team. Sherman, a James Beard award-winning chef well-known for embracing and revitalizing Native American cuisine throughout the country, will speak on his commitment to reclaiming Indigenous foods. By utilizing the true flavors accessible to Native ancestors, the menu will be naturally free of gluten, dairy, cane sugar, soy, and pork.
There will also be a tribal artisan and vendor fair supporting Indigenous-owned businesses with unique handmade goods. Additionally, Northern Quest's La Rive Spa will be offering unique spa services that draw inspiration from the tribal burning of sweetgrass in a ceremonial fashion to connect with the Creator, pray and harness positive energy.
Brief History of Tribe
In the late 1800's, the Kalispels were in desperate need of protection and security. In 1887, the Kalispel Tribe was pressured by the United States government to move away from their homeland to another reservation in Montana. Chief Masselow remained steadfast in his refusal to leave the area, even though the tribal population had dwindled from 1,600 tribal members to approximately 100 in 1911. In 1914, the tribe was granted its own reservation by executive order on their ancestral homeland in Usk, WA, located 55 miles north of Spokane. In the last 135 years, the Kalispel Tribe has faced many challenges associated with life in remote rural areas – including unemployment, inadequate housing, substance abuse, limited economic opportunities, and prejudice. With most of the land on the small reservation unsuitable for development, the tribe was forced to develop innovative ways to create opportunity for tribal members.
One of those ideas was to purchase additional land away from the small reservation and build a casino where tribal members could count on gainful employment. In 1996, the tribe secured approximately 300 acres of land in Airway Heights, including 40 acres of Reservation Trust Land designated for gaming. Since the opening of Northern Quest Resort & Casino in 2000, tribal health and social service programs have increased the quality and life expectancy for tribal members and those who live in surrounding communities. Today, the Kalispel Tribe has 485 members. Approximately 35 percent of those members are under the age of 18. The smallest percentage of members are tribal elders. The tribe now maintains several successful businesses, provides nearly 2,000 jobs, and has donated more than $22 million to regional and non-profit organizations in Spokane and Pend Oreille Counties.