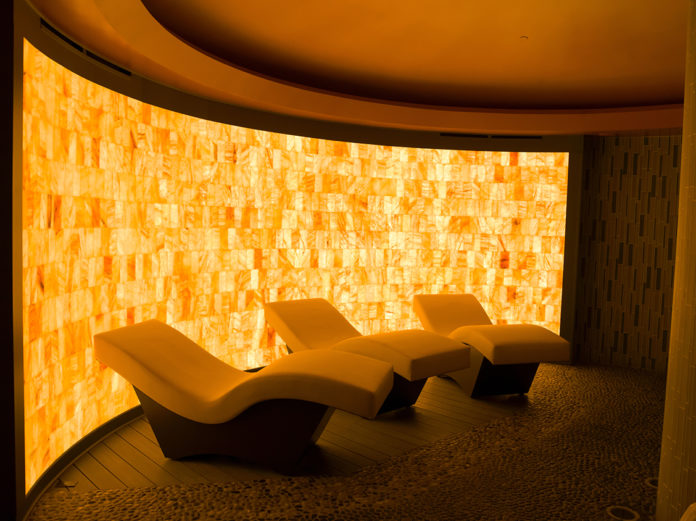 The newest addition to La Rive Spa at Northern Quest Resort & Casino in Spokane, WA, brings a state-of-the-art Himalayan Salt Room experience to join the already luxurious amenities accessible to all spa guests. Filled with warmly illuminated, hand-carved pure Himalayan salt bricks and state-of-the-art heated Wave and Dream Loungers, guests can relax and enjoy an oasis of healing tranquility. Halotherapy infuses pure Himalayan salt (sodium chloride) into the air of the Salt Room, easing breathing and promoting overall wellness and relaxation.
La Rive is the only luxury spa in the Inland Northwest to feature a Himalayan Salt Room. Known for relieving headaches and migraines, soothing mental and stress-related disorders, improving insomnia, easing respiratory problems and calming arthritis, guests will enjoy sitting back in complete relaxation and breathing in the warm and salty air, while basking in the glow of 100-percent pure pink and white Himalayan Salt stone walls.
As far back as the 13th century, people have been using halotherapy to naturally treat a multitude of respiratory and inflammatory illnesses. In today's technologically advanced world, electronics emit positive ions that can leave people feeling worn out and exhausted. The natural environment, including the Earth's magnificent forests, beaches and waterfalls create negative ions that counteract that stress. Pure Himalayan Salt, derived from the Primal Sea, is packed with 84 naturally occurring minerals and filled with negative ions. When gently heated, Himalayan Salt serves as a natural ionizer. The salt crystals attract moisture and as it evaporates, negative ions are emitted, purifying the circulating air. These ions are known to reduce stress, increase energy and boost your mood at a biochemical level.
"The Kalispel Tribe has a long history of embracing natural healing elements from the Earth," says Senior Director of Resort Experience Yvonne Smith. "At La Rive, we are honored to carry on this tradition with the health and well-being of our guests and team members at the forefront of everything we do. With this in mind, we chose to create a Himalayan Salt Room experience with a focus on ultimate relaxation and wellness. Himalayan Salt is believed to reduce stress and fatigue and boost overall wellness. We can't wait for our guests to experience the warm and relaxing atmosphere of this beautiful new amenity."
Along with the new Himalayan Salt Room, guests can choose to experience a new salt-themed spa treatment as well.