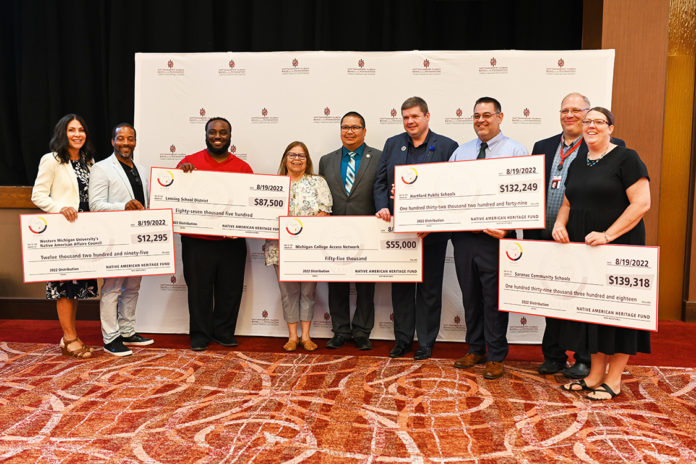 BATTLE CREEK, MI – The Native American Heritage Fund (NAHF) awarded $478,700 to the 2022 grant recipients at FireKeepers Casino Hotel, bringing their total contribution to $2,390,400 to 37 of Michigan's K-12 schools, colleges, universities and local units of government.
NAHF Chairperson Jamie Stuck started off the event praising the collaboration between the NAHF and representatives from the local, state and federal levels to provide solutions – not just point out problems.
"For a state and a sovereign nation to work together to help provide solutions that are affecting all 12 sovereign nations of the State of Michigan is nothing short of remarkable," said Stuck. "Hopefully these types of initiatives are a glimpse into what is to continue in the future generations ahead at the national level."
Guest speaker Nate Engle, West Michigan's Regional Liaison of Gov. Whitmer's office, congratulated the award recipients on their dedication to mutual respect and understanding.
"The courage of the schools represented here today and their communities should particularly be noted," said Engle. "Moving away from inappropriate mascots demonstrates another elevation of the respect for the culture, history and identity of Michigan's Native American populations. The positive relationship between Michigan and the federally recognized tribes should be a blueprint for the rest of the country. What's evidenced here this afternoon, ultimately, is that when people sit down with good intentions and work to understand each other, we can move society forward successfully in a way that honors dialogue, respects differences and celebrates common humanity."
"We hope in the future to totally retire the 'R word' from the State of Michigan," said Stuck. "Before the NAHF board got started, we had six schools within the state using the 'R word.' With NAHF funding, now we're down to two remaining – Sandusky and Camden-Frontier. Those are two more schools we need to concentrate on and get those mascots retired once and for all. Let's be the first state in the country to not have the 'R word' in use."
Saranac Community Schools Superintendent Jason Smith, along with Stephanie Smith, the Saranac Schools Instructional Leader and his wife accepted $139,318 to rebrand their mascot and reevaluate their curriculum.
"It was almost 30 years ago to the month that I remember the first initial discussion of changing the mascot when Stephanie and I were juniors in high school," said Smith. "It's been a long process, but we're so pleased today to be here to accept this and have our community transition. We had students in the building yesterday who were pretty excited as they're officially the first Red Hawks."
On behalf of Lansing School District, J.W. Sexton High School Athletic Director Anthony Brandon and Dr. Claude Hogan accepted $87,500 to rebrand the current mascot from the "Big Reds" to a new culturally appropriate mascot and logo.
"This is something that needed to happen," said Brandon. "There is never a wrong time to do the right thing."
Other recipients included:
Western Michigan University's Native American Affairs Council for $12,295 to host "A Conversation with Billy Mills of the Oglala Lakota with Native News Online live streaming the event
Michigan College Access Network's for $55,000 to continue funding the "College Completion Corps," a program that places completion coaches at three tribal colleges – Saginaw Chippewa Tribal College, Keweenaw Bay Ojibwa Community College and Bay Mills Community College – for the upcoming academic year
Hartford Public Schools for $132,249 to rebrand the current mascot from "Indians" to "Huskies" and implement a new curriculum to help build meaningful connections with students
Chippewa Hills School District, who could not be present at the event, for $52,371 to replace current Native American imagery with "Golden Knights" imagery for the "Warriors" mascot
Overall, the NAHF has provided over $1.5 million for changes to mascots and imagery alone.
"Now it's about the healing," said Stuck. "This decision makes a big divide in communities and that's a part of it, not just the education and making the mascot change, but moving forward with healing and doing so in a respectful way."