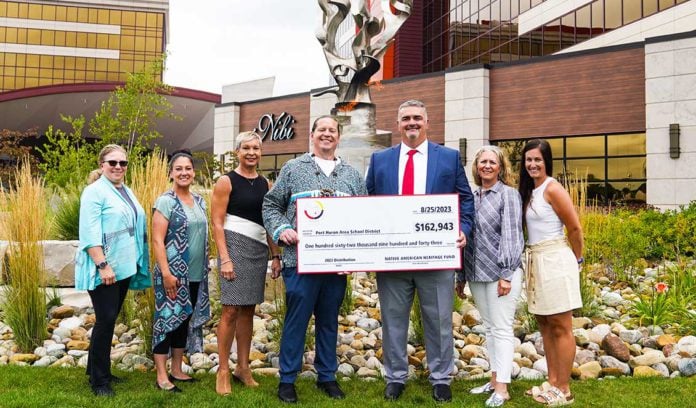 BATTLE CREEK, MI – The Native American Heritage Fund (NAHF) board selected projects in nine Michigan communities as recipients of the fund's 2023 grants at the board's August meeting. From a pool of 20 applicants, the NAHF board chose to award grants totaling over $480,000 in support of community projects, academic programming updates, mascot changeovers and other projects that honor Native American culture and history in the area.
Priority was given to at least partially funding the work of reducing the number of inappropriate mascots among Michigan public schools, which is often costly for schools that need to update facilities and uniforms.
"Over the past several years, we have 15 different schools that we have helped retire and rebrand the mascot," said NAHF Chairperson Jamie Stuck, who is also the Tribal Council Chairperson for the Nottawaseppi Huron Band of the Potawatomi. "In 2018, we started out with six 'R-word' mascots. After this next year, we will have zero in Michigan. Instead of pushing the problem further down, we like to be part of the solution for changing these mascots. We are not only here to provide financial support, but we are able to provide guidance and emotional support as these communities move away from hateful terms."
The NAHF board urges schools to consult not only students, but also local tribes in reconsidering a school mascot and specifically funds schools that have identified the new branding and are prepared and approved internally to make the switch.
The 2023 NAHF grants include:
Baraga Area Schools – $6,000 to integrate Ojibwe language and culture in the school environment by creating a cultural liaison on staff, implementing signage, hosting pow wow's and other cultural activities.
Chippewa Hills School District – $66,446 to rebrand signage, floors, athletic facilities and apparel with new "Golden Knights" mascot imagery. This grant is in addition to the NAHF grant received in 2022, as NAHF continues to work with and support schools as they make ongoing changes.
Manistee Area Public Schools – $142,585 to rebrand signage, website, athletic facilities and athletic uniforms with new "Mariners" mascot imagery.
Meridian Charter Township – $15,000 to replace hateful imagery by installing a new sign at the entrance to Sower Blvd. off Okemos Rd.
Pellston Public Schools – $6,000 to create, administer and use a new bilingual website designed and built by students to allow them to interact and grow with Native and non-Native community members.
Petoskey Schools – $2,925 to purchase new track uniforms with rebranded school mascot that replaced the previous Native American mascot. This grant is in addition to the NAHF grant received in 2020, as NAHF continues to work with and support schools as they make ongoing changes.
Port Huron Area School District – $162,943.90 to replace and rebrand the current mascot at Michigamme and Roosevelt Elementary Schools and High School.
Sandusky Community Schools – $74,604.08 to rebrand athletic equipment, signage and athletic uniforms with new "Wolves" mascot imagery.
Watersmeet Township School District – $3,845 to implement a mini teaching pow wow event using best practices around Indigenous knowledge to promote positive relationships between the school district, tribe and local government.
The awards were distributed and shared with the public at the NAHF grant award ceremony at FireKeepers Casino Hotel.
"We are very gracious for this award," said Ron Stoneman, Superintendent at Manistee Area Public Schools, who spoke on behalf of the school district during the ceremony. "Our main focus was educating on the 'why' (to change), which was crucial for this process. And once the 'why' was understood, we found that the process became much easier than anticipated. We are also very proud of our students. We had a passionate student group that was part of this, and they shared that passion throughout the entire community and school. This was the right thing to do, and our community is very grateful for this award."
The NAHF board is composed of: Chairperson Jamie Stuck (NHBP Tribal Council Chairperson); Vice Chairperson Dorie Rios (NHBP Tribal Council Vice Chairperson); Secretary Elizabeth Kinnart (Sault Ste. Marie Tribe of Chippewa Indians Citizen); Treasurer Melissa Kiesewetter (Michigan Dept. of Civil Rights Tribal Liaison/Native American Specialist); and Board Member Kimberly Vargo (Grand Traverse Band of Ottawa and Chippewa Indians).