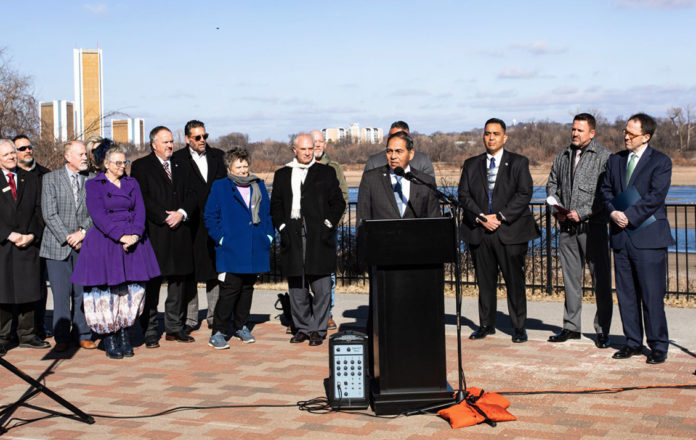 TULSA, OK – The Muscogee Creek National Council approved an agreement representative of approximately $8.2 million for the South Tulsa/Jenks low water dam project – an important step forward in joint plans between the City of Tulsa, City of Jenks, Indian Nations Council of Governments (INCOG) and the Muscogee Nation to create a new lake in the Arkansas River that will run from 71st to 101st streets.
"I am very grateful for Chief David Hill, Speaker William Lowe, and the members of the Muscogee Creek National Council for their commitment to this project that is over half a century in the making," said Tulsa Mayor G.T. Bynum. "I look forward to working with them, not just in the establishment of this lake but also in the development of the Muscogee Creek Nation's adjacent business holdings which will benefit tribal citizens far beyond the Tulsa Metro."
In 2016, both Jenks and Tulsa residents passed Vision Tulsa ballot measures to invest in the Arkansas River by building a South Tulsa/Jenks Dam. Tulsa voters approved no more than $64.2 million for the project and Jenks voters approved $16.6 million that same year. On Dec. 28, 2022, the Muscogee Nation approved a funding commitment for approximately $8.2 million for the project, which will help to fully fund the project.
With the multi-modal trail system funded and Muscogee Nation funding that was announced, officials can start working on next steps for the South Tulsa/Jenks Dam project, which is expected to have a major economic impact along this stretch of the Arkansas River.
"The Muscogee (Creek) Nation is always willing to sit down and work with our partners in the cities of Tulsa and Jenks to advance development, growth and prosperity on our Reservation," said Principal Chief David Hill. "This agreement is a win-win for all parties and an example of the things we can achieve when we work together. I want to thank our National Council for its diligence in working toward a plan that takes care of the Nation, while joining in the shared vision for the future with our partners."
"This is a historic day, as it symbolizes a commitment – hopefully one of many – among four governmental entities that share a common asset and interest," said Phil Lakin, District 8 City Councilor. "Developing the lake and trails along our river in far south Tulsa and Jenks will activate hundreds of dormant acres, giving us unlimited opportunities to create retail and residential experiences while adding significantly to our ability to exercise, gather as a community, and enjoy the outdoors. And it will fill our prairie river with water, which we've envisioned for 50-plus years. The Chief, Council, and other Muscogee Nation leaders have been highly collaborative in creating this mutually beneficial agreement, and I couldn't be more grateful." 
"Thank you so much to the voters who saw the economic potential for this area when they approved this Vision project," said Jeannie Cue, District 2 City Councilor. "I'm thrilled that we will be moving forward together with our multiple partners and especially would like to thank the Muscogee Nation and Chief Hill for their collaboration and the Council for their commitment today. I'm so glad we will be working together to improve the lives of the people we serve." 
"After years of discussion and planning, we are exciting to see this low water dam project become a reality," said Jenks Mayor Cory Box. "We are thankful to the voters who overwhelmingly supported this years ago, and to our Tulsa, INCOG, and Muscogee Nation partners. We consider this project to be the biggest in our city's history. We believe it will dramatically change the economic growth trajectory of our city for years to come, and look forward to the natural beauty it will bring to our shoreline. The lower water dam, with the trails and park amenities it will provide, will be a wonderful outdoor attraction for everyone in the region to take advantage of."
"This is a major step forward in further implementing the shared regional vision of a series of river lakes on the Arkansas River as envisioned in the Arkansas River Corridor Master Plan," said Rich Brierre, INCOG Executive Director. "The initiation of planning, design and ultimate construction of the South Tulsa/Jenks low water dam would not be possible without the commitment of all the partners including the Tulsa and Jenks voter-approved Vision funding programs and the participation of the Muscogee Nation. The RAISE grant funding secured earlier this year by INCOG will provide trail and trailhead improvements on both sides of the river connecting the low water dam and planned pedestrian bridge and extending the river trail system." 
The Tulsa-Jenks Multi-Modal Safety project is planned to begin survey, design, and engineering efforts between early 2024 through late 2025, with construction beginning in mid-2025 and a scheduled completion date expected by mid-2027.