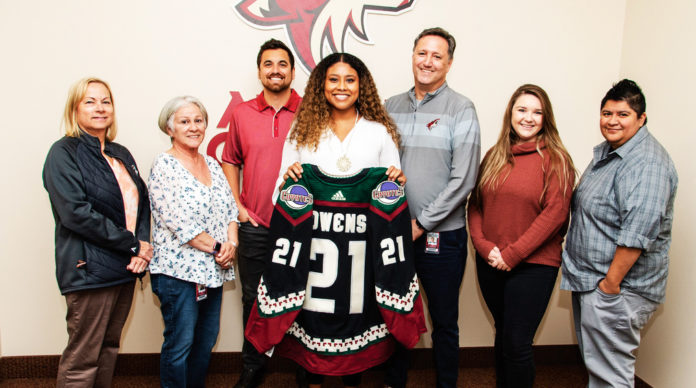 A Gila River Indian Community (GRIC) member just completed a mentorship of a lifetime. As part of Gila River Hotels & Casinos' partnership with the Arizona Coyotes, GRIC member Tyler Owens was afforded the unique opportunity to shadow an Arizona Coyotes department of her choosing for nine months. This mentorship program is one of the many initiatives the Coyotes host for Community members throughout the season.
Students in the GRIC aged 18-26 looking to gain invaluable experience in the business of professional sports alongside a first-class organization can apply for the program. The personalized mentorship allows participants to shadow a department within the organization that interests them. The program also gives the mentee the opportunity to create relationships with an invaluable network within professional sports while gaining professional skills along the way.
Owens' nine-month mentorship was with the finance department due to her experience and business interests. Some of the projects she worked on included updating data for ticket and parking sales, as well as players' equipment and game day meals for both the Arizona Coyotes and the Tucson Roadrunners of the American Hockey League.
"Tyler's knowledge and work ethic were a great fit for our finance team," said Arizona Coyotes CFO Lowell Heit. "She is a quick learner with the ability to see the bigger picture. With her politeness and team-first mentality, Tyler will have a bright, successful future."
Owens' mentorship program began in January of 2020 but was cut short when the pandemic hit in March. Through those three short months, she formed a meaningful working relationship with the finance team. In January of 2021, Tyler resumed the program and proudly completed it in June 2021. Owens' biggest takeaways were the relationships she built and the knowledge she gained as to what goes into operating NHL and AHL teams.
"We are proud to partner with an organization that finds such value in creating opportunity for our community members and that truly cares about making an impact on young professionals and the greater Arizona community alike," said Gila River Hotels & Casinos' CEO Kenneth Manuel. "I am excited for Tyler as she takes the invaluable lessons learned in this program and applies them in her future endeavors, as well as the future mentees that get to experience this mentorship!"
The mentorship program will continue for the 2021-2022 season, and the Coyotes are excited to make another positive impact in the career development of a future GRIC member participant. Mentees applying for the program in the future will have the ability to shadow many different departments including the Arizona Coyotes Foundation, Marketing, Corporate & Premium Partnerships and Hockey Development, among others.
"We were very excited to team up with our great partner the Gila River Indian Community on this mentorship program," said Coyotes President & CEO Xavier A. Gutierrez. "Part of our responsibility as an organization is to pay it forward and provide opportunities to those interested in a career in professional sports. The Gila River Indian Community shares our vision of being leaders in our community and making it a priority to give back to others. We look forward to continuing our partnership on this program in the future."
Tyler's advice for anyone thinking of applying is to go into the program with an open mind. If you do that, "the things you will learn will be limitless."
For more information on how to apply for the Arizona Coyotes Mentorship Program, contact Teaya Vicente at [email protected].