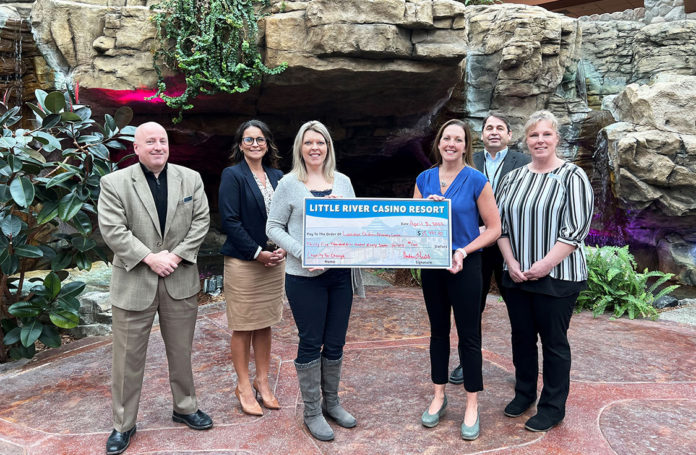 MANISTEE, MI – Little River Casino Resort (LRCR) has announced the distribution of $35,997 to the Lakeshore Children's Advocacy Center (LCAC) and $34,238 to The Arc of Manistee County from the Change for Charity program.
LRCR, in partnership with Everi Inc., created the Change for Charity program in 2021. Change for Charity collects donations from casino guests. The charities, selected by LRCR, completed the vetting process and the charities' logos were placed on the ticket redemption kiosks. As guests redeemed their gaming tickets, they donated the change from their ticket to the charities. Guests have the option to select an individual charity or split it between the charities.
"Little River Casino Resort also provides donation ticket boxes next to our ticket redemption kiosks that display the chosen charities," said Tiphanie Smith, LRCR Operational Finance Manager.
LCAC provides services to children ages 3-18 and their families when there has been an allegation of abuse, neglect, or if a child has been a witness to violence. Additionally, LCAC has a robust prevention program with adult-focused training to school personnel and others working with children, as well as youth-focused body safety lessons in classrooms. All services are provided at no cost to children and families.
"The Little River Casino Resort is our largest corporate sponsor, and our team is beyond grateful for the generous financial support provided," said Megan McCarthy, LCAC Executive Director. "Little River Casino Resort's Change for Charity is making life-changing donations in its support of the Lakeshore Children's Advocacy Center. We extend our sincerest gratitude to the Little River Casino Resort for standing up for children through their financial support."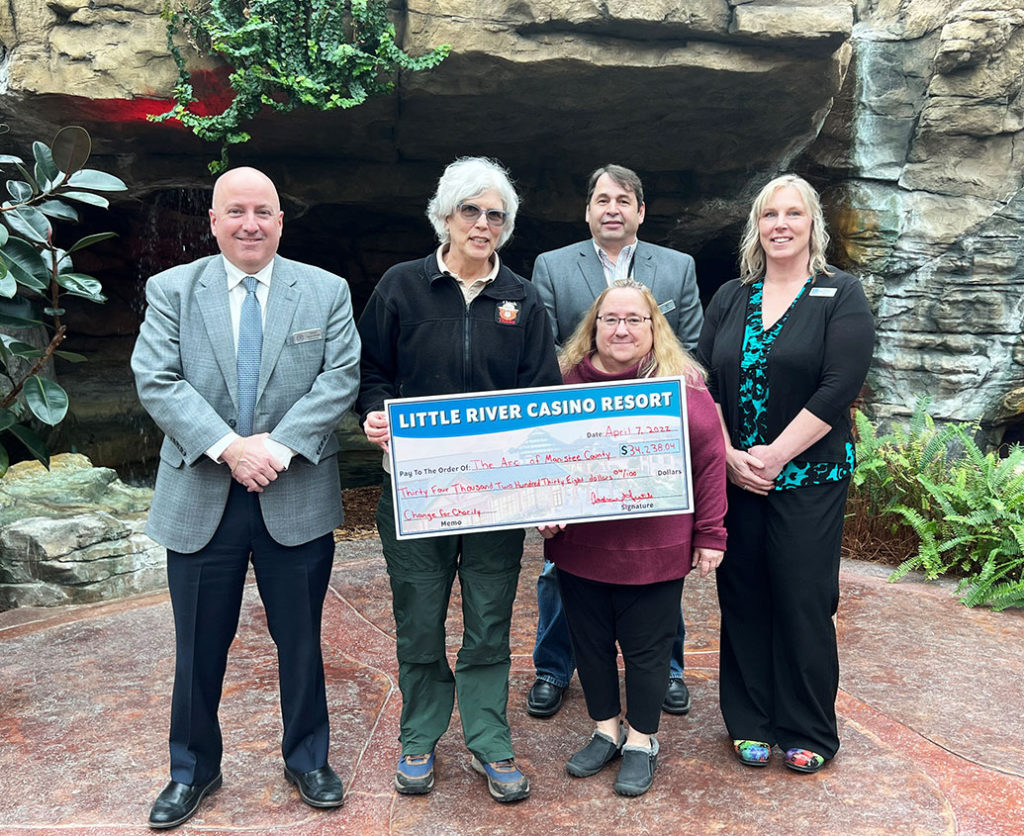 The mission of The Arc of Manistee County is to ensure that people with developmental disabilities are valued and that their families can participate fully in and contribute to their community. Arc serves people of all ages and advocates for assistance with costs for special needs, such as wheelchairs, braces, special shoes, and helmets.
"The Arc of Manistee County's goal has always been to help support, develop, and advocate for programs that directly impact individuals with developmental disabilities," said Jackie Karnisz, Arc Program Leader.
"The Arc of Manistee County hosts various social events, free of charge to our members including holiday parties, dances, the cherry festival, monthly bingo, and summer day camp," said Barb Heidel, Arc Program Leader. "We look forward to resuming our activities very soon with the help of the Change for Charity's generosity."
"Lakeshore Children's Advocacy Center and The Arc of Manistee County are wonderful resources in our community for children and families," said Smith. "I am proud that the Change for Charity supported these organizations."