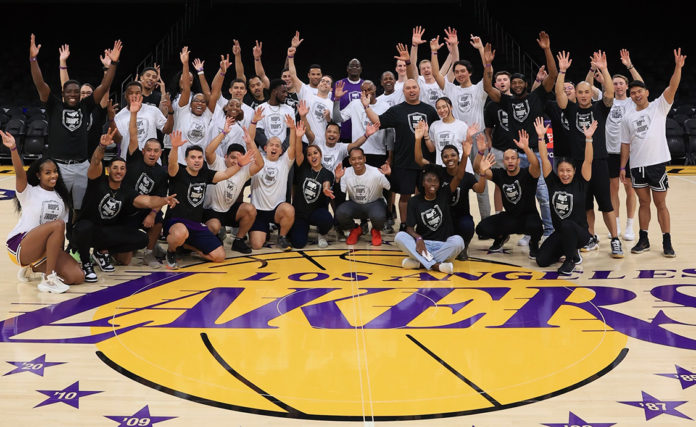 LOS ANGELES, CA – For the eighth year, the Los Angeles Lakers and Pechanga Resort Casino hosted the annual Hoops for Troops program on the hardwood at Crypto.com Arena. During three separate sessions, 150 service men and women suited up and hit the court, running drills, playing scrimmages and even dancing a bit with Lakers Legends Robert Horry, Michael Cooper and James Worthy. For one whole hour, the active military members from bases around Southern California got to feel what it's like to run, dribble and shoot baskets on the same court as the Legends, and other Lakers greats.
A sponsorship between the Lakers and Pechanga Resort Casino created the "Hoops for Troops" program in 2015. "The partnership with Pechanga is so special because they and the Lakers have made that commitment to the community," said Michael Cooper, Lakers Legend. "We are so glad to have them with us and be all involved with us. The veterans, when we're running away from danger, they're running to danger to protect us so this event for them is so special."
With their families able to watch from the arena seats, the 50 military members in each one-hour clinic received free t-shirts, four tickets to that evening's Lakers game, and amazing lifetime memories.
"Service members do amazing work for our communities both abroad and at home every single day," said Matt Makovec, Director of Community Relations, Los Angeles Lakers. "The Lakers organization wants to show our support for their sacrifices. We take pride in being able to provide special experiences for service members and their families, to take a night off and enjoy their loved ones."
"Our service men and women make sacrifices every day that many of us take for granted," said Andrew Masiel Sr., President of the Pechanga Development Corporation. "We are honored to again be a part of this gesture of appreciation and support for all of their service and sacrifices."