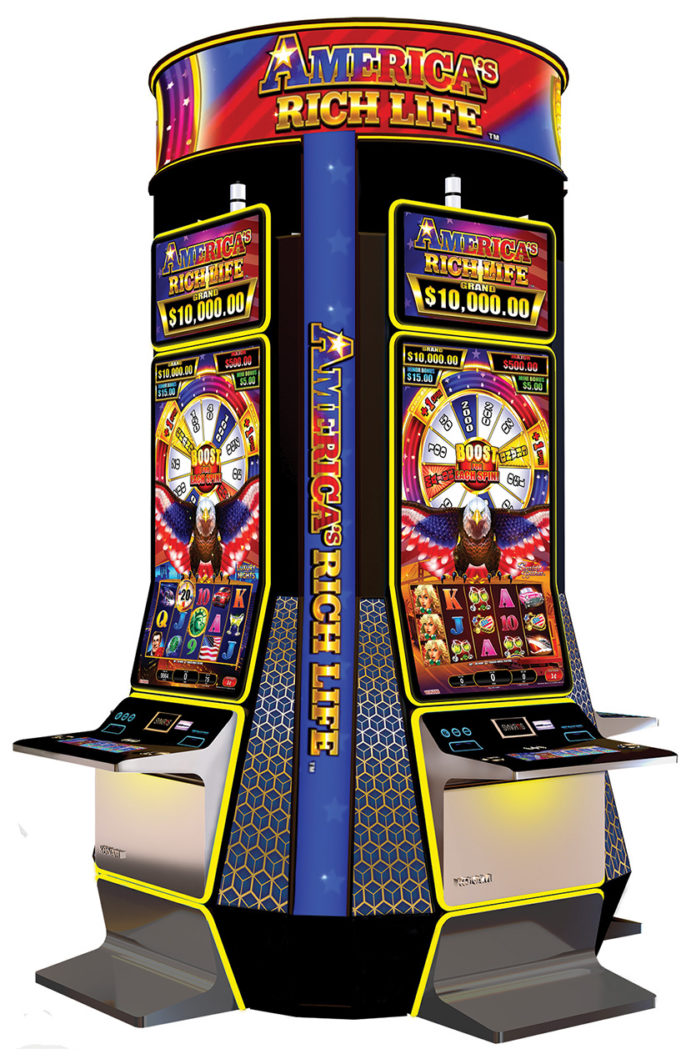 Konami Gaming
Phone: (702) 616-1400
konamigaming.com
Class III
AMERICA'S RICH LIFE™

Feel the rhythm, freedom and fortune of a nation in celebration. America's Rich Life™ is a new premium slot series by Konami Gaming that combines soulful patriotism with wheel-spin slot fanfare. Featuring the 1987 Grammy Award-winning song "Living in America" by Rock and Roll Hall of Fame honoree James Brown, America's Rich Life gives players the chance at multiple jackpot wheel spins, including a chance at the big progressive grand. Anytime six or more wheel symbols are collected, the wheel game feature is awarded, as the game's prize wheel animates front and center. Three spins are awarded at the start of the feature, with increasing prize amounts as the feature progresses. On about half of all spins, the game's eagle character can nudge the wheel to award a +1 spin. This all-new premium link is available with custom LED sign options that cover the installation in red, white, and blue; stars and stripes; and an eagle doing the moonwalk. America's Rich Life is available now on Dimension 49J™ and Dimension 75C™ with two original base games: Luxury Nights™ and Seaside Riches™. Soar to star-spangled glory with America's Rich Life.