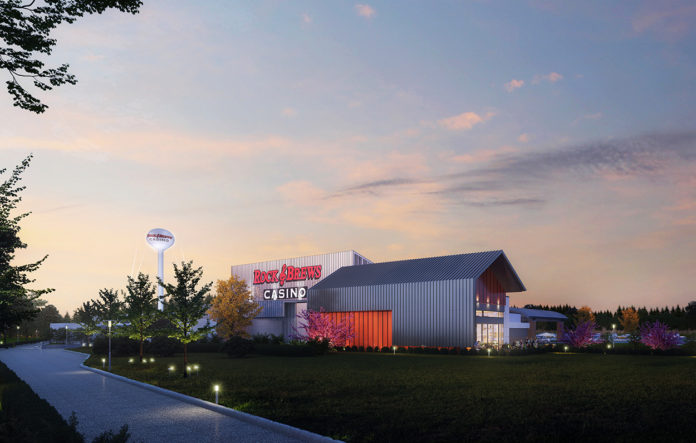 BRAMAN, OK – The Kaw Gaming, Inc. (KGI), owner and operator of Southwind Casinos in Braman, Kanza, and Newkirk, OK, announced that it has closed a loan with Western Alliance Bank to construct its new Rock & Brews Casino at its Braman location.
"Western Alliance Bank is dedicated to finding the financial solutions required by tribal gaming entities, and many others in the casino gaming industry," said Ashan Perera, Managing Director of the Gaming Group for Western Alliance Bank. "The successful completion of this financing plan offers significant benefits to Kaw Nation and KGI in its pursuit to launch its new Rock & Brews Casino. We are exceedingly proud to be part of the tribe's continued success."
"This is wonderful for Kaw Nation," said Tribal Chairwoman Lynn Williams. "I am so proud of all the work put together by the KGI Board members and associates, as well as the combined effort of the Tribal Council."
This deal was initiated in 2019 but was sidetracked due to the pandemic. However, due to its ability to operate safely and successfully, KGI has been able to attract financing in the fulfillment of the tribe and casino board's collective vision. Other factors contributing to this result include:
Best in class team and workforce
Development of a modern casino with state-of-the-art amenities
Strategic location in high traffic area off of I-35
Impressive player development growth with strong trends
"It's very rewarding to see the casino's success and continued growth," said Tammy Cassiday, Property Operations Manager. "Our employees are very excited by the opportunity to be part of our new Rock & Brews Casino, which will offer a new and improved gaming floor, off-track betting area and Rock & Brews restaurant." Currently, the three Southwind Casino locations provide jobs to over 150 individuals. When the Rock & Brews Casino expansion is complete, KGI expects to add an additional 75 new jobs to the area.
"We are very honored to be a part of Kaw Nation's expansion plan," said Adam Goldberg, CEO of Rock & Brews. "The Rock & Brews Casino and Restaurant centers around an expertly curated interactive rock experience that we know Oklahoma will love."
"We are excited to secure this financing and look forward to the years ahead with our new facility," said Ken Bellmard, President of Kaw Gaming, Inc. "We know how important our facilities are to the families of our community and we are proud of their continuing contribution to growing our local economy."
Tiger Law, Hogen Adams, and Connors & Winters provided legal counsel for the Nation and KGI. FSA Investment Group acted as KGI's financial advisor. Connect Advisors is the owner's representative, HBG Design is the architect, and Flintco is general contractor for the project.