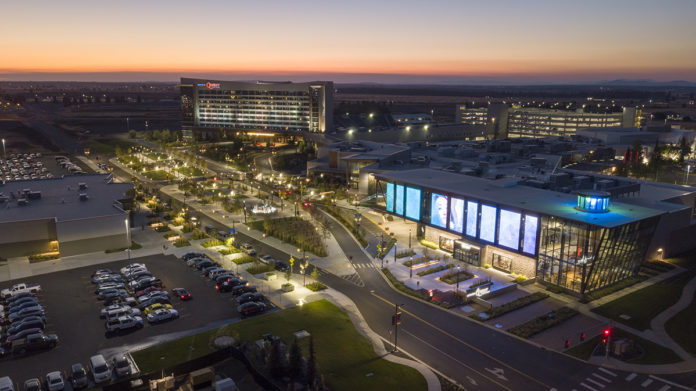 When the Kalispel Tribe of Indians first opened Northern Quest Casino in late 2000, it was a small, rectangle box-shaped structure filled with the hopes and dreams of a tribe struggling with poverty and nearing bankruptcy. Twenty years later, Northern Quest Resort & Casino has become one of the premiere entertainment destination resorts in the Pacific Northwest, providing an oasis of fun for guests and a life-sustaining revenue stream for essential tribal government services. In April, Northern Quest will celebrate this huge 20-year milestone and the anniversary of its player loyalty club, Camas Rewards, with big giveaways, contests and the opportunity for tribal members, team members and guests to take a walk down memory lane.
Throughout those 20 years, the Kalispel Tribe has continued to reinvest in its Northern Quest property, completing more than a dozen expansions and diversifying the tribe's business portfolio to include a golf course, RV resort, second Kalispel Casino, three fuel and convenience stores, as well as a commercial linen service and large home-goods style retail store. The expansions at Northern Quest alone have brought a luxury four-diamond, four-star resort hotel into the mix, along with a world-class spa, more than 1,600 slot machines and 37 table games, and an outdoor summer concert venue that draws national artists from all genres.

Fundamentally, the tribe's success with Northern Quest is rooted in the traditions of this small but mighty tribe in Eastern Washington and its commitment to demonstrating Kalispel Hospitality to each and every guest. "We really focus on making each moment memorable for our guests," said Northern Quest General Manager Nick Pierre, a proud Kalispel Tribal Member and councilman. "Our goal is to be the premiere entertainment choice for this community. When you look at our hotel, dining, and summer concerts, we're definitely setting the bar for everyone here in this area and I want to continue that. Kalispel Hospitality comes from the genuine efforts of our team members to make every guest feel special."
With Kalispel Hospitality at the core of Northern Quest guest service, the once small-time casino has grown to an award-winning destination. When Northern Quest first opened, the tribe employed approximately 50 people. Now they employ nearly 1,500 team members. Thirty-one of them have been with Northern Quest since its first day of opening, celebrating their 20-year work anniversary as well. Northern Quest and the Kalispel Tribe not only positively impact more than a thousand local families directly through compensation, they are responsible for more than $275 million of annual economic impact in Spokane County. In addition, the Kalispel Tribe has given more than $20 million to non-profit charitable organizations in Spokane and Pend Oreille Counties in the past 20 years. At Tribal Council's direction, the donations are focused in the areas of social service, healthcare, education, arts and culture, and environmental conservation. Charitable giving has always been an important focus for the tribe since many of their people faced poverty and lack of access to quality healthcare and education for so many generations. Even during those days, Kalispel tribal elders share stories about how they all still took care of each other, regardless of how little they had.
"Growing up, being a part of this Kalispel Tribe, you already felt like you had everything," said Kalispel Tribal Economic Authority Chief Operating Officer Phil Haugen. "The tribe was a very close-knit community. There were probably less than 180 tribal members, so you knew everybody. And unfortunately, a lot of those people are gone now and haven't been able to see what this place has provided for the tribe and what it's done for our people. But I didn't know that we didn't have what we didn't have."
While 2020 was a difficult year for all tribal entertainment ventures, the Kalispel Tribe has weathered the storm and continues to look toward the future. In November, the tribe announced an expansion project that will bring a new hotel wing and nearly 200 additional rooms and suites to the property. The new hotel will be adjacent to the current hotel tower and will bring overall hotel capacity to more than 440 rooms. The new structure will include five connected buildings shaped in a half circle, inspired by the traditional structure of a Native American fish weir. Weirs were often constructed by groups of Tribal Members and used as a community-focused fishing technique where Native peoples could gather to fish, trade and celebrate. The new hotel rooms will be similar in style to the current Northern Quest hotel rooms, with generous spaces, large windows, comfortable beds and the much talked about luxurious triple-head spa showers. The new hotel is scheduled for completion in Spring 2023.
Several other projects are also under construction at Northern Quest, including three new venues on the north side of the property. When they open later this fall, guests will enjoy a new Asian-fusion inspired restaurant, a fun pizza-by-the-slice restaurant and a new upscale nightclub. On the casino floor, guests can expect to see remodeled areas and a new sportsbook location, as soon as the State of Washington finalizes sports betting, which was approved by the legislature last year. All of these fantastic new venues are the icing on the cake for a summer filled with exciting gaming giveaways and outdoor summer concerts. Celebrating its tenth year of the Pepsi Outdoor Summer Concerts at BECU Live, Northern Quest plans to bring live music back to the outdoor stage starting in July.
For Pierre and Haugen, celebrating Northern Quest's 20 year anniversary brings a sense of pride and accomplishment, but also plans and dreams for continued growth and success. "Before I retire," says Haugen. "I hope that we've grown to a point where the Kalispel Tribe is self-sufficient for all time. I hope this property continues to be the engine that is able to give the tribe whatever it needs to be fiscally sustainable and to still be a bright, shining star in the Spokane community and in this region. And I hope our people can look at Northern Quest with pride for generations to come."
For more information about Northern Quest Resort & Casino, visit www.northernquest.com.