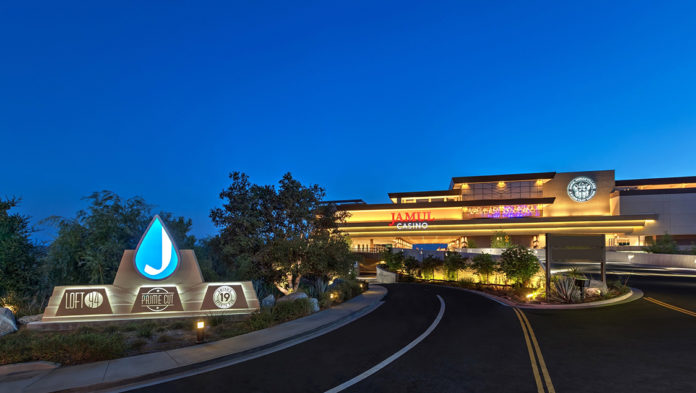 JAMUL, CA – The Jamul Indian Village Development Corporation (JIVDC), owner and operator of Jamul Casino and a wholly-owned enterprise of the Jamul Indian Village of California, has closed on $515 million of Senior Secured Credit Facilities with a syndicate of commercial banks led by KeyBanc Capital Markets Inc. The other lenders included Western Alliance Bank, Nevada State Bank, U.S. Bank, PNC Bank, CIT Bank, and Columbia State Bank. Proceeds from the credit facilities will be used to refinance existing debt, fund hotel construction, and pay transaction-related fees and expenses.
"We are thankful for the partnership with KeyBanc and appreciate their approach, flexibility, and collaboration," said JIVDC and Tribal Chairwoman Erica M. Pinto. "The terms of this transaction will allow us to focus on our long-term financial stability and new projects that will continue to provide benefits for the tribe."
"KeyBanc Capital Markets, together with a syndicate of lenders, are dedicated to providing financial solutions required by tribes and their gaming entities," said Ben Rechkemmer, Managing Director. "Jamul Casino's management team and JIVDC's effective leadership made this financial goal a reality. We are proud to be part of the continued success of JIVDC, Jamul Casino, and the tribe as well."
Procopio, Cory, Hargreaves & Savitch provided legal counsel for the JIVDC, and FSA Investment Group acted as the JIVDC's financial advisor. This is the third significant financial transaction the JIVDC has completed in recent years. The tribe refinanced their property in 2021 and again 2022. 
"It's very rewarding to see Jamul Casino's success recognized by this team of lenders," said Mary Cheeks, Jamul President and General Manager. "It speaks to the vision of our tribal board, the property leadership team, the dedication of our staff, and the loyalty of our guests. This comes at an exceptional time as we begin building a beautiful new hotel connected to the casino."
JIVDC is adding to its property by developing a new 16-story hotel, which will feature 200 rooms, including 52 suites, a rooftop pool and jetted hot tub, a spa and salon, a fitness center, a restaurant and lobby bar, and a banquet room. The hotel is being built to achieve AAA's Four Diamond designation.