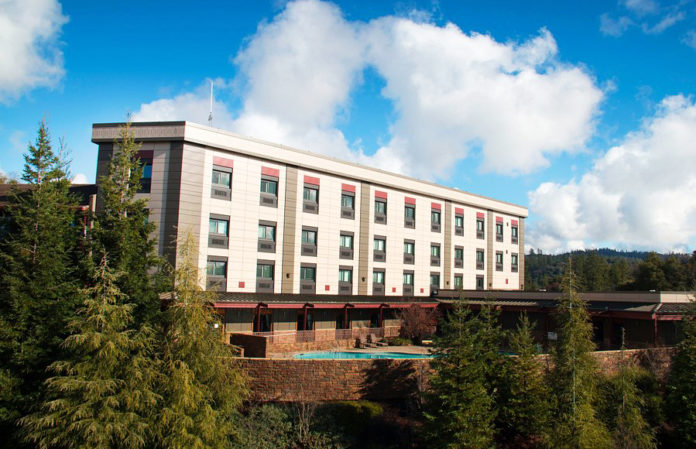 JACKSON, CA – Jackson Rancheria Casino Resort's newly remodeled tower hotel rooms will be ready for occupancy on July 5th. All rooms feature a memory foam bed, custom-made desk with Corian top, 40" LCD flat screen TV, Keurig coffee maker, refrigerator, cable and HBO, and complimentary high-speed internet. Other amenities of the hotel include heated outdoor swimming pool and spas, workout room, complimentary Wi-Fi, and a state-of-the-art business center.
The tower room update immediately follows a complete remodeling of the Jackson Rancheria executive and tower junior suites.
"We are very excited to present our guests with these beautifully upgraded hotel rooms," said Crystal Jack, CEO, Jackson Rancheria Band of Miwuk Indians. "We thank them for their patience and support during this recent remodel and look forward to welcoming them back for an even more luxurious and enjoyable stay."
Margaret's Cafe & Bakery is also now open for dinner five nights a week. As of July 1st, Margaret's is open for dinner until 10:00pm on Fridays and Saturdays, and 8:00pm on Sundays, Mondays, and Tuesdays. Breakfast and lunch are still available 7 days a week. A traditional diner, Margaret's Cafe offers comfort food favorites, such as New York steak with eggs and classic griddle burgers, among a variety of other menu options. The bakery case is open 24 hours a day, 7 days a week.
"We know that Margaret's is a fan favorite among guests, so we are pleased to be able to offer dinner again after having to shut down due to COVID," said Jack. "Margaret's is the perfect place to enjoy delicious comfort foods and afterwards grab a sweet treat from the bakery."