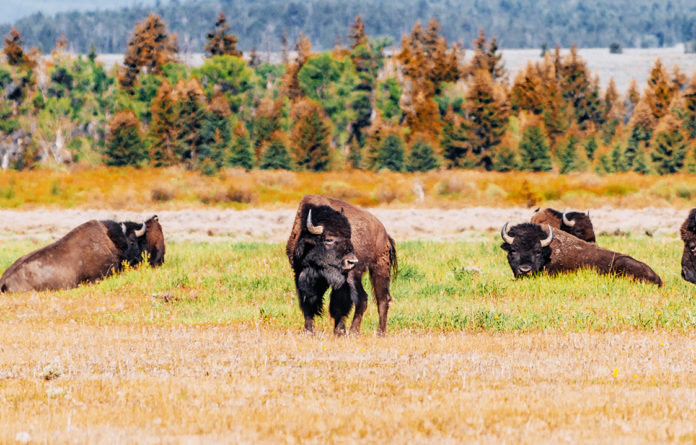 WASHINGTON, D.C. – The Department of the Interior has announced $5 million from President Biden's Investing in America agenda to support the restoration of bison populations and grassland ecosystems in tribal communities. The funding will support tribally led initiatives to strengthen bison conservation and expansion, improved management of existing herds, and ecosystem restoration efforts in native grassland habitats. These investments advance the Biden-Harris administration's America the Beautiful initiative.
The funding advances the Department's new Grasslands Keystone Initiative, unveiled as part of a restoration and resilience framework that is guiding $2 billion in investments from the Bipartisan Infrastructure Law and Inflation Reduction Act to restore lands and waters and advance climate resilience.
"The American bison is inextricably intertwined with Indigenous culture, grassland ecology and American history," said Secretary Deb Haaland. "While the overall recovery of bison over the last 130 years is a conservation success story, significant work remains to not only ensure that bison will remain a viable species but also to restore grassland ecosystems, strengthen rural economies dependent on grassland health and provide for the return of bison to tribally owned and ancestral lands. This new funding from President Biden's Investing in America agenda will help support tribal efforts to restore this iconic species and integrate Indigenous Knowledge into the Department's shared stewardship goals."
"The Interior Department recognizes the crucial role of utilizing Indigenous Knowledge in our biggest resource conservation and management challenges, including our work to preserve and enhance tribal bison herds," said Assistant Secretary for Indian Affairs Bryan Newland. "Through historic funding from the Biden-Harris administration, we can support tribes in maintaining and rebuilding their herds, which are central to their cultural, spiritual and nutritional traditions, while also improving and preserving the ecosystems that sustain both bison and tribal communities."
The investments announced support Secretary's Order 3410, which will enhance the Interior Department's work to restore wild and healthy populations of American bison and the prairie grassland ecosystem through collaboration among Department bureaus and partners such as other federal agencies, states, tribes and landowners using the best available science and Indigenous knowledge.
The funding includes $3.5 million from the Inflation Reduction Act that will support the InterTribal Buffalo Council's herd development and apprenticeship program created by S.O. 3410. The Council is a collection of 80 tribes in 20 states that facilitates the management of more than 20,000 buffalo.
An additional $1.5 million from the Bipartisan Infrastructure Law is available through the Bureau of Indian Affairs to federally recognized tribes and tribal organizations to support tribal bison herd expansion interests, including a focus on ecosystem restoration through bison conservation.